Supreme Court Says Police Violated 4th Amendment When Use of Drug-Sniffing Dog Prolonged Routine Traffic Stop
Law enforcement loses 6-3 in Rodriguez v. United States.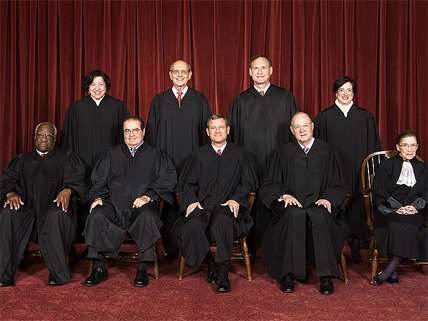 In a 6-3 decision issued today in the case of Rodriguez v. United States, the U.S. Supreme Court held that Nebraska police violated the Fourth Amendment by extending an otherwise lawful traffic stop in order to let a drug-sniffing dog investigate the outside of the vehicle.
According to the majority opinion of Justice Ruth Bader Ginsburg, which was joined by Chief Justice John Roberts and Justices Antonin Scalia, Stephen Breyer, Sonia Sotomayor, and Elena Kagan, "a police stop exceeding the time needed to handle the matter for which the stop was made violates the Constitution's shield against unreasonable seizures."
While "an officer…may conduct certain unrelated checks during an otherwise lawful traffic stop," Ginsburg held, "a dog sniff, unlike the routine measures just mentioned, is not an ordinary incident of a traffic stop."
At issue was a 2012 traffic stop conducted by a Nebraska police officer who happened to have his K-9 dog in the cruiser with him. When the stopped driver, Dennys Rodriguez, refused to consent to letting the drug dog walk around the outside of his vehicle, the Nebraska officer called for back-up, thereby prolonging the stop by an additional eight minutes. According to the Court's ruling today, those extra minutes violated Rodriguez's constitutional rights under the Fourth Amendment.
During the January 2015 oral argument in the case, Justice Sonia Sotomayor previewed the Court's skepticism towards the police officer's approach. "We can't keep bending the Fourth Amendment to the resources of law enforcement," Sotomayor declared. "Particularly when this stop is not incidental to the purpose of the stop. It's purely to help the police get more criminals, yes. But then the Fourth Amendment becomes a useless piece of paper."
The Supreme Court's opinion in Rodriguez v. United States is available here.