"Snowball Fight/Gun" Video is Misleading, Says New Rochelle PD
Police Commissioner claims officers were responding to a 911 call reporting a teen with a gun.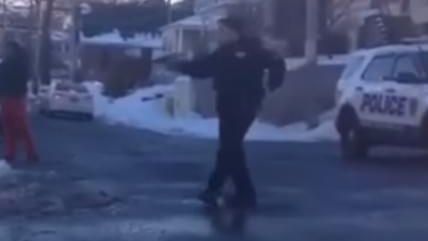 Yesterday, I noted a video depicting Sgt. Joseph Salerno, a New Rochelle, NY police officer, pointing his gun at a kneeling teenager after what a witness described was a "snowball fight." New Rochelle police did not immediately comment on the incident which happened last Friday, but today, NRPD Commissioner Anthony Murphy told the New York Daily News that the 30 second video clip is "clever mischief" which took the incident out of context.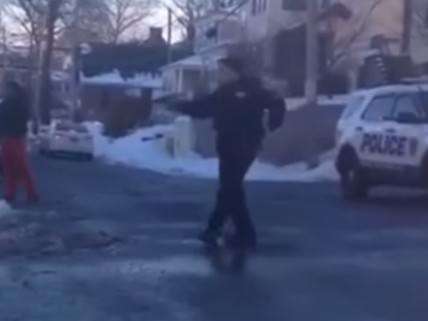 On the video, an off-camera witness says, "this group of guys was having a snowball fight and now the cop has a gun on them." Murphy denied there was ever a snowball fight and explained that officers were on the scene responding to a 911 call of a teenager who pulled a gun out of his waistband and pointed it at someone.
From the Daily News:
"We dispatched several cars to the area. Police officers got out of their cars and one of the individuals bent down, adjusted something in his waistband and ran," Murphy said.

As one officer took off after the suspect, another remained with the five teens who did not run, Murphy said.

"Don't f—–g move, guys," the cop shouts in one of two clips that were sent to the Talk of the Sound.

Two teens can be seen in the video kneeling with their hands in the air. The officer frisks both of them before ordering them to stand up.

"The group was compliant," Murphy said. "(At the same time) the other cop is in foot pursuit of the suspect that had the gun. The suspect runs into an apartment house and into an unknown apartment."

Police did not catch the suspect.
Murphy concedes that the video "looks terrible," but claims the 911 call provides clarity on how Sgt. Salerno came to be pointing his gun at a group of unarmed teens. He adds that the NRPD has no plans to release the recording of the call, for fear of reprisals against the person who made the complaint, but that they are considering releasing a transcript.
New Rochelle councilman Jared Rice was initially critical of the police response, but after hearing the recording of the 911 call, says he is "satisfied with the explanation of why the gun was pulled out." Still, Rice maintains reservations about the language Sgt. Salerno used and questioned whether proper protocol was followed.
Rice told The Guardian, "Any time you see a gun pointed at somebody it's disturbing because we know how serious that can be." He added, "In New Rochelle, as in many communities, we need to have better models of engagement between police and particularly boys of color…I think that is absolutely necessary and I know that there is training that can be taken to accomplish just that."