Google Vs. Uber in the Rush To Drive You Around, Driverless
Even the biggest businesses learn techno-modernity will be constantly stressful for everyone but consumers.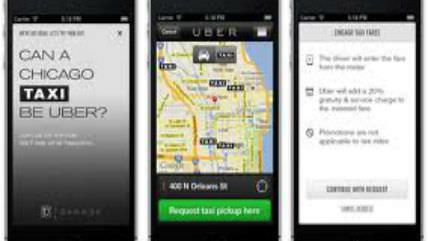 Bloomberg News today reports—without any on-the-record statement from either company—on a burgeoning war between Google and Uber, despite Google being one of Uber's biggest investors.

The details:
Google is preparing to offer its own ride-hailing service, most likely in conjunction with its long-in-development driverless car project. [David] Drummond [chief legal officer and senior vice president of corporate development for Google and a member of Uber's board] has informed Uber's board of this possibility, according to a person close to the Uber board, and Uber executives have seen screenshots of what appears to be a Google ride-sharing app that is currently being used by Google employees. This person, who requested not to be named because the talks are private, said the Uber board is now weighing whether to ask Drummond to resign his position as an Uber board member.

Uber has also reportedly initiated plans to open its own research facility in Pittsburgh, PA to develop its own autonomous vehicle technology, according to a report in Techcrunch…

Google has made no secret of its ambitions to revolutionize transportation with autonomous vehicles…..At the Detroit auto show last month, Chris Urmson, the Google executive in charge of the project, articulated one possible scenario in which autonomous vehicles are patrolling neighborhoods, picking up and dropping off passengers….

Those comments, according to the person familiar with deliberations of the Uber's board, have left executives at Uber deeply concerned, and for good reason. Google is a deep-pocketed, technically sophisticated competitor, and Uber's dependence on the search giant goes far beyond capital. Uber's smartphone applications for drivers and riders are based on Google Maps, which gives Google a fire hose of data about transportation patterns within cities. Uber would be crippled if it lost access to the industry-leading mapping application, and the alternatives — such as AOL's MapQuest, Apple Maps, and a host of regional players — are widely seen as inferior.

Google's entrance into the ride-sharing market would also leave Uber without a partner in the suddenly plausible future where cars without steering wheels roam the streets. Uber will either have to develop the technology itself or form an alliance with another company if it wanted to offer autonomous vehicles within its fleet…
I discussed Uber boss Travis Kalanick's long term plans for driverless vehicles in my big November feature on the rise and struggles of e-hailed ride services.
Last week in the context of Uber's new report on how its drivers tend to earn, I discussed how the world of techno-modernity promises endless competitive chaotic hassles for everyone but customers, and how no industry leader can rest on laurels and expect profits and/or market valuations to rise eternally. This Google vs. Uber story is more evidence of that.