Supreme Court Sides With Police In 4th Amendment Case Arising from Officer's 'Mistake of Law'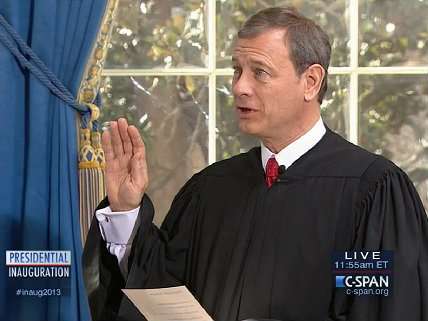 In a decision issued this morning, the U.S. Supreme Court sided with the police in a case arising from an officer's "mistake of law." At issue in Heien v. North Carolina was a 2009 traffic stop for a single busted brake light that led to the discovery of illegal drugs inside the vehicle. According to state law at the time, however, motor vehicles were required only to have "a stop lamp," meaning that the officer did not have a lawful reason for the initial traffic stop because it was not a crime to drive around with a single busted brake light. Did that stop therefore violate the 4th Amendment's guarantee against unreasonable search and seizure? Writing today for the majority, Chief Justice John Roberts held that it did not. "Because the officer's mistake about the brake-light law was reasonable," Roberts declared, "the stop in this case was lawful under the Fourth Amendment."
Roberts' opinion was joined by Justices Antonin Scalia, Anthony Kennedy, Clarence Thomas, Ruth Bader Ginsburg, Stephen Breyer, Samuel Alito, and Elena Kagan. Writing alone in dissent, Justice Sonia Sotomayor criticized her colleagues for giving the police far too much leeway. "One is left to wonder," she wrote, "why an innocent citizen should be made to shoulder the burden of being seized whenever the law may be susceptible to an interpretative question." In Sotomayor's view, "an officer's mistake of law, no matter how reasonable, cannot support the individualized suspicion necessary to justify a seizure under the Fourth Amendment."
The Supreme Court's opinion in Heien v. North Carolina is available here.