On The Independents: Penn Jillette and Thomas Massie! Also Dick Cheney's Torture, Cromnibust, Smith Apology, Trigger-shy SNL, and More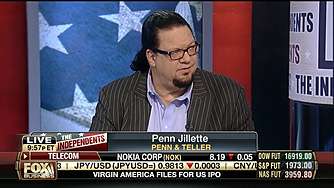 Tonight on a live Wednesday episode of The Independents (Fox Business Network, 9 p.m. ET, 6 p.m. PT, repeats three hours later) you will see two libertarian faves: Renaissance man Penn Jillette, who will try to make sense of our post-Ferguson/Garner universe, and superstar Rep. Thomas Massie (R-Kentucky), who will talk about Jonathan Gruber and hopefully his backdoor surveillance bill.
Speaking of the Cromnibus, Party Panelists Will Rahn (Daily Beast senior editor) and K.T. McFarland (former Reagan-administration deputy defense secretary) will measure the steam on that pile, plus react to Darth Cheney's latest comments about the Torture Report. The duo will also discuss the Smith College apology and the Ferguson skit that's too hot for SNL.
Heroes of Freedom is back, Tropical Storm will include the best heavy metal Christmas song you've heard yet, and I'll talk about what Cromnibus is doing to legal pot.
Follow The Independents on Facebook at facebook.com/IndependentsFBN, follow on Twitter @ independentsFBN, hashtag us at #TheIndependents, and click on this page for more video of past segments.