Rand Paul to SCOTUS: 'The Founding Fathers Would Have Protected Your Smartphone'
On April 29, the U.S. Supreme Court heard oral arguments in a pair of cases asking whether the Fourth Amendment requires the police to get a warrant before searching the cellphones of people they've placed under arrest. As I noted in a recent column, the Obama administration has come down squarely on the side of the police in those cases, arguing, "Although cell phones can contain a great deal of personal information, so can many other items that officers have long had authority to search, and the search of a cell phone is no more intrusive than other actions that the police may take once a person has been lawfully arrested."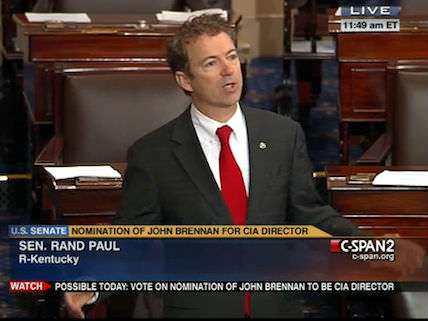 In the latest issue of Politico Magazine, Sen. Rand Paul (R-Ky.) and Sen. Chris Coons (D-Del.) take the opposite view, urging the Supreme Court to rule against the police and in favor of broad Fourth Amendment protections:
Today, many Americans keep their entire lives on their phones: family photos, emails, calendar appointments, Internet searches and even location history. Considered separately, each of these categories can reveal very private information. Taken together, they can present a pretty good picture of who you are, what you do, where you go, what you read and what you write. What protection does the Constitution offer them from suspicionless search by the government?…
Technology will continue to evolve, but our Constitution endures. We took an oath to uphold the Constitution. So did every member of the U.S. Supreme Court. The government says that it has the authority to search phones without a warrant.

As a matter of text and history, however, the Fourth Amendment says that they do not. We hope the Supreme Court agrees.
For more on the Fourth Amendment issues at stake in the cellphone cases Riley v. California and U.S. v. Wurie, see here.