So Far Colorado's Cities Overwhelmingly Prefer Banning Pot Shops to Regulating Them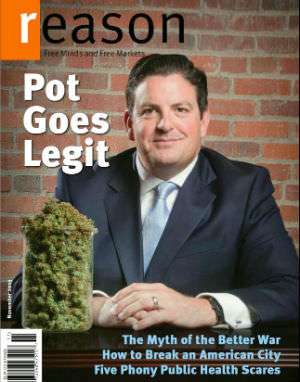 The Colorado Springs Independent has a handy rundown of local reactions to the marijuana stores that are supposed to start operating in Colorado early next year. Based on information from the Colorado Municipal League, the Independent lists 67 cities that have banned recreational cannabis growers and retailers within their borders, as permitted by Amendment 64, the state's marijuana legalization initiative. By far the largest town with a ban is Colorado Springs, the state's second most populous city. The biggest city, Denver, is on the list of eight municipalities that have announced plans to regulate pot shops; the others include Boulder and Telluride. At least 28 cities, including Aurora and Vail, have imposed moratoriums on recreational cannabis sales and plan to wait until after this November's vote on marijuana taxes before settling on a policy.
Colorado has 271 municipalities, so it looks like most of them are still undecided. (Since state law requires local approval before a pot store can be licensed, simply waiting and doing nothing amounts to a de facto moratorium.) Among Colorado's 64 counties, six have decided to allow recreational pot cultivation and sales in their unincorporated areas, 34 have banned cannabusinesses, 10 have imposed moratoriums, three are banning new outlets but allowing existing medical marijuana centers to convert, and 11 are undecided.
The overwhelming preference for bans among local governments that have taken action may seem puzzling given that 55 percent of Colorado voters supported Amendment 64, including majorities in some of the jurisdictions that are banning stores. But a local option was part of the initiative's appeal, and so was the revenue from marijuana taxes that may or may not take effect, depending on the outcome of the vote on Proposition AA. (Colorado's constitution requires separate voter approval of new taxes.) Furthermore, even the most anti-pot jurisdiction (I'm looking at you, Greenwood Village) has no choice but to tolerate not only possession but also home cultivation of up to six plants. Presumably most consumers will not bother to grow their own as long as they can find a state-licensed store within a reasonable driving distance.
I explore the ins and outs of Colorado's break from marijuana prohibition in the cover story of Reason's November issue (which you would already have if you subscribed).