Holder in Line With Public on Drug Reform; Just 6% Think People Using Marijuana Should Go to Jail
As Attorney General Eric Holder calls for major changes to federal drug sentencing reform today, in effect sidestepping mandatory minimum sentences for some drug offenses to reduce the number of non-violent offenders sentenced to incarceration, the Obama administration is likely to find support from the American public. The most recent Reason-Rupe poll of 1,003 Americans on cell phones and landlines found that just 6 percent of Americans say people found with marijuana should go to jail. In contrast, 35 percent say people smoking or in possession of marijuana should not be punished at all; 32 percent say they should be fined; and 20 percent favor rehabilitation and counseling.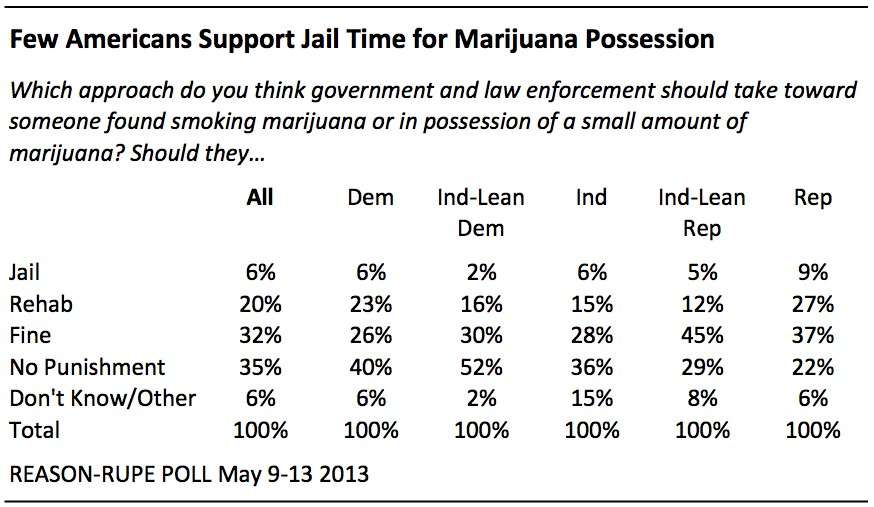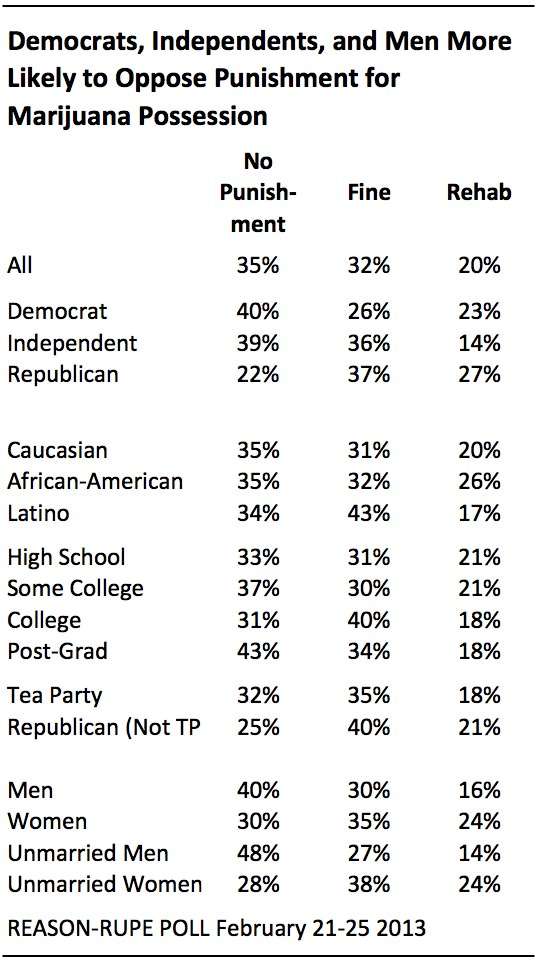 While Holder's policy reform stops far short of the drug decriminalization many Americans seek, it is ostensibly a step most Americans will approve. Even Republicans, Democrats, and Independents equally oppose jail sentencing for marijuana possession. The difference among political groups comes in whether there should be some form of punishment or not.
While about 4 in 10 Democrats and Independents think those found in possession of marijuana should not be punished at all, only 2 in 10 Republicans agree. Instead, about 4 in 10 Republicans prefer mandating fines rather than jail time, while only a quarter of Democrats agree. Interestingly, about equal numbers of Republicans and Democrats (about a quarter) favor mandatory rehabilitation or substance abuse counseling, only 14% of Independents agree. In fact, a majority (52%) of these Independents who also lean Democratic favor no punishment at all.
Men are more likely than women to oppose punishment for marijuana possession by a margin of 40 to 30 percent, however, comparing unmarried men to unmarried women the spread widens to 20 points (48 percent and 28 percent respectively).
Interestingly, tea party supporters (32 percent) are more likely to oppose punishment than self-identified Republicans (25 percent) who do not support the tea party movement.
Nationwide telephone poll conducted May 9-13 2013 interviewed 1003 adults on both mobile (503) and landline (500) phones, with a margin of error +/- 3.7%. Princeton Survey Research Associates International executed the nationwide Reason-Rupe survey. Columns may not add up to 100% due to rounding. Full poll results found here. Full methodology can be found here. Demographics and detailed tables are available here.