Colorado Regulators Issue Rules for Pot Stores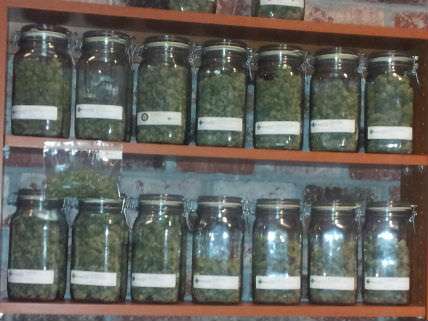 Today the Colorado Department of Revenue's Marijuana Enforcement Division published 64 pages of "emergency regulations" for the state-licensed pot stores that are supposed to start opening in January. The emergency is the short time frame allowed by Amendment 64, the marijuana legalization initiative approved by voters last fall, which set today as the department's deadline tor writing its rules. Some details still need to be worked out, and the regulations repeatedly warn that "additional regulation [is] likely." But here are some of the regulatory regime's most salient features, largely dictated by legislation that Gov. John Hickenlooper signed at the end of May:
Protectionism. From January through September 2014, pot stores must grow at least 70 percent of the marijuana they sell and sell no more than 30 percent of what they grow to other outlets. This continuation of a rule that has governed medical marijuana centers (MMCs) since 2011 will help limit new competition. In addition to the nine-month extension of the 70/30 rule and a three-month head start in the licensing process, existing MMCs will benefit from preferential application and license fees: $500 and $3,750, respectively, compared to $5,000 and $14,000, respectively, for newcomers. Applicants must prove they have lived in Colorado for at least two years.
Local approval. Licenses will be issued only to applicants who also have local approval, meaning that the pot-store bans and moratoriums passed by more than a dozen Colorado municipalities since November are not just premature but unnecessary.
Packaging. Marijuana products must be sold in "child-proof or child-resistant" containers. Edible marijuana products will be limited to 10 milligrams of THC per serving and 100 milligrams per package. Each package must list the amount of THC per gram and "a cannabinoid potency profile" indicating "the concentration of THC, THCA, CBD, CBDA, CBN, and CBG as a percentage of the total weight." The labels will include a marijuana product symbol and three warnings:
1) "There may be health risks associated with the consumption of this product."
2) "This product is intended for use by adults 21 years and older. Keep out of the reach of children."
3) "This product is unlawful outside the State of Colorado."
Sale restrictions. No Internet sales. No sales to anyone younger than 21. Colorado residents can buy up to an ounce of marijuana per transaction, while visitors from other states are limited to a quarter-ounce at a time. Stores must have both "limited access areas," open only to owners, employees, and contractors, where marijuana is "grown, cultivated, stored, weighed, packaged, sold, or processed for sale," and "restricted access areas," open only to people 21 or older, where the products are "display[ed]…for sale." No on-site consumption. No sale or free distribution of snacks, soft drinks, alcohol, or tobacco.
Security. Pot stores must have alarm systems and surveillance cameras. Recordings from the latter "must be made available upon request to the State Licensing Authority, the relevant local jurisdiction, or any other state or local law enforcement agency for a purpose authorized by the Retail Code or for any other state or local law enforcement purpose."
Advertising. Although one of the marijuana laws enacted in May requires restrictions on advertising, including a ban on "mass-market campaigns that have a high likelihood of reaching minors," state regulators are not ready to issue those rules yet. "To develop appropriate and legally sound regulations on this subject," the Marijuana Enforcement Division says, "it is necessary to have a public rulemaking hearing at which interested persons may submit written data, views, or arguments." One of the issues is how far the state can go in restricting advertising without violating the Colorado constitution's free speech guarantee.