Cops Demand (and Get) Two Bad Amendments to Colorado's Pot Shop Bill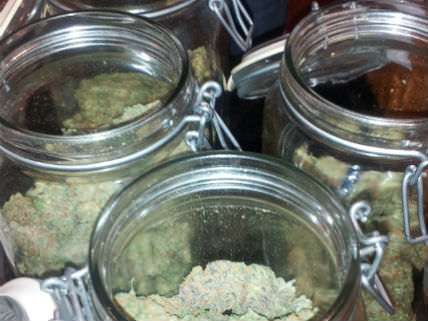 Today the Colorado House of Representatives is holding its first hearing on a bill establishing guidelines for regulation of the state-licensed pot shops that are supposed to start opening early next year, and already the legislation has been changed for the worse in response to complaints from cops. KDVR, the Fox station in Denver, reports that the Colorado Association of Chiefs of Police and the County Sheriffs of Colorado "were so upset over the initial draft of House Bill 1317 that the groups were threatening to write a letter to Attorney General Eric Holder asking him to intervene." Such a move would be an outrageous betrayal by officials who have a duty to enforce Colorado law, which now includes Amendment 64, the marijuana legalization measure that voters approved last November. Yet they were rewarded for threatening what ought to be a firing offense.
KDVR says the bill's chief sponsor, Rep. Dan Pabon (D-Denver), agreed to an amendment that would mandate vertical integration for at least a year, retaining a rule that requires medical marijuana centers (MMCs) to grow at least 70 percent of what they sell. By endorsing this puzzling policy, the cops are siding with the MMCs that claim it helps prevent diversion. Other MMCs favor a more flexible approach, arguing that the 70 percent rule benefits large urban operations at the expense of smaller competitors. The initial version of Pabon's bill, contrary to a recommendation from the Amendment 64 Implementation Task Force (which he chaired), allowed but did not require vertical integration, leaving licensees free to specialize in growing or retailing. As Pabon points out, vertical integration and diversion are two distinct issues, which presumably is why the government does not see a need to make bars brew the beer they serve or force pharmacies to manufacture the drugs they sell. "We want to have seed-to-sale tracking," Pabon told Denver's ABC affiliate, "and if we can keep track of that, we think the public safety will be protected."
Pabon also agreed to clarify that residents of other states will not be allowed to invest in Colorado's recreational marijuana market. The original bill limited ownership of pot shops to people who have lived in the state at least two years but did not address financial backing by investors who do not take an ownership stake. "We absolutely will not have out-of-state investors in this industry, and the bill will be amended to address that," Pabon said. "It's vague in how it was written, but we will make it crystal clear to anyone who wants to invest in this business that they are not welcome."
The legislature does not have long to complete work on the bill. The current session ends on May 8.
[Thanks to CK for the tip.]