Hey Lena Dunham and Obamatrons, Reason Was Comparing Voting to Sex Like Eight Years Ago!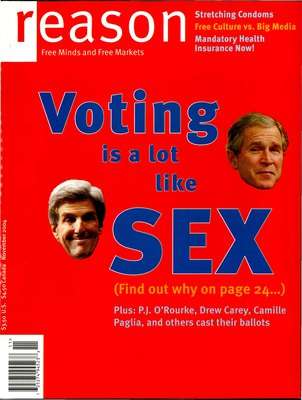 I'm sure I'm not alone among sentient beings in being put off by Lena Dunham's "First Time" pitch for Barack Obama. I'm not offended or disturbed that she likens voting to sex; it's that she participates in a pretty creepy cult of personality thing.
In terms of comparing voting to sex, I'd like to call attention to the fact that way back in 2004, Reason had already been there, done that. Literally. On our cover. And in a much-more serious and sophisticated and accurate way.
Here's the riff that introduced our first-ever survey of how people were voting:
Voting for president is a lot like sex—and not just because it takes place every four years in the solitude of a semi-private booth.

Both are intensely personal activities that nonetheless can have profound public consequences.

We might add that both often involve drug-and-alcohol-fueled delusions and morning-after feelings of guilt, shame, and recrimination.
Read the whole voter poll (which included staffers and characters such as P.J. O'Rourke and Camille Paglia and Drew Carey) here.
And then check out our 2012 survey, in which current staffers and contributors tell the world for whom they're voting and why. Which is, strangely, a real rarity among journalists, who are forever bitching and moaning about the need for transparency but are offended when asked to spill the beans on something as insignificant as their preferred presidential candidate.