Police Kill 30+ Strikers at South Africa Mine
Marikana platinum plant action began a week ago. Lonmin shares tank.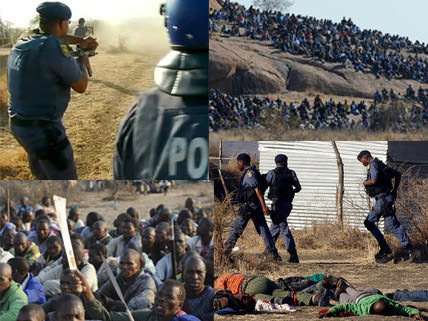 Following days of unrest at Lonmin's Marikana platinum plant in South Africa, police have confirmed that they killed more than 30 miners. This is some of the worst violence since the end of apartheid.
[The killings] "awaken us to the reality of the time bomb that has stopped ticking — it has exploded," The Sowetan newspaper said in an editorial. "Africans are pitted against each other … fighting for a bigger slice of the mineral wealth of the country. In the end the war claims the very poor African -- again."

Police ministry spokesman Zweli Mnisi told The Associated Press on Friday that more than 30 people were killed on Thursday in the police volleys of gunfire during the strike, now a week old. The Star, a Johannesburg newspaper, said another 86 people were wounded. People were gathering at hospitals in the area, hoping to find missing family members among the wounded.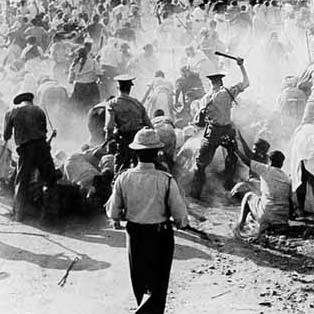 After over 12 hours of official silence, police minister Nathi Mthethwa confirmed at least 30 men had died when police tried to move 3,000 striking drill operators armed with machetes and sticks from a rocky outcrop at the mine, 100 km (60 miles) northwest of Johannesburg.

"A lot of people were injured and the number keeps on going up," he said in an interview on Talk Radio 702.

One radio station caller likened the incident, at Lonmin's Marikana platinum plant, to the 1960 Sharpeville township massacre near Johannesburg, when apartheid police opened fire on a crowd of black protesters, killing more than 50.
Shares of Lonmin, the company that owns the mine, are collapsing, down "8 percent to 595 pence," according to AP.
South Africa is a former Afrikaner settlement/British possession that instituted a policy of apartheid or racial separation when it gained independence in 1948. South Africa dismantled the apartheid system, without large-scale violence, in 1990.
How much mineral wealth is at stake in South Africa? It looks like the entire lode wouldn't pay a fifth part of the U.S. federal debt.