L.A.'s Illegal Ban on Medical Marijuana Dispensaries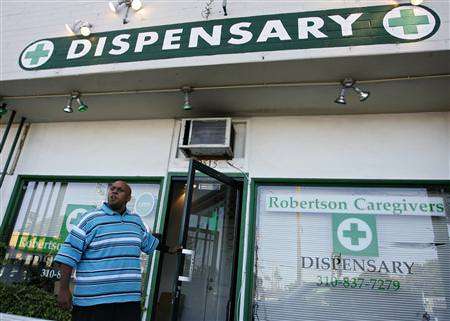 As Brian Doherty noted last night, the Los Angeles City Council yesterday voted unanimously to impose a blanket ban on medical marijuana dispensaries, including all 763 currently registered with the city. On its face, that vote conflicts with a ruling issued a few weeks ago by California's 2nd District Court of Appeal, which has jurisdiction over Los Angeles. As Los Angeles Times editorial writer Dan Turner pointed out before the city council's vote, the appeals court overturned a ban on medical marijuana dispensaries in unincorporated parts of Los Angeles County, concluding that the ordinance was pre-empted by state law.
The Medical Marijuana Program Act of 2003, which was intended to clarify the Compassionate Use Act of 1996, aimed to "enhance the access of patients and caregivers to medical marijuana through collective, cooperative cultivation projects." Toward that end, it exempted the people overseeing such projects from prosecution not only for cultivation but also for possession with intent to sell; selling, furnishing, or giving away marijuana; or maintaining a place for those purposes. Those provisions, the appeals court concluded, show the legislature "contemplated a dispensary function by collective or cooperative cultivation projects." Furthermore, language subsequently added to the law repeatedly refers to the treatment of a "medical marijuana cooperative, collective, dispensary, operator, establishment, or provider" (emphasis added) and "expressly contemplates that a 'medical marijuana cooperative, collective, dispensary, operator, establishment, or provider' may have a 'storefront or mobile retail outlet.'" Since the legislature "contemplated the lawful operation of medical marijuana dispensaries" and "expressly immunized that activity from nuisance abatement," the court ruled, L.A. County's ordinance conflicted with state law, which allows local regulation of dispensaries but not complete bans.
The same reasoning should render L.A.'s dispensary ban invalid as well. Although the city council might argue that its plan to consider exempting dispensaries that were operating prior to a 2007 moratorium makes a difference, the policy it approved yesterday amounts to prohibition, not regulation. Speaking of which, the 2nd District Court of Appeal last year overturned Long Beach's system for licensing and regulating dispensaries on the grounds that it went "beyond decriminalization into authorization," thereby violating the federal ban on marijuana. But as I pointed out last December, that decision still left Los Angeles free to impose restrictions on dispensaries' hours, locations, and business practices. Instead of reformulating its regulatory plan to comply with last year's appeals court ruling, the city council opted for a ban that violates this month's appeals court ruling.
The 4th District Court of Appeal has taken a different view of California's medical marijuana laws, upholding bans in Riverside and Lake Forest. The California Supreme Court is reviewing both of those decisions. In the meantime, Los Angeles should be complying with the law as interpreted by the appeals court for its district. A ban that forces hundreds of businesses to close is exactly the sort of thing you don't do while waiting for the courts to clarify the law.