Detroit Police Unions Seriously Wonder Why Their Officers Are Paid So Little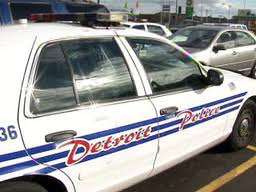 It's like a competition now. Who will destroy itself first: Detroit or California (or, you know, Greece)? Via Reuters:
Detroit's police union will file an appeal with Michigan courts to keep the city from cutting officers' pay by 10 percent, the Detroit Police Officers Association said on Monday.

Detroit police and firefighters are among some 10,700 city workers, represented by 48 unions, who face deep pay cuts and healthcare benefit changes imposed by Mayor Dave Bing without negotiations.
The pay cuts would save the city $102 million. As Reason Foundation Senior Analyst Shikha Dalmia pointed out, the city has a $265 million budget deficit. It is in debt to the tune of nearly $8 billion and has $12 billion in unfunded liabilities.
But never mind that:
Joe Duncan, president of the 2,075-member Detroit Police Officers Association (DPOA), said police have already given the city enough concessions, including changes to pension benefits last year.

"What type of individual are you going to have applying to be a police officer in Detroit when we are already 50th on the list of pay for the biggest 50 cities in the Unites States?" Duncan told Reuters. "We want the right to negotiate." …

Duncan said Detroit police officers start at a annual salary of about $33,000 and top out at $53,253 by their sixth year on the job.
Detroit's unemployment rate for May (not seasonally adjusted) was 17.7 percent. The median household income (not individual) in 2009 was $26,908.