Houston Student Detained for 12 Hours After Warning Drivers of Speed Trap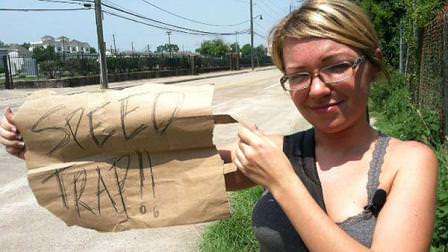 About two weeks ago, Natalie Plummer was riding her bike home from the grocery store when she noticed Houston police officers pulling over alleged speeders. "I felt like he was just pulling random cars over," Plummer told ABC News-Houston. So the college student pulls over, scribbles on her paper grocery bag a sign that warns drivers of the speed trap ahead, and posts up on the side of the street, letting people know cops were looking for speeders.
"I was simply warning citizens of a situation ahead," Plummer said.
Houston cops didn't quite see it that way. Just a few minutes after holding up her public service announcement, an officer drove over to Plummer, jumped out of the car and grabbed on to her backpack. "[The officer] started pulling on my backpack and started pulling me around and said 'give me that, give me that,'" Plummer told reporters, referring to her paper bag warning. Within a few minutes, the woman was under arrest for obstructing justice—a charge the officer told her could get up to five years in prison.
Plummer was detained in a Houston jail for twelve hours after the incident. Her charge was later changed to walking in the roadway where sidewalks are provided, a misdemeanor that Plummer claims is just bogus. "[I stayed] on the sidewalk the entire time," she said.
The Houston Police Department insists the arrest was a valid one. "It is an arrestable offense," the Houston PD spokesperson told KPLCtv. "It was the officer's decision to arrest her."