Police Stand on Volunteer's Neck, Destroy Surveillance Cameras During Dispensary Raid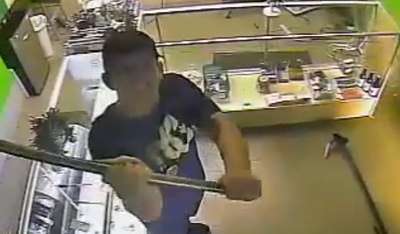 Dorian Brooks had no choice but to let officers walk all over him—literally.
"I felt 300 pounds on my neck," Brooks told reporters at NBC Los Angeles. Brooks, a volunteer employee at THC Downtown Collective, a Long Beach, CA medical marijuana dispensary, was arrested June 19 during a police raid of the pot shop. Footage from the dispensary's security camera reveals a brutal bust, including cops walking on Brooks' back and standing on his neck, while officers prepare to handcuff the suspect. "I just felt violated and disrespected," said the 28-year-old volunteer, one of five arrested in the raid. "We got beat up and arrested for a citation that's equivalent to someone jaywalking."
Brooks filed a lawsuit against the Long Beach PD this week, claiming the police used unnecessary violence in the raid, on top of destroying property and evidence. Surveillance videos show an undercover cop smashing the store's video camera with a metal rod, while post-raid footage reveals complete destruction, with knocked over cabinets, boxes and files strewn across the floor.
Although police admit the dispensary was compliant with California state law, Long Beach PD said the raid was ordered because the store was operating without a city permit. The attorney for Dorian Brooks, however, argued that the city of Long Beach denied owners a permit, and makes it increasingly difficult for dispensaries like THC Downtown Collective to get one.
More news on medical marijuana here.
Footage from the June 19 raid: