Newly-Released Surveillance Video Shows Police Officers Brutally Beating, Suffocating, and Tasing Kelly Thomas to Death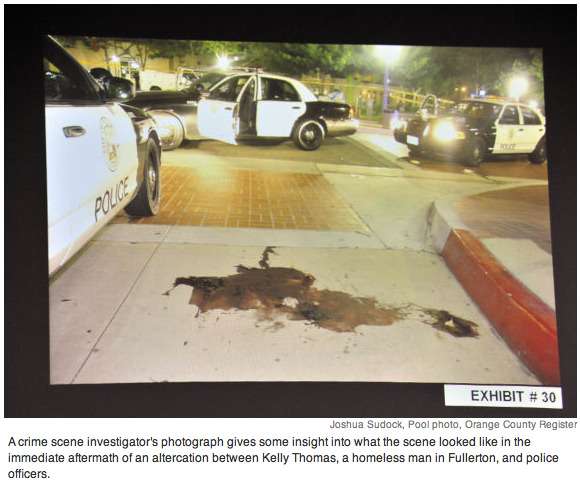 Via Carlos Miller at Photography is Not a Crime comes the news that the Orange County DA finally released security footage of the brutal beating death of 37-year-old Kelly Thomas, a homeless man from Fullerton, California.
Two police officers, Manuel Ramos and Jay Cicinelli, are now on trial for the killing of Thomas, who suffered from schizophrenia. Cops used their fists and batons to beat Thomas. They Tasered him multiple times. Cause of death was apparently "mechanical suppression of the thorax."
Besides eventually screaming for his father, a former police officer himself, Thomas also repeatedly yells that he can't breathe in the video below.
Altercation starts at about 15 minutes in. Watch with extreme caution. It's the last conscious minutes of a man's life and it defies description.
Reason has previously covered this case, including Reason.tv on how cameras played a vital role in making sure Thomas' death was not ignored.
[Addendum] Added a few more details, some word changes.