The Case Against Rent Control
An Upper West Side landlord challenges a New York City institution
The handsome five-story brownstone located at 32 West 76th Street in Manhattan doesn't look like it belongs at the center of a contentious legal struggle. But that impression changes when you learn about the recent activities of its owner, 68-year-old James D. Harmon Jr.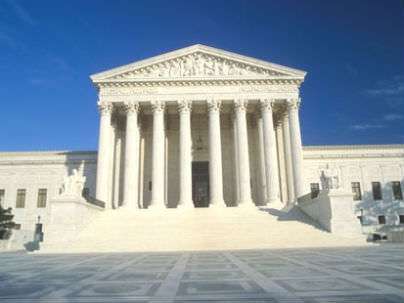 Harmon, a former federal prosecutor who once served as chief counsel to President Ronald Reagan's Commission on Organized Crime, has filed a powerful legal challenge asking the U.S. Supreme Court to strike down New York City's four-decades-old rent stabilization law. At first, New York officials thought so little of Harmon's challenge that they waived their right to file an opposing brief with the Supreme Court. But those officials got a rude awakening when the Supreme Court asked them to respond to Harmon's petition anyway, signaling that somebody at the Court took the legal challenge seriously.
Does the case against rent control have merit?
According to the Fifth Amendment to the U.S. Constitution, "private property [shall not] be taken for public use without just compensation." This provision, known as the Takings Clause, is typically associated with the government's power of eminent domain, which involves the state seizing private property, compensating the owner with funds drawn from the public treasury, and then putting that property to what government officials allege to be a public use.
But the Supreme Court has also said that government regulations may sometimes count as a taking, which means that they too require the payment of just compensation. As Justice Oliver Wendell Holmes remarked in the 1922 case of Pennsylvania Coal Company v. Mahon, "while property may be regulated to a certain extent, if regulation goes too far it will be recognized as a taking." How far is too far? In the 2010 case of Stop the Beach Renourishment, Inc. v. Florida, the Supreme Court declared that at a minimum, "it is a taking when a state regulation forces a property owner to submit to a permanent physical occupation."
New York City's rent stabilization law (RSL) meets that test. In Harmon's case, three of the six rental units in his building—which has been in the possession of his family since 1949, when his immigrant grandparents first bought it—feature rent-stabilized tenants whose occupancy can only be described as both physical and permanent.
Not only do these rent regulated tenants pay government-set rates that are 59 percent below-market, they have the option of remaining in their apartments for life. Harmon essentially has no choice but to keep renewing their respective leases every few years. The tenants even have the right to name their own successors to the apartments. Under the terms of the RSL, a family member who has lived two years or more in a rent stabilized unit may take over the lease, which they then get to retain for life.
And these three tenants aren't exactly hard luck cases. As The Wall Street Journal has reported, one of Harmon's rent-stabilized units is inhabited by "a vice president at Manhattan-based WTW Associates, a boutique executive search firm," who pays around $1,000 a month in rent to Harmon "and owns a second home near the shore in Southampton, where she spends weekends gardening and playing tennis."
For its part, New York argues that this state of affairs does not amount to a "permanent physical occupation" because of the Supreme Court's 1992 decision in Yee v. City of Escondido. At issue in that case was a California rent control ordinance for mobile home parks. According to the Supreme Court brief filed last week by Jonathan Kimmel, the chair of the New York City Rent Guidelines Board, New York's rent stabilization law is perfectly constitutional because "the Court in Yee sustained rent controls and tenant renewal rights more restrictive than those in the RSL." If the statute in Yee passed constitutional muster, New York argues, the RSL is in the clear.
The problem with that argument is that the Supreme Court specifically stated that its ruling in Yee was limited to the "unusual economic relationship between [mobile] park owners and mobile home owners." In other words, New York is apparently relying on a critical misreading of the 1992 precedent. The Supreme Court should take this opportunity to correct the city's error.
Moreover, it's far from clear that the California statute is actually more restrictive than New York's RSL. As the Supreme Court noted in Yee, California at least gave the property owners a way out. As Justice Sandra Day O'Connor's majority opinion put it, "the Mobilehome Residency Law provides that a park owner who wishes to change the use of his land may evict his tenants, albeit with six or twelve months notice."
James Harmon has no such option. His land is zoned residential—it may be put to no other lawful use. Nor may he evict his tenants and demolish their individual units, thereby removing that portion of his property from the rental market, since doing so would trigger a legal requirement forcing him to pay the displaced tenants a stipend of $5,000 and provide them with "an equivalent or superior housing accommodation at the same or lower regulated rent in a closely proximate area to the building."
That last requirement is particularly risible. As any New Yorker could tell you, there are no one-bedroom apartments—rent regulated or otherwise—available for $1,000 a month in Harmon's attractive Upper West Side neighborhood, which is located less than a block from Central Park. Harmon couldn't relocate those tenants under the terms of the RSL if his very life depended on it. For all practical purposes, city officials are forcing Harmon "to submit to a permanent physical occupation" of his property.
If New York wants to maintain or increase its supply of affordable housing, it has plenty of other options that don't violate the text of the Fifth Amendment, such as constructing new low-income apartment buildings or providing direct rent subsidies to the poor. Either way, there's no legal justification for taking Harmon's property without paying him just compensation.
The Supreme Court should take the case.
Damon W. Root is a senior editor at Reason magazine.