If You Want to Keep Your Baby, Steer Clear of the Pasta Salad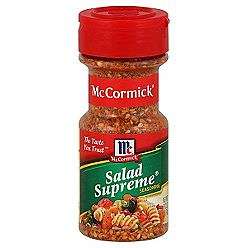 ABC News reports that Lawrence County, Pennsylvania, Children and Youth Services faces another lawsuit by a mother who says her baby was seized based on a positive drug test result triggered by poppy seeds. The county took Eileen Ann Bower's infant son three days after his birth on July 13, 2009, and kept him in foster care for more than two months because a sample of her blood taken at New Castle's Jameson Hospital tested positive for opiates. Bower says her last meal before she gave birth included a pasta salad with Perfect Pinch Salad Supreme Seasoning, which contains poppy seeds (the fourth listed ingredient). Like Elizabeth Mort and Alex Rodriguez, whose baby was kidnapped last year under similar circumstances (in their case, they say, because of a poppy seed bagel), Bower is suing the Jameson Health System as well as the county agency for negligence and for conspiring to violate her rights to privacy and due process. In their suit, which was filed with help from the ACLU of Pennsylvania, Mort and Rodriguez argue that Jameson's cutoff for opiates is so low that such mistakes are bound to happen.
As I noted last fall, even if the tests were infallible, taking a baby away from his parents without evidence of abuse or neglect, based on nothing more than the fact that one or both of them has used an illegal drug, cannot be justified by the child's best interests, which are supposed to be the guiding standard in such cases.