Gasoline Engines and Sex Changes for Kids
Plus: Minimum wage laws, space exploration, that time when North Africa was less dysfunctional than California, and more...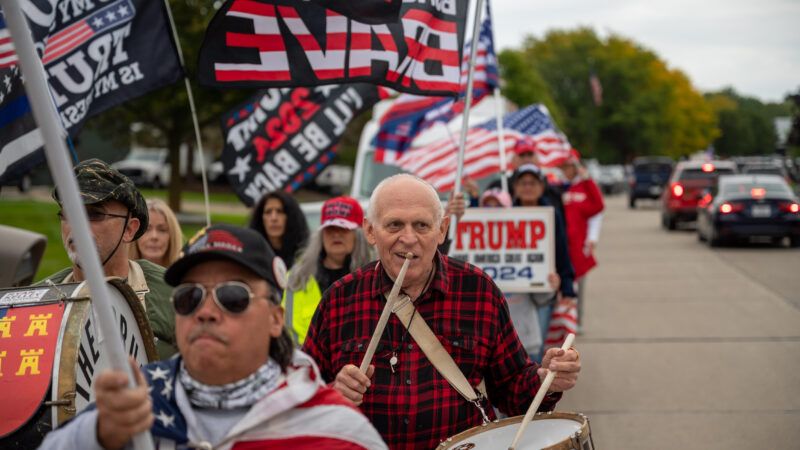 (Matthew Rodier/Sipa USA/Newscom)
Trump tells autoworkers they're screwed: While the rest of the slate of Republican presidential contenders was debating each other on stage Wednesday, former President Donald Trump was visiting autoworkers in Detroit, who are striking for a lot more pay (40 percent over four years) for far less work (a four-day workweek). But, true to form, he didn't really have encouragement for them, per se.
"It doesn't make a damn bit of difference what you get because in two years you're all going to be out of business," he said, referring to the growing electric vehicle industry. "The workers of America are getting, to put it very nicely, screwed." 
Trump was speaking, somewhat amusingly, to a non-unionized shop in Clinton Township. The day prior, President Joe Biden had visited the nearby picket line, telling workers that they deserved a big chunk of the wealth they had helped create, making the argument that if the companies are doing really well, the workers ought to be doing really well too. 
Both men were pitching autoworkers to vote for them; Trump's comments just rubbed much of the media the wrong way because of how blatant his ploys for votes are. The United Auto Workers should "endorse Trump," he added at one point, pledging to save the American auto industry and prevent jobs from going overseas. "If they don't all they're doing is committing suicide." 
Biden's comments, though they may play well with picketing workers, discount the complex decision making that goes on behind the scenes; surely these companies aren't abstaining from sharing wealth with workers solely because their ranks are filled with greedy execs, but also because those people have a mandate to ensure the companies' survival and ability to be competitive with increasingly-dominant electric vehicle manufacturers. 
In 2016, Trump won Michigan. But in 2020, he lost the state by roughly 154,000 votes. His speeches have, of late, been filled with barbs for Biden and his electric vehicle subsidies. "The damn things don't go far enough and they're too expensive," Trump said of EVs. "Gasoline engines will be allowed" if he's elected again, and "sex changes for children will be banned," he added right after. The state of politics in 2023!
All tomorrow's shutdowns: Though it will show weakness, House Speaker Kevin McCarthy (D–Calif.), faced with no good options, is expected to bring the stopgap bill to a vote even though it is unlikely to pass. If it indeed fails to pass, the government will shut down. McCarthy's logic reportedly stems from the idea that bringing it to a vote will at least make it look like he did everything in his power to avert a government shutdown. 
With the far-right flank of the House still dissatisfied by the amount of government spending in both earlier appropriations bills and the stopgap measures (which could fund the government until mid-November, allowing legislators time to decide on more permanent solutions) McCarthy has no clear path forward. More on McCarthy's mounting losses. 
As for the government shutdown? Lots of services deemed essential will continue to be administered—Social Security checks and food stamps will continue to be issued, for example—but national parks will close to visitors and air travel could get worse.
Sen. Dianne Feinstein dies at 90: "From her perch in the Senate, Feinstein was a habitual enemy of the Second Amendment, a hysterical drug warrior, and an unfailing defender of government surveillance," wrote Reason's C.J. Ciaramella back in February when news broke that Feinstein, a Democratic senator from California, would not seek reelection in 2024. Condolences to her family.
---
Scenes from New York: 
Won't tons of people be priced out of using food delivery apps, resulting in less work for delivery men? Stunning to me how people infrequently think through unintended consequences. More on this ruling here.
Breaking: A New York judge has denied Uber, DoorDash and Grubhub's attempt to block an NYC minimum wage bill from going into effect, setting the stage for delivery workers in New York City to start making at least $18 per hour.

— Kellen Browning (@Kellen_Browning) September 28, 2023
---
QUICK HITS
Eurozone inflation has been cooling. "Readings across the major economies that use the euro currency were a mixed bag," reports the Associated Press. "Germany's annual inflation fell to 4.3% in September from 6.4% a month earlier, while Spain's increased to 3.2% from 2.4%."
"Is theft a problem for these companies?" discourse:
I don't think there is any reason for retail stores to keep items behind lock and key - creating friction that reduces sales and increases staffing burdens - if theft wasn't so common as to hurt their bottom lines even more https://t.co/HN3o60aUFk

— Eric Levitz (@EricLevitz) September 27, 2023
(Quote tweets and replies are wild, as always.)
"

Early in the project, advisors from other countries came to California, hoping to win contracts to help devise the system,"

writes

River Page for

Pirate Wires

. "Among them was the SNCF, France's state-run rail line. … By 2011, the French advisors left, telling the state of California that they were 'leaving for North Africa, which was less politically dysfunctional.'" For more on Brightline, also check out Natalie Dowzicky's

excellent video over at Reason TV

.
Say goodbye to terrible "per transaction energy cost" metrics for bitcoin. Say hello to "per query water costs" for AI

(Or reject degrowth malthusianism) https://t.co/HJU4GStQC1

— nic ???? carter (@nic__carter) September 28, 2023
ICYMI: Zach Weissmueller and I

interviewed Josh Barro

and talked GOP debate recap for the

Reason

Livestream yesterday.

Good episode of Odd Lots on rate hikes.
Disturbing:
Some news if you were a sane person and didn't watch the debate last night:

Ron DeSantis said he'd use the Justice Department to bring civil rights cases against progressive prosecutors https://t.co/3NTz3Eg17w

— CJ Ciaramella (@cjciaramella) September 28, 2023
Good post breaking down an absurd Scientific American article:
Scientifc American has published one of those articles again, a criticism of space colonisation offered largely from a position of ignorance, with the author nonetheless convinced they have dealt a knockout blow to a silly fantasy.

It retreads a lot of old ground, and… pic.twitter.com/pE5dK6LHNw

— Peter Hague PhD (@peterrhague) September 27, 2023