5 Dissenters in the House
Plus: DeSantis' awkward pot situation, San Francisco's "overpaid executive" tax, and more…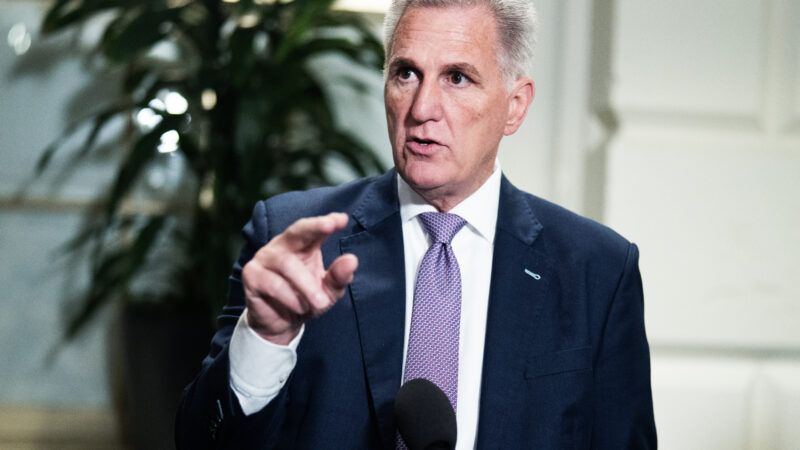 (Tom Williams/CQ Roll Call/Newscom)
Five dissenters: Yesterday, five Republicans went against their own party, opposing a spending package full of Pentagon appropriations that was supposed to make its way to the House floor. One of the dissenters, Rep. Ralph Norman (R–S.C.), said "he was opposing all GOP spending initiatives until he received a commitment from [House Speaker Kevin] McCarthy that the House would return federal spending to prepandemic levels without any budgetary gimmicks," per The New York Times. 
Norman was joined by Reps. Andy Biggs (Ariz.), Dan Bishop (N.C.), Ken Buck (Colo.), and Matt Rosendale (Mont.), who together stymied attempts to bring the new spending package to a vote on the House floor. Though the budgetary infighting is a welcome change, and could in fact bring about good results for libertarians concerned about runaway defense spending, it could also backfire. "In an ironic twist of fate, frustrated Republicans are now growing more open to cutting a deal with Democrats—the worst possible outcome for the conservative hardliners agitating for deeper spending cuts," reports Axios.
Still, it's encouraging to see some representatives opposing the fiscal profligacy that has long plagued Congress. The September 30 deadline for funding the government looms; if a deal can't be reached by then, we'll enter another government shutdown. The government most recently shut down in December 2018/January 2019, when former President Donald Trump and House Democrats found themselves at an impasse involving funding Trump's U.S.-Mexico border wall. (For more on government shutdowns, read Eric Boehm's piece: "Is a Government Shutdown Better Than More Reckless Borrowing?")
"Is the independence of any nation secure?" "The goal of the present war against Ukraine is to turn our land, our people, our lives, our resources into a weapon against you, against the international rules-based order," Volodymyr Zelenskyy told the general assembly of the United Nations yesterday. "If we allow Ukraine to be carved up, is the independence of any nation secure?" Per The New York Times, Zelenskyy forcefully criticized "Moscow's military interventions in Moldova, Georgia, and Syria; its increased control of Belarus; and its threats against the Baltic states" as well as Vladimir Putin's occupation of Ukraine.
It is, of course, possible to vehemently oppose Russia's contemptible actions in Ukraine while also opposing Zelenskyy's bid for U.S. aid, which he reportedly plans to make Thursday in a meeting at the White House.
Reefer Madness DeSantis: Florida Governor Ron DeSantis vehemently opposes recreational weed legalization. Society has "totally decayed" because of pro-drug policies, in his telling. "Legalization, I don't think, has worked," said DeSantis last month. Just one problem: His biggest political backers are also key advocates for pot progress in Florida, reports Politico. 
Axiom Strategies and Vanguard Field Strategies, which have been paid $25 million by pro-DeSantis super PAC Never Back Down, have also been paid $29 million by Smart & Safe Florida, a group working on a legal marijuana ballot initiative that would allow adults aged 21 and above to legally obtain weed. DeSantis has said weed "hurts our workforce readiness" as well as "people's ability to prosper." 
Speak for yourself—I feel even more ready to write after lighting up, generally speaking. A certain amount of marijuana must be in the system before one can reasonably be expected to wade through DeSantis soundbites!
---
Scenes from New York: Why on Earth is city council wasting time on proposals to tear down statues of Christopher Columbus, George Washington, Peter Stuyvesant, and Thomas Jefferson? ("In this house, Christopher Columbus is a hero, end of story.")
---
QUICK HITS