HHS Asks DEA To Reclassify Cannabis as Equivalent to Testosterone and Codeine Tylenol
Plus: Tennessee prosecutor threatens to use drag law that was declared unconstitutional, ACLU asks FTC to investigate Mastercard's adult content policy, and more...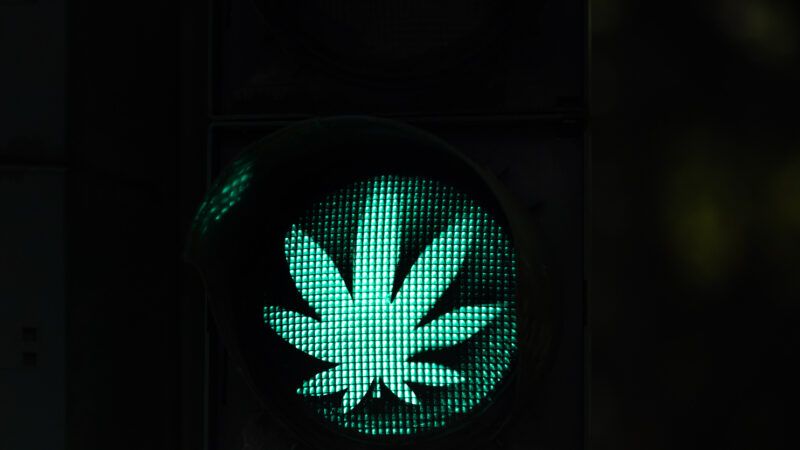 (https://reason.com/2023/08/30/how-rudy-giulianis-drinking-habits-could-hurt-trumps-defense/)
The U.S. Department of Health and Human Services (HHS) is asking the Drug Enforcement Administration (DEA) to reschedule marijuana. In an August 29 letter to DEA Administrator Anne Milgram, an HHS official called for marijuana to be reclassified from a Schedule I drug under the Controlled Substances Act to a Schedule III drug. The shift would have major positive implications, even if it wouldn't go far enough.
What rescheduling would mean: Schedule I drugs are considered to have "no currently accepted medical use and a high potential for abuse." The DEA places marijuana, heroin, LSD, ecstasy, and peyote in this category.
Meanwhile, Schedule III drugs are considered to have "moderate to low potential for physical and psychological dependence" and are legal when prescribed by a doctor. The DEA places ketamine, testosterone, and Tylenol with codeine in this category.
Reclassifying marijuana from a Schedule I to a Schedule III drug wouldn't legalize or decriminalize it nationally. But it would pave the way for medical marijuana being OK across the country and an easing of other restrictions on the drug, including on the way it's used in research.
Another big impact "would be to give beleaguered cannabis companies a tax break," notes Bloomberg. "Prior restrictions meant that cannabis companies couldn't take the same kind of tax deductions as most companies."
How we got here: In the leaked letter to the DEA, obtained by Bloomberg, HHS Assistant Secretary for Health Rachel Levine said the agency's determination was based on a Food and Drug Administration (FDA) review and that the National Institute on Drug Abuse agreed with the FDA's conclusions.
The FDA review was conducted under a directive from the White House.
A DEA spokesperson told Bloomberg it had received the HHS letter and would initiate its own review.
Reactions from politicians and drug policy groups: Some drug policy groups praised the HHS letter, while others seemed skeptical it would amount to much.
"The Biden Admin. just took a major step toward ending our nation's failed war on cannabis," tweeted the Coalition for Cannabis Scheduling Reform. "For decades, cannabis has been a Schedule I controlled substance, on par with heroin and above fentanyl and meth. This was completely baseless, and we now know that the FDA and HHS agree."

"Rescheduling to Schedule III will mark the most significant federal cannabis reform in modern history," opined the U.S. Cannabis Council. "President Biden is effectively declaring an end to Nixon's failed war on cannabis and placing the nation on a trajectory to end prohibition."

Inbox: Senate Majority Leader @SenSchumer on the cannabis rescheduling recommendation:

"HHS has done the right thing and DEA should now quickly follow through on this important step to greatly reduce the harm caused by draconian marijuana laws." pic.twitter.com/RCG2ZzhcXo

— Kyle Jaeger (@kylejaeger) August 30, 2023
"It will be very interesting to see how DEA responds to this recommendation, given the agency's historic opposition to any potential change in cannabis' categorization under federal law," said NORML Deputy Director Paul Armentano. "Further, for decades, the agency has utilized its own five-factor criteria for assessing cannabis' placement in the CSA — criteria that as recently as 2016, the agency claimed that cannabis failed to meet. Since the agency has final say over any rescheduling decision, it is safe to say that this process still remains far from over."
Armentano also suggested the rescheduling wouldn't go far enough. "Just as it is intellectually dishonest to categorize cannabis in the same placement as heroin, it is equally disingenuous to treat cannabis in the same manner as anabolic steroids," he said, continuing:
The majority of Americans believe that cannabis ought to be legal and that its hazards to health are less significant than those associated with federally descheduled substances like alcohol and tobacco. Like those latter substances, we have long argued the cannabis plant should be removed from the Controlled Substances Act altogether, thereby providing state governments — rather than the federal government — the ability to regulate marijuana in the manner they see fit without violating federal law.
Aaron Smith of the National Cannabis Industry Association said that the shift "could have some limited benefit" but would do "nothing to align federal law with the 38 U.S. states which have already effectively regulated cannabis for medical or adult use. The only way to fully resolve the myriad of issues stemming from the federal conflict with state law is to remove cannabis from the Controlled Substances Act and regulate the product in a manner similar to alcohol."
---
FREE MINDS
A Tennessee prosecutor threatened to prosecute an LGBTQ pride event, saying it may be a violation of the state's anti-drag law. But a federal court declared that law unconstitutional in June.
The Blount County prosecutor, Ryan Desmond, sent a letter to the local mayor, sheriff, and other officials, along with the event's organizers. The letter stated that marketing for the September 2 event suggests it "may violate" Tennessee's Adult Entertainment Act (AEA) and that "violations of the AEA can and will be prosecuted by my office."
Desmond said the ruling against the AEA didn't apply in Blount County because it was issued in a different Tennessee district. "But the law is unconstitutional in Blount County, too," points out the Foundation for Individual Rights and Expression (FIRE). "First Amendment protections for drag apply everywhere."
Event organizers Blount Pride and local drag performer Matthew Lovegood (a.k.a. Flamy Grant) are now suing Desmond. "The letter is a blatant attempt to chill Plaintiffs' speech and expression protected under the First Amendment," states their complaint.
---
FREE MARKETS
ACLU asks FTC to investigate Mastercard's treatment of sex workers. The American Civil Liberties Union (ACLU) and a coalition of sex-worker rights groups are asking the Federal Trade Commission (FTC) to investigate Mastercard's adult content policy.
The content subject to this policy "is constitutionally protected speech under the First Amendment," states the groups' complaint to the FTC.
As a private company, Mastercard is not bound by the First Amendment and is free to quash any type of constitutionally protected speech it wishes. However, the ACLU asserts that the policy constitutes "an unfair business practice under Section 5 of the FTC Act."
The policy, implemented in 2021, said "banks that connect merchants to our network will need to certify that the seller of adult content has effective controls in place to monitor, block and, where necessary, take down all illegal content." Among these "controls," Mastercard suggested that adult businesses must review content prior to publication and have "documented age and identity verification for all people depicted and those uploading the content."
The new rules spawned a pushback campaign from sex workers, LGBTQ groups, and others, who argued Mastercard's policies would "result in a major chilling effect and destruction of many ways of working for sex workers and other impacted parties." (Read more about all this in my 2022 story on "the new campaign for a sex-free internet.")
"Since its implementation, Mastercard's payment policy has forced sex workers into arduous mazes of verification and regulation, requiring multiple levels of identity verification and putting needless bureaucracy in the way of legal conduct and speech," asserted the ACLU in a press release this week. "A recent report shows data on the impact of this policy on sex workers, including accounts flagged and closed, content removed, lost time and wages from the confusion and procedural hurdles, and large drops in sales and income."
---
QUICK HITS
• A jury has been selected and arguments in the trial of former Backpage executives are expected to start this afternoon.
The AP did a very balanced piece on the start of the #BackpageTrial. https://t.co/lSRJYQ5yV1

— Stephen Lemons (@stephenlemons) August 31, 2023
• President Joe Biden's email aliases are a potentially serious transparency problem, writes C.J. Ciaramella.
• Twitter's new privacy policy states that the company "may collect and use your biometric information." A representative from the company confirmed the policy change "but didn't elaborate further," Bloomberg reports.
• How Rudy Giuliani's drinking habits could hurt former President Donald Trump's defense.