Without a Diversion Agreement, Hunter Biden Could Go to Prison Under an Arbitrary Gun Law His Dad Supports
Special Counsel David Weiss will face a Second Amendment challenge if he prosecutes the president's son for illegally buying a firearm.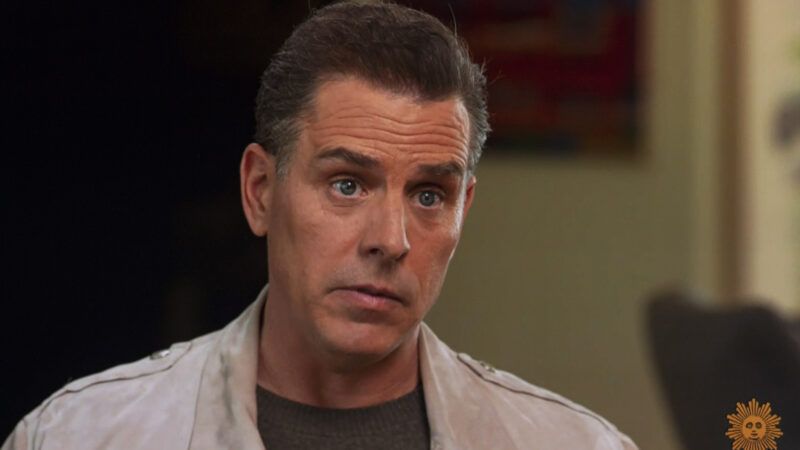 Hunter Biden's lawyers this week claimed a pretrial diversion agreement that would allow him to avoid prosecution for illegally buying a gun is still "valid and binding." David Weiss, who filed the gun charge in June as the U.S. attorney for Delaware and has since been appointed as a special counsel charged with investigating Biden, rejected that claim in no uncertain terms yesterday, saying "the now-withdrawn diversion agreement, by its own terms, is not in effect."
The collapse of that agreement could set up yet another legal test of a constitutionally dubious law that at least two judges and a federal appeals court have deemed inconsistent with the Second Amendment. That case would pit Biden against his own father, who steadfastly supports an irrational gun policy that could send his son to prison.
Biden's argument that the diversion agreement has already taken effect is puzzling, because it was presented as part of a package that included a plea deal involving misdemeanor tax charges, which a federal judge rejected last month. At a hearing on July 26, U.S. District Judge Maryellen Noreika said she was troubled by two aspects of the diversion agreement that seemed to be aimed at protecting Biden from the possibility that his father will lose reelection.
Biden, by his own admission, was a crack cocaine user when he bought a Colt Cobra .38 Special from StarQuest Shooters, a Wilmington, Delaware, gun store, in 2018. Although that transaction violated at least three provisions of federal law, Weiss charged Biden with just one of those crimes: receipt or possession of a firearm by an "unlawful user" of a controlled substance, a felony that was punishable by up to 10 years in prison at the time of his gun purchase.
The Justice Department said it would drop the gun charge if Biden successfully completed a two-year diversion program that would have required him to avoid drugs, maintain or seek employment, and stay out of legal trouble. The agreement also would have permanently barred Biden from possessing guns.
Noreika noted two highly unusual provisions of the diversion agreement. First, it charged her rather than prosecutors with deciding whether Biden had abided by its terms. Second, it included an ambiguous promise that Biden would not face additional charges based on the conduct described in the documents detailing his tax and gun crimes.
Both of those provisions seemed designed to shield Biden from the consequences of a Republican victory in the 2024 presidential election. If Donald Trump or another Republican wins, Biden's lawyers worried, the Justice Department, under new leadership, might be more inclined to accuse him of violating the diversion agreement. It probably also would be more aggressive in pursuing other potential charges against Biden, including tax felonies and his alleged violation of restrictions on foreign lobbying. Weiss' office seemed to share those concerns, which reinforced Republican complaints that Biden was benefiting from favoritism.
Noreika expressed concern about her proposed involvement in determining whether Biden had breached the diversion agreement, which she said raised separation-of-powers issues by requiring her to perform a prosecutorial function. She also wondered why the promise of immunity was included in that agreement, which both sides claimed was not subject to her approval, rather than the plea deal, which clearly was.
"The judge said she couldn't find another example of a diversion agreement so broad that it shielded the defendant from charges in a different case," Politico reported. "Leo Wise, a prosecutor working for Weiss, told the judge he also was unaware of any such precedent." Noreika objected to the apparent expectation that she would "rubber stamp" that seemingly novel arrangement.
During the hearing, it also became clear that Wise and Biden's lawyer, Christopher Clark, disagreed about the scope of the defendant's immunity. Rather than sign off on the plea deal, Noreika directed both sides to hammer out a clearer, less legally problematic arrangement. Last Friday, Weiss said those negotiations had reached "an impasse," meaning that Biden's tax case will go to trial.
Weiss asked Noreika to dismiss the tax charges without prejudice, saying the proper venue to try that case is not Delaware but either the District of Columbia or the Central District of California. He said his office agreed to handle the case in Delaware based on the understanding that Biden "would waive any challenge to venue and plead guilty in this District." Since Biden did not plead guilty at the July 26 hearing and subsequent negotiations were unsuccessful, Weiss wrote in his motion, "a trial is in order."
In their response on Sunday, Biden's lawyers complained that the Justice Department had decided to "renege" on the plea deal. But they maintained that "the parties have a valid and binding bilateral Diversion Agreement," which they said had already taken effect.
Weiss vigorously disputed both claims yesterday. "The Government did not 'renege' on the 'previously agreed-upon Plea Agreement,' as the Defendant inaccurately asserts," he wrote in a reply to Biden's filing. He noted that Biden "chose to plead not guilty at the hearing on July 26, 2023," and the U.S. Probation and Pretrial Services System "declined to approve the proposed diversion agreement at that hearing." As Weiss sees it, "neither proposed agreement entered into effect."
As of the July 26 hearing, Weiss said, "the two proposed agreements were drafts that either party could propose changes to," and "both parties did so following the hearing." But the two sides could not agree on final versions of the agreements, which is why Weiss decided to try the tax case.
On the same day that Weiss announced that decision, Clark moved to withdraw as Biden's attorney. "Based on recent developments," Clark's lawyer wrote, "it appears that the negotiation and drafting of the plea agreement and diversion agreement will be contested, and Mr. Clark is a percipient witness to those issues. Under the 'witness-advocate rule,' it is inadvisable for Mr. Clark to continue as counsel in this case." The motion noted that Biden "will continue to be represented by other firms."
Without the diversion agreement, Weiss is free to prosecute Biden on the gun charge as well as the tax charges. That will raise a constitutional issue, since the gun charge is based on a statute that arbitrarily strips peaceful Americans of their Second Amendment rights based on their choice of politically disfavored intoxicants. That prohibition applies not only to crack users like Biden but also to cannabis consumers, regardless of whether they live in states that have legalized marijuana.
Two federal judges have concluded that the gun law Biden violated is inconsistent with "this Nation's historical tradition of firearm regulation"—the constitutional test that the Supreme Court established last year in New York State Rifle and Pistol Association v. Bruen. Last week, the U.S. Court of Appeals for the 5th Circuit agreed with that assessment, overturning the conviction of a Mississippi man who was caught with two guns and the remains of several joints during a routine traffic stop in April 2022.
The defendant in that case, Patrick Darnell Daniels Jr., received a prison sentence of nearly four years. Under Biden's proposed diversion agreement, by contrast, he would have avoided any sentence at all.
Those starkly unequal outcomes reinforce the impression that Biden got a "sweetheart deal" because he is the president's son. But they also illustrate the wildly uneven application of this rarely enforced statute. Although the potential defendants include millions of gun-owning drug users, violators are almost never caught. And if they are unlucky enough to be prosecuted, their punishment can range from a slap on the wrist to years behind bars.
Whether or not Biden benefited from his father's position when the Justice Department initially agreed to forgo prosecution on the firearm charge, he now faces a potential prison sentence because of a law his father views as a commonsensical restriction on gun ownership. Although Joe Biden says marijuana use should not be treated as a crime, his administration insists that marijuana users are so dangerous that they cannot be trusted with guns. And last year, the president signed a bill that increased the maximum penalty for his son's crime while adding yet another potential felony charge for people who do what he did.
If the government pursues the gun charge against Hunter Biden, his lawyers reportedly told the Justice Department before his plea deal was announced, they will challenge the prosecution on Second Amendment grounds. That development would create an instructive clash between father and son, underlining the irrationality and injustice of a policy that the president stubbornly defends.
Correction: The original version of this post erroneously stated that Noreika's signature was required for the diversion agreement. Only the plea agreement included a space for her signature.