Hunter Biden Shouldn't Go to Prison for Violating an Arbitrary Gun Law
A judge's questions about his plea deal should not obscure the point that the law he broke is unjust and arguably unconstitutional.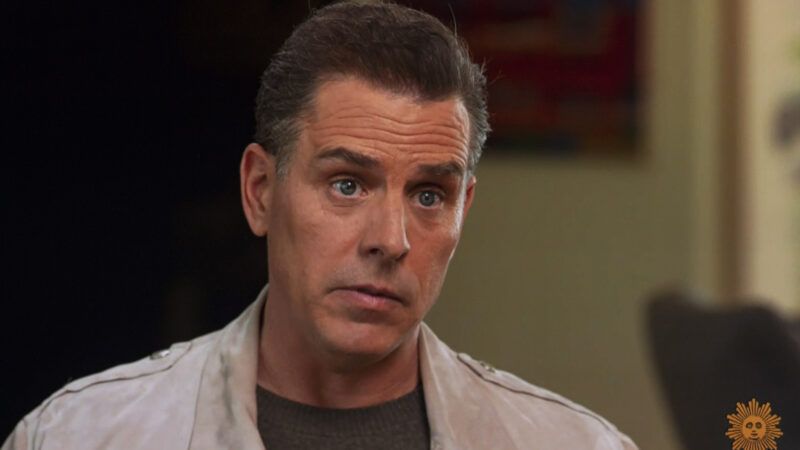 At a hearing in Delaware today, a federal judge questioned a plea deal that would have allowed Hunter Biden to avoid a prison sentence for failing to pay his income taxes and illegally buying a gun. Under that agreement, Biden would have pleaded guilty to two misdemeanor tax offenses. The deal also called for pretrial diversion with respect to a felony gun charge: receipt or possession of a firearm by an "unlawful user" of a controlled substance.
U.S. District Court Judge Maryellen Noreika objected to language in the agreement that seemed to preclude future prosecution for tax or lobbying crimes. The Associated Press reports that she also "expressed concern" about the decision to drop the gun charge once Biden completes a two-year diversion program that would require him to avoid drugs and firearms. As written, the plea agreement would have charged Noreika rather than the Justice Department with determining whether Biden had met the program's requirements. She suggested that arrangement was constitutionally questionable because it assigned a prosecutorial function to a judge.
After the plea agreement was announced last month, Republicans argued that the president's son was receiving preferential treatment. In addition to wondering why the tax offenses were charged as misdemeanors, they complained that the deal would have allowed Biden to get off with a slap on the wrist for a gun crime that was punishable by a up to a decade in prison when he committed it.
Assessing the latter complaint requires understanding not only the relevant statutes and sentencing guidelines but also the typical fate of someone in Biden's position. While the evidence suggests that Biden would be lucky to remain a free man, the main takeaway should be that federal law authorizes astonishingly severe penalties for violating illogical, unjust, and arguably unconstitutional restrictions on gun ownership.
Biden, by his own admission, was a crack cocaine user when he bought a Colt Cobra .38 Special from StarQuest Shooters, a Wilmington gun store, in 2018. That transaction violated at least three provisions of federal law.
Under 18 USC 922(g)(3), it is a felony for an illegal drug user to "receive" or "possess" a firearm. The maximum penalty at the time of Biden's gun purchase was a 10-year prison sentence. This is the charge that David Weiss, the U.S. attorney for the District of Delaware, filed against Biden on June 20.
Under 18 USC 922(a)(6), it is a felony "knowingly to make any false or fictitious oral or written statement…in connection with the acquisition or attempted acquisition of any firearm…with respect to any fact material to the lawfulness of the sale or other disposition of such firearm." That offense also is punishable by up to 10 years in prison.
Since Biden bought the revolver from a federally licensed dealer, he had to fill out ATF Form 4473, which asks, among other things, "Are you an unlawful user of, or addicted to, marijuana or any depressant, stimulant, narcotic drug, or any other controlled substance?" Biden falsely checked "no," thereby violating 18 USC 922(a)(6).
That lie also was a violation of 18 USC 924(a)(1)(A), which makes it a felony, punishable by up to five years in prison, to submit "any false statement or representation with respect to the information required by this chapter to be kept in the records of a person licensed under this chapter." That crime, the Justice Department notes, "may be charged when a person provides false responses to questions on Form 4473," although it adds that "there is considerable overlap in the conduct covered" by this provision and the conduct covered by 18 USC 922(a)(6).
If Biden had bought the gun after his father signed the Bipartisan Safer Communities Act in June 2022 and was still using crack, the potential penalties would have been even more severe. That law raised the maximum sentence for violating 18 USC 922(g)(3) to 15 years. It also created a new felony, "trafficking in firearms," which Congress counterintuitively defined broadly enough to cover cannabis consumers and other illegal drug users who obtain guns. That crime also carries a 15-year maximum.
Even under the law as it stood in 2018, Biden's gun purchase theoretically could have been charged as three different felonies, punishable by combined maximum penalties of 25 years. But any such outcome would have been highly unusual for several reasons.
First, only a tiny percentage of people who violate 18 USC 922(g)(3) are ever officially recognized as unlawful users of controlled substances, which would require evidence such as a drug arrest, court-ordered treatment, or a state-issued medical marijuana card. Generally speaking, when a person filling out Form 4473 falsely says he is not an illegal drug user, neither the gun dealer nor the FBI, which runs background checks on firearm buyers, has any basis to doubt that statement. After buying a firearm, that person ordinarily would escape charges for illegal gun possession unless he happened to be caught with drugs. Biden—whose crack habit was widely known, especially after he published his 2021 memoir Beautiful Things—is unusual in that respect.
Second, "prohibited persons" like Biden are rarely prosecuted even when they are caught trying to buy guns. In fiscal year 2017, according to a 2018 report from the Government Accountability Office, federal background checks "resulted in about 112,000 denied transactions." The Bureau of Alcohol, Tobacco, Firearms and Explosives (ATF) "referred about 12,700" of those cases for "further investigation" by its field offices. Yet as of June 2018, the Justice Department had prosecuted just 12 of those cases, which represents about 0.01 percent of the blocked transactions and 0.09 percent of the cases investigated by the ATF.
Third, the statutory maximums are a misleading indication of what typically happens even when prohibited gun buyers are prosecuted. In fiscal year 2021, according the U.S. Sentencing Commission, 7,454 people received sentences for violating 18 USC 922(g). In addition to unlawful users of controlled substances, that provision covers several other broad categories of people who are not allowed to own guns. They include people with conviction records involving crimes punishable by more than a year of incarceration, who accounted for most of the cases identified by the commission.
Keeping that point in mind, 97 percent of the defendants received prison sentences, and the average sentence was 60 months. That includes the impact of mandatory minimums under other statutes, which applied in less than 10 percent of the cases.
Unlike the typical defendant sentenced under 18 USC 922(g), Biden has no prior criminal record. Under federal sentencing guidelines, it looks like his "base offense level" would be 12, which corresponds to a recommended sentence of 10 to 16 months for someone with zero criminal history points.
Under the plea deal that is now up in the air, of course, Biden would have avoided prosecution on that charge, and Weiss chose not to file other possible charges. That decision is open to question if you accept the premise that violating the prohibition that applied to Biden is a serious crime worthy of a prison sentence.
But that premise is dubious. While an illegal drug user who owns a gun might pose a danger to public safety, so might a drinker. Yet 18 USC 922(g)(3) covers anyone who uses illegal drugs, regardless of whether he handles guns while intoxicated or otherwise behaves recklessly. An analogous policy regarding alcohol would categorically prohibit drinkers from owning guns, regardless of how much they drink or the circumstances in which they do so. Ongoing litigation poses the question of whether the ban on gun ownership by illegal drug users is consistent with the Second Amendment. Two federal judges have concluded that it is not, at least as applied to cannabis consumers.
Form 4473 warns that "the use or possession of marijuana remains unlawful under Federal law regardless of whether it has been legalized or decriminalized for medicinal or recreational purposes in the state where you reside." In other words, people who use marijuana in compliance with state law are still committing federal felonies, punishable by the same potential penalties that Biden faces, if they buy or possess firearms.
Biden's behavior—which according to Politico triggered "a bizarre incident" in which his wife took his gun and "threw it in a trash can behind a grocery store, only to return later to find it gone"—may have been more careless than that of the average gun-owning marijuana user. But his crime does not hinge on any specific thing he did that injured or endangered others; its essence was exercising Second Amendment rights that Congress had arbitrarily decided he did not deserve, based purely on his choice of recreational intoxicants. That should not be any sort of crime, let alone one that can send someone to prison. The fact that President Joe Biden stubbornly defends a policy that could put his own son behind bars should not blind us to the injustice that would entail.
[This post has been updated with additional information about Noreika's objections to Biden's plea agreement.]