Twitter Fined for Failing To Quickly Turn Over Trump Data to Jack Smith
Plus: A warning about trigger warnings, Biden blocks uranium mining near Grand Canyon, and more...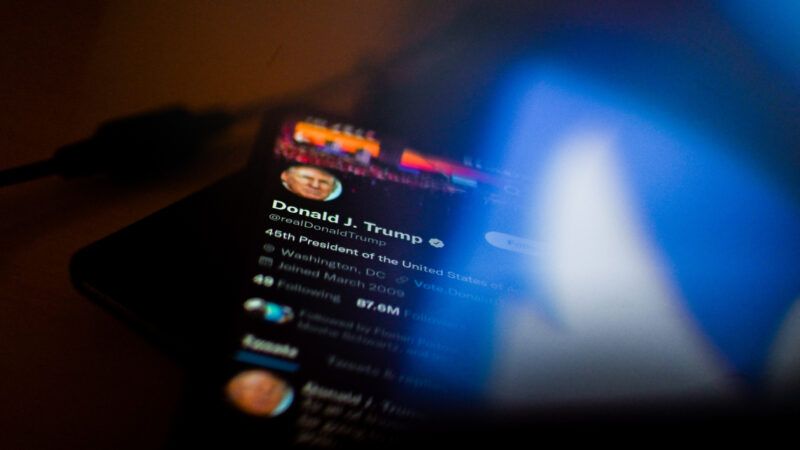 (Adrien Fillon/ZUMAPRESS/Newscom)
Special counsel Jack Smith subpoenaed Twitter for records related to former President Donald Trump's account, as part of Smith's investigation into Trump's actions surrounding the 2020 election and January 6 (actions that prompted a federal indictment against Trump last week). Smith obtained a search warrant for the records back in January of this year but Twitter missed the compliance deadline and was fined $350,000, a federal court decision unsealed yesterday shows. Twitter was also barred from telling anyone about the existence or contents of the warrant.
Subpoenaing social media records for law enforcement purposes isn't in itself problematic, of course. But there are potentially troubling elements to Smith's investigative demands and process in this case.
At this point, Trump's account had been reinstated by Twitter and was once again viewable by the public.
"It's unclear what information Smith may have sought from Trump's account," notes the Associated Press. "Possibilities include data about when and where the posts were written, their engagement and the identities of other accounts that reposted Trump's content."
I'm not sure exactly what could be gleaned from location and time-stamp data from Trump's tweets, but I'll grant that there could be information important to the indictment in there. However, seeking to see who engaged with Trump's tweets or the identities of accounts that reposted them raises more red flags. What could federal prosecutors possibly need with information like that?
Granted, the kinds of information Smith sought are speculative at this point. What's not speculative is the secretive process by which Smith's subpoenaing of Twitter played out.
"The government also obtained a nondisclosure agreement that had prohibited Twitter from disclosing the search warrant," reports the A.P. So, Twitter was not allowed to even reveal—publicly or to Trump—that federal prosecutors were requesting records at all.
"The court found that disclosing the warrant could risk that Trump could jeopardize the ongoing investigation by giving him 'an opportunity to destroy evidence, change patterns of behavior' or notify his allies," notes the A.P.
But Smith was very publicly appointed to investigate Trump back in November 2022. By mid-January 2023, when Smith obtained the Twitter search warrant, Trump had already long known that he was under investigation—which makes the idea that this was about stopping Trump from destroying evidence seem suspect.
It's this nondisclosure order that riled up the folks at Twitter, per the A.P.:
Twitter objected to the nondisclosure agreement, saying four days after the compliance deadline that it would not produce any of the account information, according to the ruling. The judges wrote that Twitter "did not question the validity of the search warrant" but argued that the nondisclosure agreement violated its First Amendment right to communicate with Trump

Twitter said if it had to turn over the records before the judge assessed the legality of the nondisclosure agreement, it would prevent Trump "from asserting executive privilege to shield communications made using his Twitter account," the document says.
When Twitter failed to turn over data by the January 27 deadline, a court found Twitter in contempt. "Although Twitter ultimately complied with the warrant, the company did not fully produce the requested information until three days after a court-ordered deadline," according to judges with the U.S. Court of Appeals for the District of Columbia Circuit. "The district court thus held Twitter in contempt and imposed a $350,000 sanction for its delay."
Details about the search warrant and Twitter's response were kept under seal for months but recently came out in a July appeals court decision unsealed Wednesday. The appeals court rejected Twitter's arguments that the nondisclosure order violated the First Amendment and the Stored Communications Act, that the district court shouldn't have enforced the search warrant until resolving Twitter's objections, and that Twitter shouldn't have been found in contempt and sanctioned.
---
FREE MINDS
A warning about trigger warnings. As a writer for the blog Feministe back in 2008, Jill Filipovic believed in trigger warnings. "Back then, I was convinced that such warnings were sometimes necessary to convey the seriousness of the topics at hand (the term deeply problematic appears a mortifying number of times under my byline)," writes Filipovic at The Atlantic, while noting that she "chafed at the demands to add ever more trigger warnings, especially when the headline already made clear what the post was about." Since then, trigger warnings have become "the norm in online feminist spaces" and also "migrated from feminist websites and blogs to college campuses and progressive groups." These days, Filipovic is worried they can do more harm than good:
Around 2016, Richard Friedman, who ran the student mental-health program at Cornell for 22 years, started seeing the number of people seeking help each year increase by 10 or 15 percent. "Not just that," he told me, "but the way young people were talking about upsetting events changed." He described "this sense of being harmed by things that were unfamiliar and uncomfortable. The language that was being used seemed inflated relative to the actual harm that could be done. I mean, I was surprised—people were very upset about things that we would never have thought would be dangerous." Some students, for instance, complained about lecturers who'd made comments they disliked, or teachers whose beliefs contradicted their personal values.

To a certain degree, Friedman said, this represented a positive change. Mental illness was becoming less stigmatized than ever before, and seeking care was more common. But Friedman worried that students also saw themselves as fragile, and seemed to believe that coming into contact with offensive or challenging information was psychologically detrimental. In asking for more robust warnings about potentially upsetting classroom material, the students seemed to be saying: This could hurt us, and this institution owes us protection from distress.

Trigger warnings were only one part of a larger shift. Complaints quickly entered the wider culture, and were applied to "toxic" workplaces and "problematic" colleagues; students decried the "potential trauma" caused by ideas and objected to the presence of some speakers and works of art.

My own doubts about all of this came, ironically, from reporting on trauma. I've interviewed women around the world about the worst things human beings do to one another. I started to notice a concerning dissonance between what researchers understand about trauma and resilience, and the ways in which the concepts were being wielded in progressive institutions. And I began to question my own role in all of it.

Feminist writers were trying to make our little corner of the internet a gentler place, while also giving appropriate recognition to appallingly common female experiences that had been pushed into the shadows. To some extent, those efforts worked. But as the mental health of adolescent girls and college students crumbles, and as activist organizations, including feminist ones, find themselves repeatedly embroiled in internecine debates over power and language, a question nags: In giving greater weight to claims of individual hurt and victimization, have we inadvertently raised a generation that has fewer tools to manage hardship and transform adversity into agency?
Read the whole thing here.
---
FREE MARKETS
National monument designation near the Grand Canyon means no more uranium mining, ever. President Joe Biden is designating almost 1 million acres of land near the Grand Canyon as a national monument. Uranium mining is already restricted in the Baaj Nwaavjo I'tah Kukveni area through 2032, but Biden's designation makes the mining moratorium—initially enacted in 2012—permanent.
Designating this area as a national monument will protect "landscape sacred to Tribal Nations and Indigenous peoples and advance President Biden's historic climate and conservation agenda," said the White House in a statement.
The Biden administration has portrayed the decision as a small trade-off, saying the area contains just 1.3 percent of known U.S. uranium reserves. But critics of Biden's decision say it will further U.S. reliance on foreign uranium from places like Russia.
"President Biden and his radical advisers won't be satisfied until the entire federal estate is off limits and America is mired in dependency on our adversaries for our natural resources," said Rep. Bruce Westerman (R–Ark.) in a statement.
The Wall Street Journal editorial board called the designation "a gift to Putin," writing that the land in question "includes America's only source of high-grade uranium ore that is economically competitive on the global market." At present, "the U.S. imports about 95% of uranium used for nuclear power reactors, mostly from Kazakhstan, Canada, Russia and Australia," the Journal points out.
The Journal editorial board also pushes back against the idea that uranium mining in the area would contaminate local waters and wildlife. "A U.S. Geological Survey in 2021 found springs and wells in the region met federal drinking-water standards despite decades of uranium mining," it states.
It also warns that the designation is just one part of a larger push "to block all mining in the U.S."—even though this "means mining will occur in countries with fewer environmental protections"—and of an overly expansive reading of the president's power under the Antiquities Act of 1906, which lets presidents designate federal land for national monuments. "Environmental groups even argue that Presidents can't roll back predecessors' designation," the board writes. "This interpretation of one-way executive power is more sweeping than the Grand Canyon and is crying out for a legal challenge."
---
QUICK HITS
• Read Reason's Matt Welch on "why Kamala Harris won't be asked about the suicide of a newspaperman she persecuted."
• The House Judiciary Committee is seeking more information about FBI efforts to investigate "violent extremists in radical-traditionalist Catholic ideology." While the FBI "cast it as the work of a single rogue field office…it looks like the effort was more widespread than our G-men admitted to the public," notes The Wall Street Journal.
• "The U.S. State Department encouraged the Pakistani government in a March 7, 2022, meeting to remove Imran Khan as prime minister over his neutrality on the Russian invasion of Ukraine," reports The Intercept, which obtained a classified Pakistani government document about the meeting. "The cable, known internally as a 'cypher,' reveals both the carrots and the sticks that the State Department deployed in its push against Khan, promising warmer relations if Khan was removed, and isolation if he was not."
• "NIMBYs have throttled the supply of homes across the country. In Montana, the state government was not just paying attention but primed to do something about it," notes Annie Lowrey at The Atlantic. That included transforming its land-use policies and allowing dense development—policies it ushered in "on a bipartisan basis and at warp speed." And the result may have been enough "to fix its housing crisis," writes Lowrey.
• How Biden is escalating the trade war with China.
• Nick Gillespie talks to Tara Isabella Burton, author of Self-Made: Creating Our Identities From Da Vinci to the Kardashians.