When the Hollywood Strike Is Over, What Will be Left?
Between A.I. and TikTok, the actors and writers will be returning to a changed industry.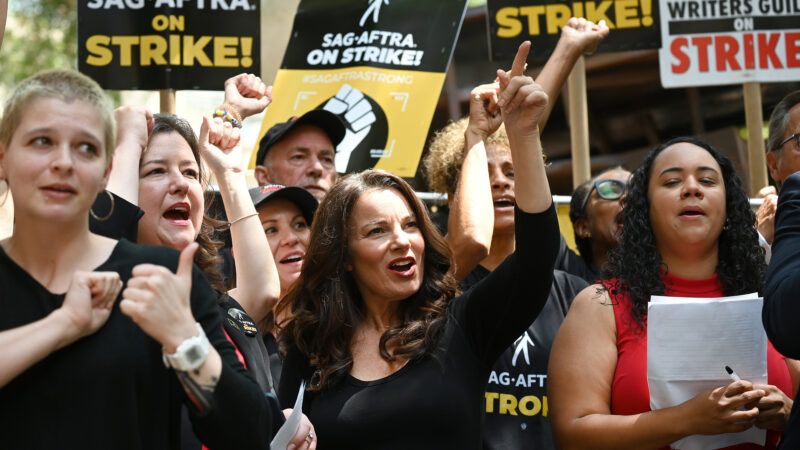 (Anthony Behar/Sipa USA/Newscom)
The double strike of 1960—the first in Hollywood history—was a resounding success for the Screen Actors Guild (SAG) and Writers Guild of America (WGA).
That was 63 years ago. SAG President Ronald Reagan facilitated what Variety called "bare-knuckle, shirtsleeve negotiations." Desi Arnaz wrote a heartfelt open letter pleading for a resolution from both sides. "Amigos," it began. "I am sitting on a bench at a redwood table in front of a tent on the farm in Corona…the coffee pot on an open fire is dancing around, and the aroma coming from it is its way of saying, 'get your cup.'"
Eventually, most of the strikers' demands were met and new contracts were signed. The Alliance of Television Film Producers acquiesced on pension and health insurance demands and ensured that creatives would be included in residual payouts for films made after 1948. Everyone went back to work. Classics such as Psycho and Spartacus were released in short order.
Now the WGA and SAG-AFTRA—as SAG became known after it merged with the American Federation of Television and Radio Artists—have again linked arms at the picket line, bringing the $134 billion industry to a standstill. But times have changed. When you add up the entertainment industry's expansion beyond traditional filmmaking with major advancements in artificial intelligence (A.I.), union members may not wield the clout they once did.
Their asks are not just lofty but lengthy, at 84 pages long. The writers and actors are demanding revised residual revenue structures from streaming platforms, higher salary minimums, and strict restrictions on the industry's use of A.I. Both unions face the same existential question: Will A.I. be a useful tool to elevate and enhance artistic accomplishment, or will it make their jobs obsolete?
"What happens here is important because what's happening to us is happening across all fields of labor, when employers make Wall Street and greed their priority and they forget about the essential contributors that make the machine run," SAG-AFTRA president (and former The Nanny star) Fran Drescher told CBS in mid-July. "How they plead poverty, that they're losing money left and right when giving hundreds of millions of dollars to their CEOs. It is disgusting."
The Alliance of Motion Picture and Television Producers (AMPTP) counters that it had worked to settle the conflict, claiming that it offered "historic" contract improvements in 14 areas, including a 76 percent increase in residual payments for certain lucrative streaming shows overseas, and pay increases for background stand-ins, photo doubles, and actors. "We are deeply disappointed that SAG-AFTRA has decided to walk away from negotiations," AMPTP declared in a statement. "This is the union's choice, not ours."
The strikes, which have been in effect for 90 days and counting, have seen nearly 180,000 workers walking off the job, save for those with special exemptions or "interim agreements" from one of the unions. SAG-AFTRA members have also called upon non-union actors to cease work until demands have been met.
"Follow our strike rules. Do not do the work of a striking writer or actor," implored comedian Adam Conover from the picket line. "That's called scabbing."
In 1960, Hollywood's plight might have fallen on a sympathetic public. It was the golden age of movie stars—think Marilyn Monroe, Elizabeth Taylor, Cary Grant, Audrey Hepburn. These silver-screen figures exerted inordinate influence over social norms, fashion trends, popular culture, our collective understanding of historical events, and even our shared vision for the future.
But after years of sharply declining viewership at box offices and awards shows, and the swift blow dealt to the industry by COVID-19, even The New York Times must admit: "We're out of Movie Stars." 
"There are fewer films now that allow an actor to grow a personal and a Tom Cruise level of stardom. It's a crisis," wrote Wesley Morris, "and the movies know it."
Entertainment itself is no longer as widely shared a part of American culture, and the remaining "movie stars" wield considerably less power. "That's a function of an increasingly prosperous and diverse society with far greater consumer choice—not a shortcoming of Hollywood," says Hannah Ruth Earl, the director of talent and creative development at the Moving Pictures Institute. "Smaller audiences give rise to more niche content in a larger marketplace."
Indeed, a new and stranger age has dawned: the age of digital media. Younger Americans much prefer social media platforms like TikTok and immersive video games to film and television, according to Deloitte's 2023 Digital Media Trends Survey. "They can be their own movie star, the hero of grand adventures, and even take the lead role in the world's largest entertainment franchises," the report notes. 
SAG-AFTRA knows this, and it has issued strict rules that prohibit influencers—members and non-members alike—from engaging in promotion with any struck Hollywood studios. Failure to comply will deem the party ineligible for future membership. While some influencers refuse to cross the picket line, others call into question the importance of professional unions when they've built self-made followings and have complete creative autonomy. 
Of course, the above issues pale in comparison to the question facing the global economy as a whole: Will A.I. be cast in a starring or supporting role?
As the rapidly-evolving technology has become a mainstay of union picket signs, studios have gone on a not-so-quiet A.I. hiring binge, catalyzed by a surprise windfall of cash sitting idle. Disney is seeking several generative A.I. specialists, Sony is hiring an A.I. ethics expert, and Netflix is hiring an A.I. product manager and A.I. technical director for a whopping $900,000 and $650,000 per year respectively. To me, this signifies the unions are fighting a losing battle. 
"A.I. is terrifying," said "Dopesick" and "Empire" creator Danny Strong to Fortune. "Now, I've seen some of ChatGPT's writing and as of now I'm not terrified because Chat is a terrible writer. But who knows? That could change." 
It already has. A recent study directed by Erik Guzik at the University of Montana utilized Torrance Tests of Creative Thinking, a reputable tool used to assess human creativity, to assess the evolving creative capabilities of GPT-4. The A.I. scored in the 19th percentile with 2,700 college students nationally who took the TTCT in 2016. "For ChatGPT and GPT-4, we showed for the first time that it performs in the top 1% for originality," Guzik said. 
These rapid learning capabilities are cause for concern for the top names in tech who penned a letter of warning, imploring A.I. labs to pause training of models larger than GPT-4 for 6 months to allow for appropriate research and regulations. The letter, published by the Future of Life Institute, has 33,002 signatories including Elon Musk, Steve Wozniak, and Evan Sharp. 
"Should we automate away all the jobs, including the fulfilling ones?" the letter asks. "Should we develop nonhuman minds that might eventually outnumber, outsmart, obsolete and replace us? Should we risk loss of control of our civilization?" 
While industry leaders grapple with the implications of technology, the entertainment shutdown has ensured that neither actors nor writers can capitalize on the striking success of "Barbenheimer"—the simultaneous release of Barbie and Oppenheimer marked a once-in-a-decade cultural event that grossed over $1 billion in just 10 days. This may quicken force-majeure terminations, where studios and streaming platforms terminate first look and overall deals with writers as soon as early-August. 
"Historically, joining these unions was viewed as a career milestone—an accomplishment and essential marker of credibility," says Earl. As studios threaten to bleed SAG-AFTRA and the WGA dry, actors and writers may turn toward non-equity work, further accelerating the rapid decentralization of film and television away from once-powerful gatekeepers.
The unions have inadvertently opened their veins. The studios are making popcorn.
"A reduction of SAG-AFTRA's authority would be accompanied by even greater structural shifts within the broader entertainment industry," says Earl. Shifts which, if they occur, will change Hollywood as we know it. 
As he surveyed the colts and fillies on his farm in Corona, Desi Arnaz wrote, "I have always found that if I showed any amount of talent, in any of these areas, I never had difficulty in negotiating a fair deal. If you go beyond any qualification, you can write your own ticket, particularly in the Television Industry where the demand for talent is so great, and the competition to get it, borne out of healthy rivalry, is so strong." 
That was 1960. If only Arnaz could see the brave new world to come beyond his coffee cup—where technology may soon render talent obsolete. Where unions, if they want to stay relevant, should come to the table and take what they can get. 
"P.S.," he writes, "If these suggested new negotiations are conducted, (and I earnestly urge you to do so, and soon), I will be glad to supply the refreshments, and I will even be glad to supply the farm."