Crisis Pregnancy Centers File Free Speech Suits Over Illinois and Vermont Laws
Plus: California tries to stop professors from testifying in suit over COVID education policies, state Republicans aren't all abandoning free market economics, and more...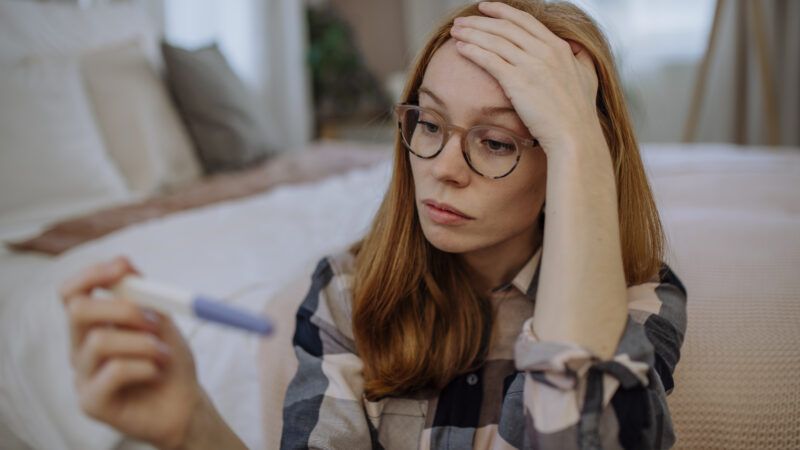 (HalfPoint/Westend61 GmbH/Newscom)
Groups sue over Illinois and Vermont laws targeting limited-service pregnancy centers. An Illinois measure signed into law last week subjects crisis pregnancy centers to penalties and fines if they employ "unfair or deceptive acts or practices" to entice people in or to dissuade women from using emergency contraception or getting abortions.
The law (S.B. 1909) is being pushed as a fraud deterrence measure. But opponents fear that it will "chill and silence pro-life speech under the guise of 'consumer protection,'" as Peter Breen, executive vice president and head of litigation for the Thomas More Society, said in a statement.
Breen himself is misleading when he says "politicians are targeting these ministries with $50,000 fines and injunctions solely because of their pro-life viewpoint." The real concern is these pro-life centers misrepresenting the services they offer (for instance, by purporting to be clinics offering a full range of reproductive care while actually existing to convince pregnant women not to terminate pregnancies) or misrepresenting staff's medical credentials while spreading false information about the effects of abortions on women—both tactics some crisis pregnancy centers have been slammed for in the past.
But I'm skeptical that the state couldn't go after any fraudulent practices by pregnancy centers under existing laws, and I share Breen's concerns that this measure will be used to target speech.
The law's scope is broad, barring not just "deception" and "fraud" from "limited service pregnancy centers" but also "false pretense, false promise, or misrepresentation," as well as "the concealment, suppression, or omission of any material fact." This gives the state a lot of leeway to go after pro-life pregnancy centers for all sorts of marketing tactics, attempts at persuasion, or statements that blur the line between opinion and fact.
And pro-choice politicians have a history of targeting crisis pregnancy centers in overbroad and overzealous ways. For instance, last year, 21 Democratic senators asked Google to "limit the appearance" of anti-abortion pregnancy centers in search results for abortion.
And California passed a law in 2015 forcing such centers to notify patients about state services, including abortion, for low-income pregnant women. The law was struck down by the U.S. Supreme Court in 2018.
The Thomas More Society is now suing over the Illinois law. A complaint filed July 27 in the U.S. District Court for the Northern District of Illinois seeks to stop the state's attorney general from enforcing it. The complaint was filed on behalf of several Illinois pregnancy centers and pro-life groups as well as the Institute of Family and Life Advocates (NIFLA).
Breen said that the state has "not had cause to take legal action against pregnancy help centers, using the tools of the law that were already available." And according to Breen, a Freedom of Information Act request filed by his group showed that "the Attorney General has received zero complaints from members of the public against an Illinois Pregnancy Help Center for alleged violations of the Deceptive Business Practices Act."
NIFLA is also suing over a Vermont law regarding crisis pregnancy centers. That law, which took effect in May, states that "it is an unfair and deceptive act and practice…for any limited-services pregnancy center to disseminate or cause to be disseminated to the public any advertising about the services or proposed services performed at that center that is untrue or clearly designed to mislead the public about the nature of services provided."
The NIFLA lawsuit was filed by the Alliance Defending Freedom (ADF) and plaintiffs also include two pregnancy care centers. Vermont's law "suppresses the free-speech rights of faith-based pregnancy centers," said ADF Legal Counsel Julia Payne.
"The Vermont Legislature specifically didn't apply this law to anyone except for pro-life facilities," Payne told VTDigger. "It doesn't apply to abortion clinics. It doesn't apply to centers that refer for abortion. And so this law is different, because of that viewpoint discrimination."
But according to the Vermont Attorney General's Office, the discrepancy is because abortion clinics are already subject to the state's false advertising laws, since they charge a fee for their services.
"In the suit, the plaintiffs also call into question the law's provision that only licensed health care providers can provide health care services, information and counselling," notes Vermont Public. "Payne argued that this limits the ability of non-medical centers like Branches to provide 'general pregnancy information, drug store pregnancy tests or counselling about pregnancy options.'"
Vermont Attorney General Charity Clark told Vermont Public that "the law prohibits lying and deception in the marketplace. Who would be against that? I look forward to defending this lawsuit for Vermont."
---
FREE MINDS
The California Department of Education (CDE) is trying to stop two professors from testifying about COVID-era educational policies. The professors, Sean Reardon and Thomas Dee, were asked to testify on behalf of students who are suing over the state's pandemic education policies. That case is Cayla J. v. State of California.
The ACLU is threatening to sue California for violating the First Amendment rights of two professors.

The professors want to testify against the State in a case about the disastrous learning loss caused by COVID policies, but are being barred from doing so.

The absurd claim is… pic.twitter.com/5sQpziiPB5

— Kevin Kiley (@KevinKileyCA) July 31, 2023
The American Civil Liberties Union of Southern California says it will sue the CDE if it won't let the professors testify.
"Observers say the dispute has the potential to limit who conducts education research in California and what they are able to study because CDE controls the sharing of nonpublic data," notes EdSource's John Fensterwald. "At issue is a restriction that CDE requires researchers to sign as a condition for their gaining access to K-12 data that is not available to the public. The clause, which CDE is interpreting broadly, prohibits the researcher from participating in any litigation against the department, even in cases unrelated to the research they were doing through CDE."
---
FREE MARKETS
State Republicans aren't all abandoning free market economics.
In which @RameshPonnuru reminds us that the national conservative types are really an unrepresentative DC-centric, DC-focused faction, at least on economics. In the states, Republicans are still doing free-market conservative things. https://t.co/pL8Sp7xdt2

— Ryan Bourne (@MrRBourne) July 31, 2023
"A common claim about Donald Trump's Republican Party" is that "Republicans are well along in the process of jettisoning their old free-market orthodoxy," writes Ramesh Ponnuru at The Washington Post. But in some states, "Republican legislators keep doing what they always do: cutting taxes."
"The party has a stronger protectionist wing than it used to, and it has cooled on trade with China especially," suggests Ponnuru. Besides, "the purity of the party's past free-market convictions has also been exaggerated." But "the biggest changes in the party since the 2016 presidential campaign don't have to do with how it thinks about the size and scope of government."
---
FOLLOW-UP
Cop who parked squad car on tracks and got woman hit by a train is guilty of reckless endangerment. "A Colorado police officer who put a handcuffed woman in a parked police vehicle that was hit by a freight train has been found guilty of reckless endangerment and assault but was acquitted of a third charge of criminal attempt to commit manslaughter," reports The Denver Post:
Jordan Steinke was the first of two officers to go to trial over the Sept. 16, 2022, crash that left Yareni Rios-Gonzalez seriously injured.

Steinke testified that she did not know that the patrol car of another officer she was helping was parked on the tracks even though they can be seen on her body camera footage along with two railroad crossing signs. Steinke said she was focused on the threat that could come from Rios-Gonzalez and her pickup truck, not the ground.
Reason Roundup covered the incident when it happened back in September 2022. "Rios-Gonzalez stopped her vehicle a little past the railroad tracks when she was pulled over," we noted at the time. "The Platteville cop stopped behind her, on the tracks. He left his car there while detaining Rios-Gonzalez and then continued to leave it parked on the tracks even after she was handcuffed in the back seat, as he and several officers from Fort Lupton searched her car."
Yareni Rios-Gonzalez, then 20, was hospitalized with serious injuries including nine broken ribs, a broken arm, a fractured sternum, and multiple injuries to the head, back, and legs.
NEW: Another point of view from the Platteville Police.

"Was she in there?"
"Oh my god she was in there"

And then later…

"Was she in there?"
"She was in there"
"Oh fuck. Oh fuck."

This clip has the first min of audio redacted/missing. pic.twitter.com/AvkRQUKLci

— Jeremy Jojola (@jeremyjojola) September 23, 2022
Thank you for registering!
You've unlocked
our best deal yet.
---
Unlimited Digital Access
$2 FOR 6 MONTHS
1-Time Payment of $2 at Checkout
Thank you for registering!
You've unlocked
our best deal yet.
---
Unlimited Digital Access
$2 FOR 6 MONTHS
1-Time Payment of $2 at Checkout
Thank you for registering!
You've unlocked
our best deal yet.
---
Unlimited Digital Access
$2 FOR 6 MONTHS
1-Time Payment of $2 at Checkout
---
QUICK HITS
• The FBI made "inappropriate use" of its foreign surveillance program to spy on U.S. citizens, a White House advisory board says.
• Reason is launching a new limited-run podcast hosted by Eric Boehm. Why We Can't Have Nice Things looks at "how markets could deliver the goods for consumers—if only the government didn't keep getting in the way."
• A federal judge has temporarily blocked Arkansas from enforcing a law that allowed librarians and booksellers to be criminally charged for allowing minors to access "harmful" material.
• "Rudy Giuliani, who as Trump's lawyer helped propagate the claim that systematic fraud delivered the White House to Joe Biden, belatedly admitted that he had falsely and repeatedly accused two Georgia election workers of participating in that imaginary conspiracy," reports Reason's Jacob Sullum.
• Confidence in the U.S. military has hit its lowest level in two decades.
• "The 20th-century conceit that a technocratic elite should replace politically accountable appointees is based on the myth of disinterested agreement about the 'right kind of civilization,'" writes Virginia Postrel.
• "A Tennessee man drowned last year as police watched and actively discouraged others from helping the man," notes Reason's Emma Camp. "Now, the man's mother has filed a lawsuit against the officers, claiming their negligence caused her son's death."
• "If you want to experience the full force of the state," writes Casey Newton at Platformer, "to have an army of city administrators descend on you, with speed and ferocity — that's easy. Just put up any sort of structure without permission, and wait for them to beat down your door. Elon Musk learned that lesson the hard way on Monday, when the enormous lit-up X he had erected in recent days atop the former Twitter's Market Street headquarters was unceremoniously removed."