The Federal Trade Commission's Latest Frivolous Antitrust Suit Takes Aim at Amazon
Plus: Texas' new anti-porn law, Biden meets with A.I. critics, and more...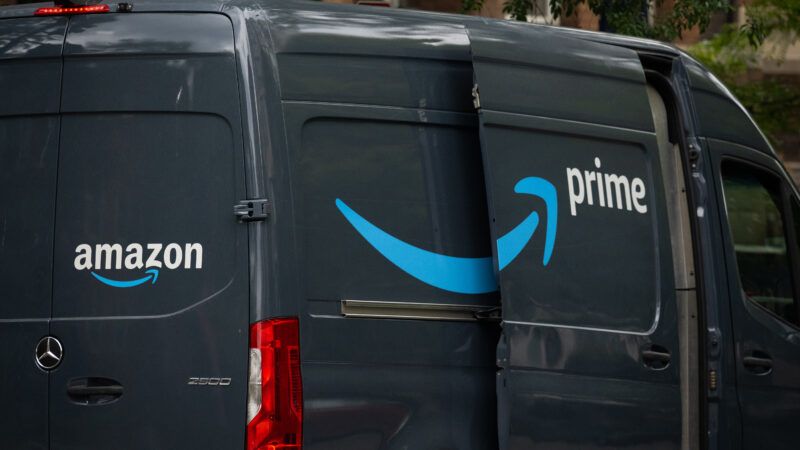 (Graeme Sloan/Sipa USA/Newscom)
The Federal Trade Commission's (FTC) new antitrust lawsuit against Amazon is an amazing exercise in hubris and absurdity.
In a complaint filed Wednesday, the agency alleges that Amazon's incredibly popular Prime program is a scam. Prime—a monthly or yearly subscription program that confers many benefits, including free shipping and tons of streaming content, to Amazon customers—is too easy to sign up for and too hard to cancel, the FTC alleges.
"Amazon has knowingly duped millions of consumers into unknowingly enrolling in Amazon Prime," the agency said in a statement. "Amazon also knowingly complicated the cancellation process for Prime subscribers who sought to end their membership."
But these claims of deception fall apart upon close examination (as noted by my colleague Eric Boehm yesterday). The FTC's complaint revolves around mundane moves by Amazon, like conspicuously asking non-Prime customers if they want to sign up or requiring Prime subscribers to click through several screens to unsubscribe.
Patrick Hedger, executive director of the Taxpayers Protection Alliance, noted that it took him under a minute and required just six clicks to cancel his Prime account—fewer clicks than it takes to submit a public comment on the FTC website.
Like many major companies, Amazon has some flaws. But the argument that it's broadly harmful to consumers—let alone so harmful that it requires the intervention of the federal government—is so far removed from reality that only government bureaucrats with an ax to grind could make it with straight faces. (In fact, Amazon routinely garners extremely high favorability ratings in consumer polls.)
So…Why?
On its face, it makes very little sense that the FTC has turned a six-click cancellation process into a matter for federal intervention. But it is perfectly in keeping with the agency's anti-tech-company agenda.
As tech companies have become more loathed by certain political and media circles, they've faced increasing attempts to regulate and punish them through any means possible, including antitrust law. Using antitrust enforcement to attack tech companies that irk or unsettle politicians was a strategy utilized under former President Donald Trump and ramped up during the Biden administration. And current FTC Chair Lina Khan has made no secret of her desire to cut tech companies down to size using novel interpretations of antitrust law.
For decades, antitrust enforcers relied on a consumer welfare standard to gauge harm. But under what's been termed the neo-Brandeisian school of antitrust thinking (or sometimes "hipster antitrust"), consumer harm is no longer the lodestar of antitrust policy.
Neo-Brandeisians think the government can and should go after businesses simply for being too big and too popular. When large companies like Amazon elevate their own branded products, acquire smaller companies, and expand product and service offerings, that makes it harder for smaller, less robust, or less well-known companies to compete. In essence, neo-Brandeisians want the government to have the power to say when businesses must stop growing or changing.
It's a view of economic competition that centers on state control rather than market preferences. Neo-Brandeisians also seem to think it is a good thing for the government to micromanage all sorts of minute facets of the consumer experience.
Of course, existing antitrust law doesn't allow the FTC or the Department of Justice to simply dictate that Facebook must sell off Instagram, that Google must give up some of its search traffic to Bing, or that Amazon needs to price its store-brand products higher. To go after Big Tech companies, the government must prove they're violating existing antitrust laws in some ways—which has led to the rash of ridiculous claims we've seen in recent federal and state antitrust lawsuits.
The FTC's new antitrust suit against Amazon represents the latest in a string of actions premised on wacky interpretations and melodramatic complaints.
The Amazon Suit
Unlike some traditional antitrust cases, premised on clearly deceptive or illegal behavior, the FTC's concerns in a (highly redacted) complaint about Amazon are dubious to the point of being laughable.
During the checkout process, in some cases, "the option to purchase items on Amazon without subscribing to Prime was more difficult for consumers to locate," states the FTC press release—as if it's Amazon's fault that some consumers might be a little less observant or tech-savvy. The option is not hidden, mind you; plenty of non-Prime members find it and purchase items without joining Prime. But they may have to spend an extra second or two looking—and the government is making a federal case out of it.
Other examples in the lawsuit are similarly minor and picky.
For instance, during checkout on a computer, Amazon presents consumers "with a prominent button to enroll in Prime and a comparatively inconspicuous link to decline," asserts the FTC's complaint. Furthermore, the button to sign up for a free trial of Prime mentions free shipping, and the button to decline "includes language that the consumer will not receive 'free shipping.'" Neither of these representations is inaccurate. Rather, they represent Amazon giving customers information about a potential benefit of Prime membership; customers are free to act on that information or not. Yet the FTC uses this as evidence for its claim that Amazon uses trickery to generate Prime memberships.
At another point, the FTC notes that one mobile solicitation to sign up for a 30-day free trial of Prime clearly states, in prominent text, "After your FREE trial, Prime is just $14.99/month." But it does not explicitly state in the same section that the membership will auto-renew after the free trial—for that, customers must scroll slightly further down the page to a section laying out the terms.
The terms clearly state at the start that by signing up, a customer authorizes Amazon "to charge your default payment method…or another available payment method on file after your 30-day free trial." Then, in bolded text, it states: "Your Amazon Prime membership continues until cancelled. If you do not wish to continue for $14.99/month plus any applicable taxes, you may cancel anytime by visiting Your Account and adjusting your membership settings." Does that seem like a company trying "to trick consumers into enrolling in automatically-renewing Prime subscriptions"?
The FTC has also deemed the Prime cancellation process too complicated to be legal. To cancel Prime, customers can contact customer service directly or go through an online process (which was changed in April 2023 to be even more simplified). The FTC's big complaint is that the online process required at least six clicks, over the course of four pages. On these pages, customers were presented with options like switching from a monthly plan to an annual plan (or vice versa), ending their membership on a specific future date, pausing their membership, keeping their membership, or ending it immediately.
To make matters even less bad, Prime members could get a refund of one automatic monthly charge. Someone who forgot to cancel after 30 days or didn't realize they would be auto-charged could get that $14.99 back. Still, the FTC is unsatisfied because someone "who discovered Prime charges after a few months could not obtain a full refund online."
To satisfy the FTC, Amazon apparently must allow people to use months' worth of free Prime services and still get a full refund of their money.
'Dark Patterns'
A common thing the government tries in anti-tech antitrust cases is to confuse the issue by throwing around vague but official- or scary-sounding lingo. For instance, in some previous cases, the government has suggested that "network effects"—the advantages that accrue to tech platforms that already have a strong user base—somehow make previously OK actions into impermissible ones.
In this case, the FTC repeatedly accuses Amazon of using "dark patterns" to fool consumers.
Sounds devious, right? But "dark pattern" has no precise meaning; it's a catchall term coined by a user interface specialist to describe design tactics used to get consumers to take a particular action desired by the company or consent to something they might not otherwise. Dark patterns can include things like "creating a false sense of urgency for a product or service" (by, for instance, saying how many other people have it in their cart right now), according to Digiday, or using dense wording in terms of service. What some might define as a "dark pattern," others might see as simply a savvy marketing tactic.
In this case, the FTC defines "dark patterns" to include forcing customers to click through more than one screen to cancel their Prime subscription or making non-Prime customers say yes or no to signing up for Prime before completing a purchase.
Amazon's mobile app sometimes "required consumers to either accept or decline a Prime subscription before allowing them to continue shopping," the FTC points out.
That may be mildly annoying to shoppers—but it's not deception or trickery. Customers can easily decide whether the annoyance of having to decline Prime membership before a purchase negates the benefits of shopping on Amazon. But the FTC thinks consumers need it to step in and save them from the tyranny of having to click no thanks.
---
FREE MINDS
Texas' new anti-porn law. First Amendment lawyer Ari Cohn looks at H.B. 1181, a Texas anti-porn proposal signed into law by Republican Gov. Greg Abbott earlier this month:
Over the past two years there has been a concerted push by state legislatures to regulate the Internet, the likes of which has not been seen since the late 90s/early aughts. Content moderation, financial relationships between journalists and platforms, social media design and transparency, "national security," kids being exposed to "bad" Internet speech—you name it, a state legislature has introduced an unconstitutional bill about it. So it's no surprise that the anti-porn crowd seized the moment to once again exhibit a creepy and unhealthy interest in what other people do with their pants off.

The Texas legislature, also unsurprisingly, was all too happy to help out. Last week, Texas Governor Greg Abbott signed into law HB 1181, which regulates websites that publish or distribute "material harmful to minors," i.e., porn.
The law not only contains an unworkable definition of "commercial entity"…
The law's requirements applies to any "commercial entity," explicitly including social media platforms, that "intentionally publishes or distributes material on an Internet website…more than one-third of which" is porn. That's a problematic criterion in the first place. I don't know that there's an easy (or even feasible) way for a social media platform to know precisely how much porn is on it (perhaps there is, though). And what about a non-social media website—what is the denominator? If a website has articles (which is definitely the reason you're on it, I know) plus naughty pictures, is the percentage calculated by comparing the number of porn-y things to the number of articles? Words? Pages? Who knows—the law sure doesn't say.
…but also requires commercial entities "to do two things, both of which clear First Amendment hurdles about as well as a rhinoceros competing in a steeplechase," notes Cohn.
These include age-verifying users and posting conspicuous anti-porn disclaimers.
More from Cohn here on the particulars of these requirements and why they don't stand up to First Amendment scrutiny.
---
FREE MARKETS
Biden strategizes about how to regulate artificial intelligence (A.I.). Perhaps feeling like they missed an opportunity to strangle social media companies before they took off, government worrywarts, busybodies, and authoritarians seem determined to strictly regulate A.I. from the get-go. To this effect, President Joe Biden met with Big Tech critics in Silicon Valley this week. "Biden, in brief remarks to reporters before the closed-door meeting in San Francisco, said that he was there to learn about the potential controls that could be put in place to protect people from the harms of the new tech," reports The Washington Post:
"Social media has already shown us the harm that powerful technology can do without the right safeguards in place," Biden said. "I'd like to hear more from this group because I have a lot to learn. And we also have a lot to discuss."

The meeting included Tristan Harris, the executive director of the Center for Humane Technology who became well-known for his criticism of social media companies over the past few years, Algorithmic Justice League founder Joy Buolamwini, who has highlighted how AI and algorithms can propagate racist and sexist biases, and Jim Steyer, chief executive of Common Sense Media, a longtime children's advocate.

After the meeting, Steyer said in an interview that Biden was "really engaged" while leading the session, which ran for over an hour. The president stressed the importance of ensuring AI does not undermine U.S. democracy as the group discussed how such tools could amplify misinformation and widen political polarization, Steyer said.
More here.
---
QUICK HITS
• New data from the National Assessment of Educational Programs show math and reading scores for American 13-year-olds hitting new lows. "The last time math performance was this low for 13-year-olds was in 1990," notes The New York Times. "In reading, 2004."
• Fentanyl continues to bring out the worst impulses in policy makers and prosecutors.
• Kat Rosenfield explores the controversy over the book Gender Queer and what it reveals about our ridiculously volatile cultural moment and tribalism on the left.
• Can a Florida school district ban a children's book about gay penguins?