It Takes 6 Clicks To Cancel Amazon Prime and the FTC's New Lawsuit Says That's Too Many
The ideal number of clicks to cancel an online subscription may be four or five instead of six, but we don't need government to make that decision.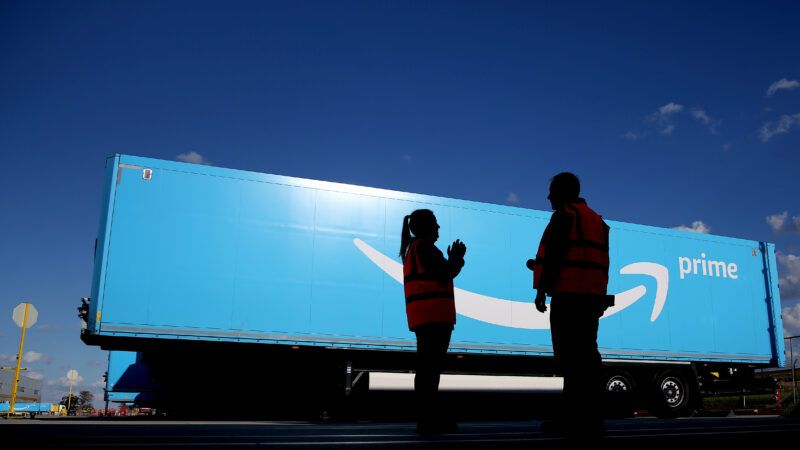 (Ronny Hartmann/dpa/picture-alliance/Newscom)
Customers dissatisfied with Amazon Prime—the $14.99 monthly subscription service that includes free shipping and unlimited access to Amazon's streaming television service—must jump over an unreasonable number of hurdles to cancel their memberships, the Federal Trade Commission (FTC) alleges.
In a lawsuit filed Wednesday against Amazon, the FTC explains that consumers must click "a minimum of six times" to navigate from Amazon.com's main page through the entirety of the cancellation process. In the FTC's telling, this is a harrowing journey that requires users to navigate confusing options like "end membership" to, well, end their membership. One must also have the fortitude to endure a page in which  Amazon tries to dissuade the cancellation with a reminder about the benefits of being a Prime member. This six-click process is deliberately difficult to navigate, the FTC claims, and is part of a "deceptive" scheme to lock consumers into their memberships.
Ah, but do you know how many clicks it would take to submit your feedback to the FTC about its decision to file this lawsuit? Seven.
That tally, courtesy of Patrick Hedger, executive director of the fiscally conservative Taxpayers Protection Alliance, sums up the silliness of the FTC's latest attack on Amazon.
To be clear, the too-many-clicks claim is the heart of the lawsuit filed Wednesday by the FTC, which asks a federal court in Washington to find that Amazon "used manipulative, coercive, or deceptive user-interface designs…to trick consumers into enrolling in automatically-renewing Prime subscriptions" and "knowingly complicated the cancellation process."
Maybe the ideal number of clicks to cancel an online subscription is four or five instead of six—but it seems unlikely that a federal court is the best venue to determine that sort of thing. Indeed, it seems absurd for the FTC to act as if this is a situation that requires government action at all.
According to The New York Times, there are more than 200 million Amazon Prime subscribers who spent about $35 billion last year on those memberships. Prime subscriptions are a major revenue stream for one of the world's most successful companies. Still, the available evidence suggests that people are opting into Prime memberships because they want to do so—or, at least, that they find the benefits worth paying for.
Likewise, there's little evidence that consumers are mad at Amazon's behavior. A recent Morning Consult report found Amazon to be the second most trusted brand in the United States, trailing only Band-Aid. In the same survey, it was reported that Amazon Prime users have a more favorable opinion of the company than the general U.S. population does.
Contrary to the FTC's lawsuit, there does not appear to be a class of individuals who need rescuing from Amazon Prime, a service that subscribers can cancel in less time than it takes to read an article bemoaning that the FTC is once again wasting coercively obtained tax dollars harassing a private company funded by voluntary transactions.