He's Facing Life in Prison for Owning Firearms Without a License
The government appears to agree that Charles Foehner shot a man in self-defense. He may spend decades behind bars anyway.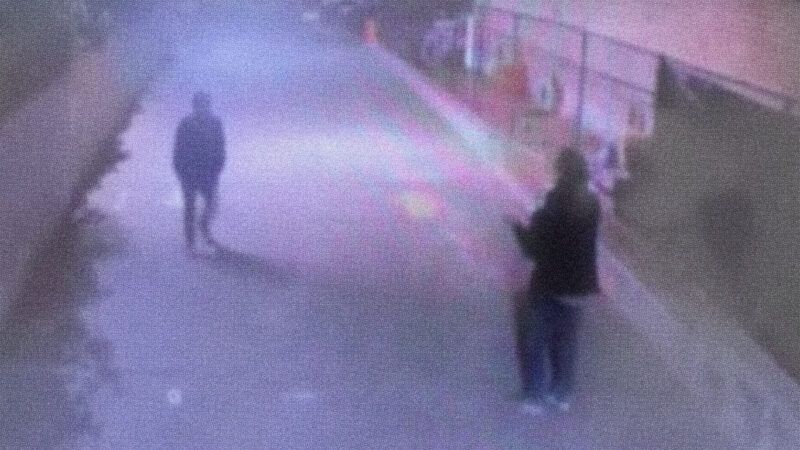 A New York City man is facing a mound of criminal charges and a sentence that would amount to life in prison after he shot and killed a man who, according to surveillance footage, was attempting to mug him. 
The kicker: The government appears to agree with the defendant, Charles Foehner, on at least one major point: that the shooting was justified. 
Indeed, prosecutors have not attempted to indict Foehner, 65, on any homicide-related charge. The counts he's facing—there were reportedly more than two dozen of them at his arraignment—are related to criminal possession of various weapons, after police searched his apartment and found that only some of his firearms are licensed with the state. 
In other words, he is staring down decades behind bars for having guns that didn't have the proper stamp of approval from bureaucrats, despite the government conceding that the practical use of his weapon—in service of protecting his life—was defensible.
At around 2 a.m. on June 1, video shows Foehner walking backward slowly up a driveway as Cody Gonzalez, 32, assailed him outside a parking garage in Queens. Foehner pulled out his gun, which did not deter Gonzalez from continuing to lunge toward him. After Foehner fired the fatal shots, Gonzalez can be seen briefly sprinting in the other direction before collapsing.
"The defendant was on the street with a loaded, unlicensed gun," said Judge Jerry Iannece of Queens Criminal Court in an early June hearing, during which he set bail at $50,000—double what the office of Queens District Attorney Melinda Katz sought. "There are too many shootings in this city! The court is quite concerned with what we see."
In some sense, it's difficult to disagree with Iannece on the latter point: Though violent crime in New York City has recently seen a significant decline, the number of deadly shootings would, in a perfect world, be zero. Apparently lost on him, however, is that exercising the right to self-defense is not a crime. The court should be more concerned that Foehner is facing the rest of his natural life in a cage for what essentially amounts to an administrative faux pas—more time than Gonzalez, who had at least 15 prior arrests, had spent behind bars, and more time than he would have gotten had he survived and faced prosecution for the attempted mugging.
"You have New York City saying, 'Yes, this mugger with this lengthy history, he's not someone who is probably going to end up in prison for a long time, but the guy who defends himself against the mugger, who's otherwise a peaceable citizen, that's the guy who deserves life in prison,'" says Amy Swearer, a senior legal fellow who focuses on Second Amendment issues at The Heritage Foundation. "It doesn't make any sense."
It is particularly nonsensical against the current political backdrop, where criminal justice reform has been touted as a paramount priority in left-leaning jurisdictions across the country. Katz, who brought the charges, has described herself as a "progressive prosecutor." Yet, it is difficult to look at her treatment of Foehner and see it as anything but a fulfillment of the worst stereotypes characterizing the "tough on crime" movement—in which an iron fist flattens people with spurious criminal charges, ruining their lives in the process.
That pivot can, at least in part, be explained by the general aversion many left-leaning folks have to guns. It's worth noting, though, that some of the progressives closest to the legal system understand the problem for what it is: overcriminalization.
One such example: In 2021, public defenders with The Black Attorneys of Legal Aid, The Bronx Defenders, and Brooklyn Defender Services filed an amicus brief supporting the plaintiffs in New York State Rifle & Pistol Association, Inc. v. Bruen, a landmark 2022 Supreme Court decision in which a majority of the justices hamstrung a New York law governing concealed carry, thus expanding people's right to publicly possess guns for self-defense. 
"The incorporated Second Amendment affords the people 'the right to keep and bear arms.' Despite the clear text and this Court's precedent, New York's licensing regime does the opposite," wrote those public defenders in their brief to the Court. "It deprives everyone of that right, only returning it to those select few who manage to first secure a firearm license from the police. For everyone else, possession of a firearm is effectively a 'violent felony,' punishable by 3.5 to 15 years in prison."
They offered several case studies centered around people whose lives were similarly upended. Among them were Benjamin Prosser and Sam Little, who had both been victims of violent crimes and who are now considered "violent felons" in the eyes of the state simply for carrying a firearm without the mandated government approval. Little, a single father who had previously been slashed in the face, was separated from his family while he served his sentence at the Vernon C. Bain Center, a notorious jail that floats on the East River. The conviction destroyed his nascent career, with the Department of Education rescinding its offer of employment. 
Those names didn't make headlines. But there are many like them, and like Charles Foehner, whose "violent crime" was running afoul of licensing laws. "Disproportionately, it ends up being people of color who do get tagged with these violent felony offenses, with these mandatory minimums, not because they're violent," says Swearer, "but because they have the audacity to exercise their Second Amendment rights without jumping through all of the time-consuming and expensive barriers."
But perhaps most fraught is that Foehner had fulfilled the licensing requirements for five of his firearms, meaning the state acknowledged and understood that he was an upstanding citizen. He had just neglected to do the same for the remainder of his weapons collection—almost certainly a result of the procedure being time- and cost-intensive. "The sole difference," adds Swearer, "is that he did not go through the other arbitrary and capricious and time-consuming and expensive process to get specifically a pistol license." Not everyone has hundreds of dollars to burn.
How much time Foehner may spend behind bars will possibly turn on whether or not he decides to go to trial. It should not be surprising that the D.A. bombarded him with an extensive laundry list of charges, as prosecutors often overcharge in order to scare defendants into taking a plea bargain. Trials are uncertain, after all. So, though Charles Foehner may know deep down he is innocent, he will have to decide if his insistence is worth the rest of his life.