Maine's Legislature Passes Bill To Partially Decriminalize Prostitution
Plus: Court rules that naked female spa can't exclude transgender women, Biden vetoes bill blocking student loan forgiveness, and more...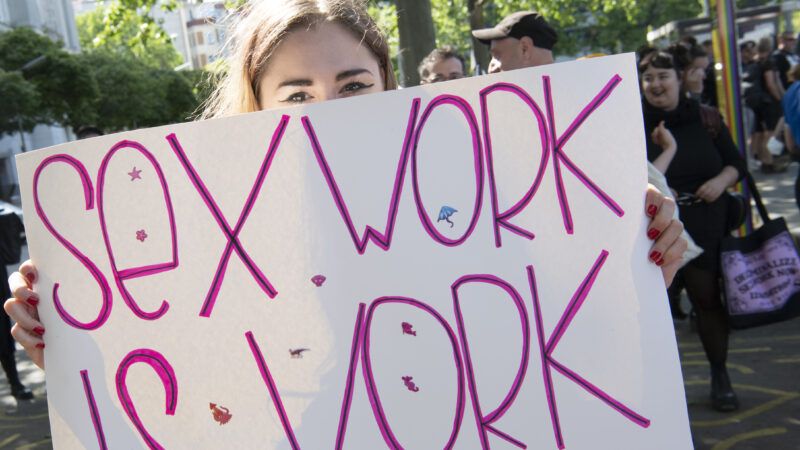 (Paul Zinken/dpa/picture-alliance/Newscom)
Maine lawmakers are on track to partially decriminalize prostitution. A bill sponsored by state Rep. Lois Galgay Reckitt (D–South Portland) would remove criminal penalties for selling sex in some circumstances. The measure passed the state Senate on Wednesday after passing the House on May 30. But sex worker rights advocates say the bill doesn't go far enough.
The bill would not simply decriminalize consensual prostitution altogether. Rather, it would rechristen prostitution as commercial sexual exploitation, defined as "providing, agreeing to provide or offering to provide a pecuniary benefit to another
person to engage in a sexual act or sexual contact." That means anyone who pays or attempts to pay a sex worker would still be committing an illegal act.
Essentially, the Maine measure would institute what's known as "asymmetrical criminalization" or the "Nordic Model" of prostitution laws, a scheme criminalizing people who pay for sex but not totally criminalizing those who sell it. This model has become popular in parts of Europe and among certain strains of U.S. feminists.
But keeping sex work customers criminalized keeps in place many of the harms of total criminalization. The sex industry must still operate underground, which makes it more difficult for sex workers to work safely and independently. Sex workers are still barred from advertising their services. Customers are still reluctant to be screened. And cops still spend time ferreting out and punishing people for consensual sex instead of focusing on sex crimes where someone is actually being victimized.
A recent study of prostitution laws in European countries found full decriminalization or legalization of prostitution linked to lower rape rates, while countries that instituted the Nordic model during the study period saw their rates of sexual violence go up. "Among the prostitution prohibition models, the Nordic model has a stronger effect on increasing rape than criminalization does," wrote the researchers in a paper published in The Journal of Law and Economics.
Most sex worker rights advocates want full decriminalization of prostitution between consenting adults.
The Maine measure wouldn't even fully decriminalize engaging in sex work.
The measure keeps in place the crime of promoting prostitution (only renamed as "promoting commercial sexual exploitation"), which includes "publicly soliciting patrons for commercial sexual exploitation." This is defined as making "an offer, made in a public place, to engage in a sexual act or sexual contact…in return for a pecuniary benefit." This criminalizes things like soliciting on the streets, obviously, as well as things like quietly offering paid sex to someone in a private conversation at a bar or club. And since sex work advertising would still be illegal, too, basically any way of actually finding customers could get sex workers in trouble—and encourage reliance on pimps.
Promoting commercial sexual exploitation would also include "causing or aiding another to commit or engage in sexual conduct or sexual acts in exchange for a pecuniary benefit, other than as a patron." Laws like these are often used to go after sex workers working with one another (for instance, a woman who posts an ad for paid sex with her and a consenting friend or a sex worker who drops off another sex worker to see a client).
"Leasing or otherwise permitting a place controlled by the defendant" to be used for prostitution would also count as promoting commercial sexual exploitation—making sex workers who wanted to work together in the same location for safety purposes guilty.
Removing criminal penalties for prostitution in some circumstances is a good step. But this law would still exacerbate harm against sex workers and lead to their persecution by law enforcement.
And even in this mild form, the bill is not guaranteed to become law. "It still faces votes in both chambers, and Democratic Gov. Janet Mills vetoed a similar bill in 2021," noted the Bangor Daily News. Mills is a former prosecutor and state attorney general and "could be the major obstacle to the bill this time as well."
For more on state attempts at prostitution law reform this year, see: "States Try To Reform Prostitution Laws—for Better and Worse."
---
FREE MINDS
Female spa can't exclude transgender women, court says. A Korean spa for women, where patrons are "typically fully naked" in many areas and required to be naked for certain services, is legally barred from excluding transgender women with male genitalia, a court has ruled.
The case—Olympus Spa v. Armstrong—comes about after the Washington State Human Rights Commission said Olympus Spa's policy of admitting only "biological women" (as its website states) went against the state's ban on gender identity discrimination in public accommodations. The spa challenged the commission's assessment, arguing that it violated free speech, free exercise of religion, and intimate association rights. "Women are in a vulnerable position when they are unclothed and/or having treatment while unclothed and we seek to ensure that they feel their privacy and rights are respected," the spa argued, situating this argument in the owners' religious beliefs.
In an opinion earlier this week, Judge Barbara Jacobs Rothstein sided with the human rights commission. From Rothstein's decision:
As for their [Free Exercise Clause] claim, Plaintiffs observe that they "have the liberty to not only believe as they do about males and females in a state of undress, but they also have the right to freely exercise their religious rights, i.e., to act in accordance with their faith-based convictions." Plaintiffs allege that the Commission's enforcement of the [Washington Law Against Discrimination (WLAD)] against them, "which requires them to service nude males and females in the same rooms," forces them "to choose between violating the law or their religious convictions." This, according to Plaintiffs, imposes a substantial burden on the exercise of their religious beliefs. The Commission counters that the WLAD is a neutral law of general applicability and therefore does not run afoul of the First Amendment. The Court agrees with the Commission and dismisses this claim….

The law does not discriminate on its face, and it does not by its terms favor a particular religion or the non-exercise of religion. Nor have Plaintiffs alleged facts to suggest that the legislature was motivated by a masked intent to discourage religious exercise or discriminate against their religion….

Plaintiffs emphasize Olympus Spa's female-only exclusivity and female-oriented purpose. They likewise suggest that the business is sufficiently personal and private to warrant constitutional protection because "the state of being unclothed requires the most intimate of settings[.]"But this again elides a basic, controlling fact: Olympus Spa is a business that provides services to the public. And as was the case in Jaycees, Olympus Spa does not—"[a]part from … sex"—employ any criteria for judging patrons, who are routinely "admitted with no inquiry into their backgrounds."…

The Court does not minimize the privacy concerns at play when employees are performing exfoliating massages on nude patrons. Aside from this nudity, though, there is simply nothing private about the relationship between Olympus Spa, its employees, and the random strangers who walk in the door seeking a massage. Nor is there anything selective about the association at issue beyond Olympus Spa's "biological women" policy. The Court therefore has little difficulty concluding that the personal attachments implicated here are too attenuated to qualify for constitutional protection. Plaintiffs' intimate association claim is dismissed.
---
FREE MARKETS
Biden vetoes bill blocking student loan forgiveness. President Joe Biden has vetoed a bill that would block his executive order waiving a lot of student loan debt. The bill passed the Senate, largely along party lines, last week after passing the House in May.
Congressional Republicans led an effort to pass a bill blocking my Administration's plan to provide up to $20,000 in student debt relief to working and middle class Americans.

I won't back down on helping hardworking folks.

That's why I'm vetoing this bill. pic.twitter.com/ZeYEm4LOjz

— President Biden (@POTUS) June 7, 2023
Biden's veto illustrates how the courts can become the only recourse against executive overreach. Even if Congress tries to rein in executive power or prohibit a specific use of it, the president can simply veto this attempt to limit his (alleged) authority.
But Biden's big stretch on student loans—he claimed the pandemic gave him the right to forgive a huge amount of student loan debt—is facing obstacles in court. The U.S. Court of Appeals for the 8th Circuit temporarily paused the plan last October. Two cases concerning it are now before the U.S. Supreme Court, which has already heard oral arguments in these cases and is expected to rule on them later this month.
---
QUICK HITS
What's happening in the House? For a second straight day, ultraconservative Republicans have ground the floor to a halt—out of anger at the McCarthy-Biden debt limit deal. The impact of this? The GOP cannot pass a couple of pro-gas-stove messaging bills backed by the hard right.

— Sahil Kapur (@sahilkapur) June 7, 2023
• The U.S. government is expected to borrow $1 trillion by the end of September.
• A federal court is allowing Washington state's ban on AR-15s and other semi-automatic rifles to be enforced as lawsuits against the ban play out.
• Why everyone is talking about aliens.
• Canadian wildfires have been wreaking havoc on air quality in the U.S. Midwest and East Coast, with the issues now spreading south:
Times Square today pic.twitter.com/2ByEAmbLRo

— Christine Vanden Byllaardt (@cvbyllaardt) June 7, 2023
• Reason Editor at Large Nick Gillespie talks to Fox News contributor Kat Timpf about her new book, You Can't Joke About That: Why Everything Is Funny, Nothing Is Sacred, and We're All In This Together.
• Louisiana is the latest state to pass a ban on gender transition treatment for minors. "If the measure becomes law, Louisiana would join 17 states that have enacted bans or severe restrictions this year on access to transition care for minors," notes The New York Times.
• CNN chair Chris Licht has been fired.