Kat Timpf: Make America Funny Again!
The You Can't Joke About That author says that free speech and dark humor can bring a fragmented country together.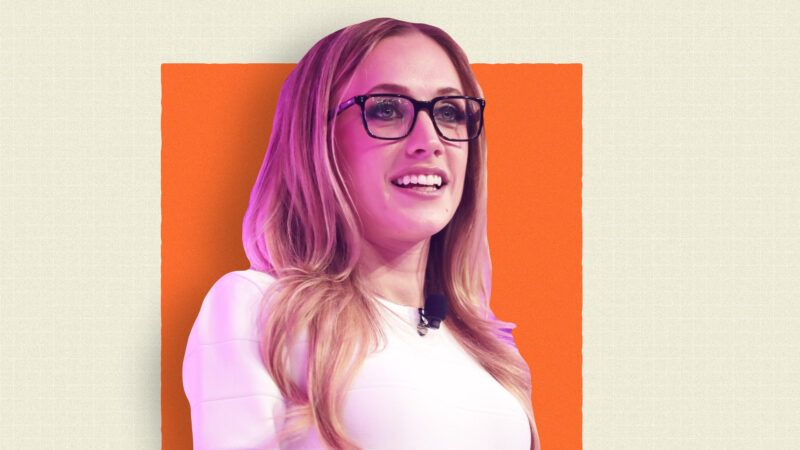 Today's guest is the Gutfeld! show and Fox News contributor Kat Timpf, whose new book, You Can't Joke About That: Why Everything Is Funny, Nothing Is Sacred, and We're All In This Together, is a massive bestseller. It's also a full-throated defense of free speech and a compelling argument for humor as the best possible coping mechanism.
I talk with Kat about her life as a standup comedian, her past work at National Review and Barstool Sports, how she deals with sexism, what it's like to be an unapologetic libertarian at Fox News, and how her mother's untimely, tragic death convinced her that humor can be a powerful tool to bring a fragmented country together.
This episode was taped live in New York City at the Reason Speakeasy, a monthly, unscripted conversation with defenders of free speech and heterodox thinking. Get information about upcoming events by signing up for Reason's NYC Events newsletter.
Today's sponsors:
BetterHelp. When you're at your best, you can do great things. But sometimes life gets you bogged down, and you may feel overwhelmed or like you're not showing up in the way that you want to. Working with a therapist can help you get closer to the best version of you—because when you feel empowered, you're more prepared to take on everything life throws at you. If you're thinking of giving therapy a try, BetterHelp is a great option. It's convenient, flexible, affordable, and entirely online. Just fill out a brief questionnaire to get matched with a licensed therapist, and switch therapists anytime for no additional charge. If you want to live a more empowered life, therapy can get you there. Visit BetterHelp.com/TRI today to get 10 percent off your first month.
The Reason Speakeasy. The Reason Speakeasy is a monthly, unscripted conversation in New York City with outspoken defenders of free thinking and heterodoxy. On Monday, June 26, Nick Gillespie talks with Tara Isabella Burton, author of Self-Made: Creating Our Identities From Da Vinci to the Kardashians. Tickets are $10—which includes beer, wine, soda, food, and plenty of time to talk about politics, culture, and ideas in one of the coolest settings in midtown Manhattan. For details, go here.