Senators Want To Declare Fentanyl a National Security Threat
Plus: SCOTUS won't hear Reddit sex trafficking case, debt deal would increase spending on SNAP benefits, and more...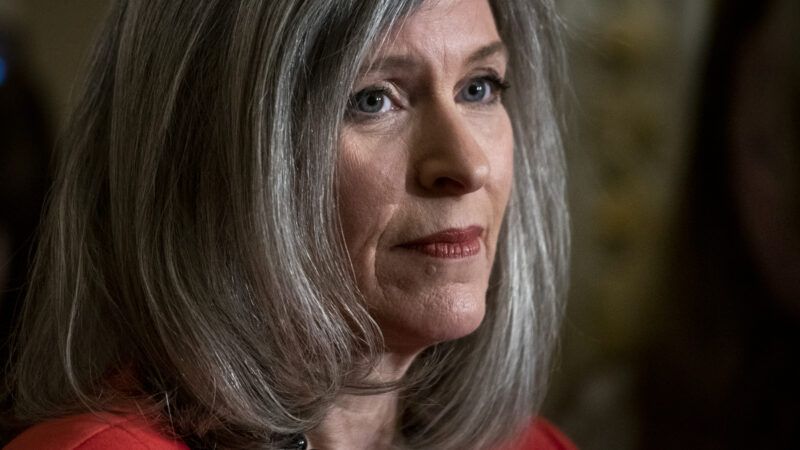 (Rod Lamkey / CNP / SplashNews/Newscom)
The spread of the synthetic opioid fentanyl—and associated overdose deaths—has become an endless font of bad policy ideas from government drug warriors. The latest ill-conceived responses come from Sens. Tim Kaine (D–Va.) and Joni Ernst (R–Iowa), who want to declare fentanyl a national security threat.
Kaine and Ernst are angling to add their Disrupt Fentanyl Trafficking Act as an amendment to the National Defense Authorization Act (NDAA) for 2024, reports The Hill:
"Our goal is — I suspect, when we mark that bill up, which is probably around the 17th or 18th in committee, Joni and I will offer it as an amendment," Kaine said. "We think that we have a real good chance of getting it added." …

The senators' idea is to make fentanyl trafficking a priority for the Pentagon by classifying it as a national security threat to the United States.

The legislation would also encourage the Defense Department to use dollars on training and information sharing to support counter-fentanyl efforts.

In addition, it would mandate the Pentagon work with other federal agencies and Mexican defense officials on a strategy to counter drug trafficking, a rule that means Defense Secretary Lloyd Austin would work more closely with Mexico's military.
A similar proposal is being put forth in the House by Reps. Stephanie Bice (R–Okla.) and Salud Carbajal (D–Calif.). The full text of the bills is not yet available, but Kaine, Ernst, Bice, and Carbajal have been touting their efforts via press release.
This comes in the wake of the House passing two other anti-fentanyl measures—the Preventing the Financing of Illegal Synthetic Drugs Act and the Halt All Lethal Trafficking (HALT) of Fentanyl Act—last week, and amid an array of increasingly insane statements about targeting Mexico for military action.
"Every family in America has been impacted in one way or another by this crisis," Kaine said in a statement. "If we want to prevent future tragedies, the United States must work with Mexico to counter fentanyl trafficking across our Southern border."
There's no doubt that fentanyl—often unbeknownst to users of other drugs with which it is mixed—is a problem in the U.S., leading a surge in overdose deaths in recent years. But fentanyl didn't become a fixture in America's illicit drug supply out of nowhere; its proliferation actually stems from drug prohibition policies.
Crackdowns on prescription opioid pills drove addicts to the black market, where many turned to heroin as an alternative. And whether buying black-market opioid pills or heroin, drug users suffered from the same lack of certainty about what exactly was in these substances, leaving many more people vulnerable to overdoses when drugs were cut with much more potent and cheaper synthetic substances like fentanyl.
Fentanyl also became attractive to drug smugglers because of the American war on drugs. The targeting of poppy fields from which natural opioid drugs, like heroin, are derived made synthetic opioids an attractive alternative for drug cartels. Fentanyl can be easier to smuggle into the country than pills or heroin.
Even if the government somehow succeeds in successfully stemming the flow of fentanyl to U.S. markets (a pretty unlikely scenario, given what we know about how the war on drugs has gone over the past 50 years), it's no guarantee that this will make a dent in opioid smuggling, use, overdoses, or deaths. And if the pills to heroin to fentanyl trajectory of this past decade's drug crisis is any indication, it will very likely lead to something worse emerging.
In fact, there's evidence this is already happening.
Facts like these should be enough to make anyone think twice about proposing more and harder drug war as a solution to problems caused by addiction and black markets.
---
FREE MINDS
The Supreme Court won't hear a case concerning Reddit and alleged child sex trafficking. Reason covered the case (Doe v. Reddit) back in November, when the U.S. Court of Appeals for the 9th Circuit held that Reddit could not be sued for sex trafficking if it didn't knowingly permit sex trafficking.
The appeals court held that Section 230 prevented six Jane Does from suing Reddit over sexually explicit images of them as minors that were posted by Reddit users. The case became a test for how the 2018 Allow States and Victims to Fight Online Sex Trafficking Act (FOSTA)—which carved out an exception to Section 230 for sex trafficking claims—might apply in cases like these.
The 9th Circuit recently invoked the Reddit case in a similar ruling regarding Twitter.
The Does appealed the Reddit ruling, asking the Supreme Court to intervene—and giving the Court another opportunity to rule on Section 230, after avoiding the issue in two recent terrorism cases involving Twitter and Google. But SCOTUS on Tuesday declined to hear the case.
---
FREE MARKETS
Debt deal would lead to more spending on SNAP benefits. Conservatives aren't the only ones planning to vote against a debt limit deal proposed by President Joe Biden and House Speaker Kevin McCarthy. In addition to earning a gaggle of Republican detractors, the deal will get a no vote from New York Democratic Rep. Alexandria Ocasio-Cortez, her office said said yesterday.
Meanwhile, a Congressional Budget Office (CBO) analysis of the deal says its caps on discretionary spending mean "the agency's projections of budget deficits would be reduced by about $1.5 trillion over the 2023–2033 period relative to its May 2023 baseline projections" and "as a consequence, interest on the public debt would decline by $188 billion."
Republicans have touted the deal's work requirements for food stamp benefits as a win against the welfare state. But CBO notes that the overall changes to benefit rules would mean more spending on the federal Supplemental Nutrition Assistance Program (SNAP) and more people eligible for benefits.
The changes to SNAP mean more people (not less) would qualify for benefits, and the program will cost more -- because lots of groups of people under age 50 will now actually be exempt from work requirements that current exist. pic.twitter.com/yiGhHpcZ62

— Eric Boehm (@EricBoehm87) May 31, 2023
---
FOLLOW-UP
Family sues over cop shooting child in Mississippi. The family of Aderrien Murry, an 11-year-old boy shot by an Indianola police officer after calling 911 about a domestic disturbance at his home, is now suing the city, the local police chief, and Greg Capers, the officer who shot him. The federal lawsuit filed in the U.S. District Court for the Northern District of Mississippi seeks $5 million in damages and for Capers to be fired.
---
QUICK HITS
• The 14th Amendment has long been interpreted to guarantee birthright citizenship, meaning that children born in the U.S. automatically get citizenship even if they are born to non-citizens. Former President Donald Trump is vowing to change that if reelected.
• Florida Gov. Ron DeSantis, who is also running for president on the Republican ticket, "presents himself as a champion of individual freedom against overweening government. But as governor of Florida, DeSantis has repeatedly contradicted that stance by blurring the line between state and private action, a distinction that is crucial to protecting civil liberties," Reason's Jacob Sullum writes.
• Alabama expanded its ban on transgender women playing on K-12 sports teams for girls to include college women's sports teams as well.
• Elon Musk's brain implant tech, Neuralink, has gotten Food and Drug Administration approval to start human trials.
• Abortion politics are holding up construction of the U.S. Space Command's headquarters.
• A Tennessee woman was given "a lifesaving emergency hysterectomy, ending her opportunity to give birth to more children, after she says she was denied medically necessary abortion care at a hospital in her home state for life-threatening complications earlier in her pregnancy," reports ABC News.
• Don't buy the social housing hype, writes Reason's Christian Britschgi.
• "Nevada's Joe Lombardo on Tuesday became one of the first Republican governors to enshrine protections for out-of-state abortion patients and in-state providers," notes the Associated Press.
• A Japanese court says that the country not allowing same-sex marriage is unconstitutional.
• Uganda's president just signed a law assigning the death penalty for "aggravated homosexuality" defined as "serial offenders" of the country's law against same-sex relations or transmission of a fatal disease through gay sex. The new law also makes promoting homosexuality punishable by 20 years in prison.