Debt Ceiling Bill 'Locks in the Inflated Spending Levels of Recent Years'
Plus: Artificial intelligence and jobs, how government caused a lifeguard shortage, and more...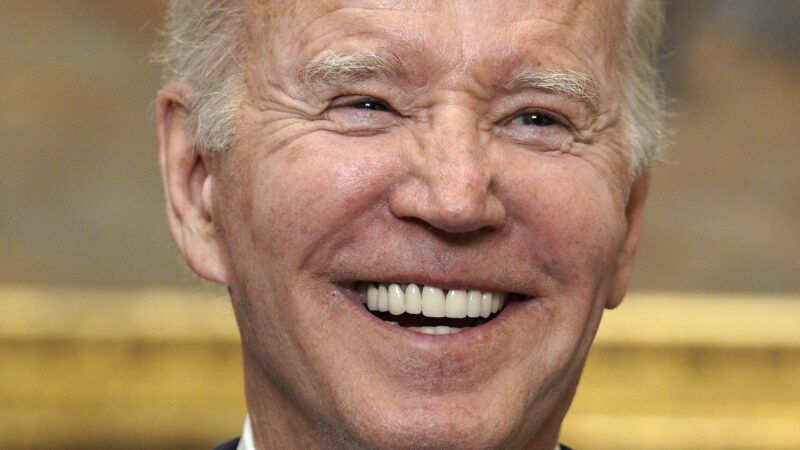 Fiscal conservatives react to debt ceiling deal. Democratic President Joe Biden and House Speaker Kevin McCarthy (R–Calif.) have reached a deal on the debt ceiling, after a monthslong standoff in which Republicans said they wouldn't raise the federal government's borrowing limit unless Democrats agreed to certain spending cuts. If the debt ceiling isn't raised, the U.S. will have to start defaulting on its debts.
But for anyone hoping the standoff would inject a little more fiscal discipline into the mix, the Biden-McCarthy deal is pretty much a dud. McCarthy has agreed to suspend the debt ceiling through January 2025. The deal will also raise military spending to Biden's desired level and only sets an enforceable cap on non-defense discretionary spending for two years. And those caps keep spending at post-COVID levels, without rolling back any of the big $1.7 trillion omnibus spending approved last year.
"I've now reviewed the bill text of the debt ceiling 'deal,' and it's actually worse than I imagined. It locks in the inflated spending levels of recent years," commented former Michigan Rep. Justin Amash on Twitter. "Under McCarthy's 'deal,' any incentive to cut spending for the rest of this term vanishes. Until January 2, 2025, the Treasury will now have unlimited authority to issue debt to finance commitments requiring payment. It's the ultimate kick-the-can-down-the-road agreement."
Come 2025, of course, conservatives may be in a worse position to negotiate with progressives over cutting spending. Or they may be in more power—which we all know by now reduces the likelihood of Republicans exercising fiscal restraint.
For now, non-military discretionary spending next year is capped at around $704 billion and non-military discretionary spending for 2025 is capped at around $711 billion.
Meanwhile, military spending cuts were never on the table to begin with. The Biden-McCarthy deal would set military spending at $886 billion for 2024, which is the amount Biden requested in his budget proposal, and $895 billion for 2025.
"The $886 billion cap for military spending represents about a 3.3% increase from 2023," notes Dave DeCamp at Antiwar.com.
There are a few bright spots in the deal, including:
Cutting some previously approved funding for the IRS
Rescinding unspent COVID-19 funds
Unpausing student loan payments
Capping some spending, and elements like these, are at least something. But they fall far short of the lofty goals the House GOP professed for months, and likely could have been secured via other legislative negotiations.
"It's really an overstatement to say Republicans are getting nothing," commented Semafor's Jordan Weissmann, noting that "a two-year budget freeze in a high-inflation environment is something." Yet the things Republicans got "they could have just as easily gotten in a vanilla budget fight or Farm Bill reauthorization," he suggested.
And a cap on discretionary spending doesn't really get at the root of our current spending crisis.
????After a 23% hike in two years, capping discretionary spending is surely worth doing. But notable again that Social Security and health entitlements drive the entire long-term deficit hike … and yet for 40 years lawmakers have responded instead by squeezing discretionary. pic.twitter.com/PReagMI9EQ

— Brian Riedl ???? ???????? (@Brian_Riedl) May 26, 2023
Essentially, Republican efforts "to reduce federal spending as part of the debt ceiling deal seems to have ended up on the cutting room floor," as Reason's Eric Boehm noted Sunday:
Recall that, last month, McCarthy successfully stewarded a bill—The Limit, Save, Grow Act—through the House last month that would have actually cut federal spending and raised the debt ceiling. That package would reset the federal budget baseline to where it was last year—that is, before the December passage of the $1.7 trillion omnibus bill that jacked up spending across the board—would limit future budget growth to one percent annually for the next decade, and would slow the accumulation of future debt.

In other words, it included a more sizable spending cut and a longer period of future spending restraint than the deal struck this weekend.

Of course, it was always unlikely that Republicans could get that bill through the Senate and get Biden to sign it. Even so, the gap between those goals and the newly announced debt ceiling deal is remarkable—and not in a way that looks particularly impressive for McCarthy.
A lot of conservatives are, unsurprisingly, unhappy with the deal.
"Republicans had a real chance to protect families and fight sky-high inflation and interest rates by cutting government spending," said Heritage Foundation President Kevin Roberts. But "most fiscally conservative and pro-growth policies" they proposed "were stripped out or diluted. … House Republicans must go back to the negotiating table and demand more concessions from the Biden administration."
It "normalizes record high spending started during the pandemic," tweeted Rep. Nancy Mace (R–S.C.). "It sets these historically high spending levels as the baseline for all future spending."
Rep. Ralph Norman (R–S.C.) called the deal "insanity," adding that "a $4T debt ceiling increase with virtually no cuts is not what we agreed to."
"Conservatives have been sold out once again!" tweeted Sen. Rand Paul (R–Ky.).

Fake conservatives agree to fake spending cuts. Deal will increase mandatory spending ~5%, increase military spending ~3%, and maintain current non-military discretionary spending at post-COVID levels. No real cuts to see here.

Conservatives have been sold out once again!

— Rand Paul (@RandPaul) May 28, 2023
The Biden-McCarthy deal—dubbed the Fiscal Responsibility Act—must still be approved by Congress. It's slated for a House vote on Wednesday and needs to pass both the House and Senate before June 5.
Some House Republicans—including Mace, Norman, Arizona Rep. Eli Crane, and Texas Rep. Chip Roy—are vowing to vote no, though whether they have enough votes to actually make a difference is still unclear.
What does seem pretty clear is that despite this modest opposition, the Republican Party's commitment to "fiscal responsibility" is still more performative than anything else.
The "fiscal conservatives" over at the GOP have just let Biden continue running up debt through the end of his term. https://t.co/yRGL9gSHfn

— Spike Cohen (@RealSpikeCohen) May 29, 2023
---
FREE MINDS
A different way of looking at artificial intelligence (A.I.) and jobs. It's common for people to argue that artificial intelligence will wipe out tons of jobs and that this necessitates government action, possibly in the form of a universal basic income. But the evidence on A.I. and jobs is far from clearly, notes Techdirt's Mike Masnick, pointing to a study showing that ChatGPT made customer service workers—especially less-skilled workers—more productive:
Basically, they looked at how customer support agents were using AI, and specifically reviewing productivity and performance and how it changed via the staggered introduction of the tools to different support agents.

The report found productivity went up across the board — and also that both employees and customers were much happier, which seems like a good thing. But, the impact on lower skilled workers was much bigger, basically leveling them up to work nearly as well as higher skilled workers. …

Of course, this is just one study of one company, using the technology as it is today. But lots of things could still change. That study may not prove to be generally applicable. The tech could change. There are lots of other things that could go wrong. And this isn't to suggest that UBI might not still be a useful tool for helping make sure that everyone has a clear foundation on which to feel safe and able to live freely.

But, at the very least, it might call into question the "doom and gloom" predictions that this will somehow further hollow out the middle class and massively increase unemployment. The early evidence, at least, seems to suggest it might do the exact opposite.
---
FREE MARKETS
Local pool closed? Blame the government. Pools around the country are offering reduced hours due to a lifeguard shortage. "There are simply not enough people, namely teens, who want to do this work, we're told," Reason's Billy Binion points out. But there's another explanation, one driven by government regulations:
In June 2020, former President Donald Trump issued an executive order suspending foreign work visas. That included the J-1 visa, also known as the exchange visitor visa, which, as it turns out, is a major vehicle for filling vacant lifeguard spots at pools across the country. Before COVID, the American Lifeguard Association (ALA) used to train about 300,000 new recruits a year, 50,000 of which came from J-1 visa recipients.

The ban expired in April 2021. But the effects, including the massive backlog in applications it created, reverberated. Bernard Fisher II, the director of health and safety at the ALA, told ABC News last June that "the lack of the J-1 visa candidates coming in as strongly as they they were" has prevented the association from reaching "pre pandemic enrollment times." He continued: "So with that said, we have a very serious problem in enrollment now." In 2022, the U.S. State Department issued 284,486 J-1 visas in total, which is over 50,000 shy of levels before the pandemic. And in the years before the pandemic, the U.S. began subjecting applicants to more rigorous vetting and bureaucracy, slowing down an already-inefficient process, as red tape often does.
More here.
---
QUICK HITS
• Texas lawmakers approved a ban on diversity, equity, and inclusion (DEI) programs at public universities.
• The "library of America" project aims "to show that the places of American fiction can't be divided into blue or red states."
• The book Freedom's Dominion argues that Southern history was animated by "racialized radical anti-statism." The case is lacking, writes history professor David T. Beito.
• Scott Shackford explores what Gadsden flags and pride flags have in common.