Child Shot by Mississippi Cop After Calling 911 About Domestic Disturbance
Plus: Governments are complying more with constitutions, the Supreme Court comes to a commonsense conclusion about EPA authority, and more...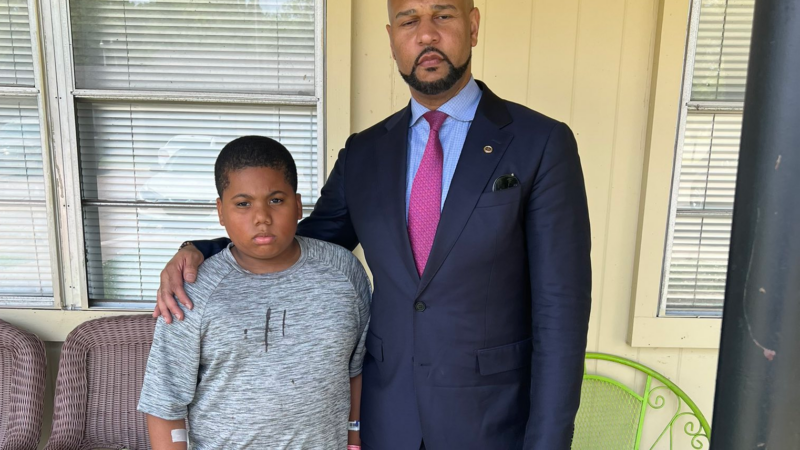 An 11-year-old boy called 911 about a domestic disturbance at his house. Police arrived and shot the child.
The boy, Aderrien Murry, survived the shooting but "came within an inch of losing his life," said his lawyer, Carlos Moore, in a Facebook livestream earlier this week.
Murry was airlifted to the hospital and suffered a collapsed lung, lacerated liver, and fractured ribs. He is "still in pain emotionally and mentally," Moore said during a Thursday news conference at the Indianola City Hall in Mississippi.
Murry called 911 for help early Saturday morning at the request of his mother, Nakala Murry, who was having a confrontation with the father of another one of her children. Police officers were told that the man, who was unarmed, had gone out the back door and that there were three children inside the home, according to Moore.
The cops told everyone in the home to come out with their hands up, prompting Aderrien Murry to emerge from his bedroom. An officer "shot him immediately when his hands were up, and he's coming around the corner," Moore said on Thursday.
The officer who shot the boy, Greg Capers, has been placed on paid administrative leave.
Meet Sgt. Greg Capers of the Indianola Police Department. He's the cop that shot 11 year old unarmed Aderrien Murry after the boy called 911 for help for his mom. To this day, neither the officer nor city has given the family any explanation why. #JusticeForAderrienMurry pic.twitter.com/4xSDL6cD4i

— Attorney Carlos Moore (@Esquiremoore) May 26, 2023
Moore and the Murry family are calling for the Indianola Police Department to release body camera footage of the incident.
"We cannot continue to tolerate a system that allows police officers to use deadly force with impunity," said Moore in a statement. "We must demand justice for this young boy and his family."
The Mississippi Bureau of Investigation is now investigating the shooting.
The man who had been threatening Nakala Murry was taken into police custody but released, according to CNN. She said police released him because she had not filed a report against him. "When was I going to have time to do that? I was in the hospital with my son."
---
FREE MINDS
Governments complying more with constitutions. A new paper published in The Review of International Organizations provides a database "that measures governments' compliance with national constitutions":
It combines information on de jure constitutional rules with data on their de facto implementation. The individual compliance indicators can be grouped into four categories that we aggregate into an overall indicator of constitutional compliance: property rights and the rule of law, political rights, civil rights, and basic human rights. The database covers 175 countries over the period 1900 to 2020 and can be used by researchers interested in studying the determinants or the effects of (non)compliance with constitutions. Our investigation of the stylized facts of constitutional compliance reveals a long-term increase in compliance, which occurred primarily around the year 1990. The Americas experienced the steepest increase in compliance, but also Africa and Europe improved particularly at the end of the Cold War. Democracies – particularly those with parliamentary and mixed systems – show more constitutional compliance than nondemocracies, among which military dictatorships perform the worst. Constitutional design also matters: Constitutions that allow for the dismissal of the head of state or government for violating constitutional rules are being complied with more.
You can read the full paper here.
---
FREE MARKETS
A Supreme Court ruling yesterday in Sackett v. EPA narrows the federal government's control over wetlands. The Court held that the Clean Water Act (CWA) applies only to "wetlands with a continuous surface connection to bodies that are 'waters of the United States' in their own right" and "indistinguishable" from those waters, thereby rejecting a lower court's expansive view of the Environmental Protection Agency's (EPA) regulatory authority over certain lands.
The case stems from a dispute about property owned by Michael and Chantell Sackett. The Sacketts wanted to backfill their Priest Lake, Idaho, lot and build a home on it. But the EPA said this lot contained wetlands, so backfilling it violated the CWA's prohibition on dumping pollutants into "the waters of the United States."
The EPA defined the Sacketts' property as wetlands because it was near a ditch that fed into a creek that fed a navigable, instrastate lake. The Sacketts said their property did not contain "waters of the United States."
A U.S. District Court and the U.S. Court of Appeals for the 9th Circuit sided with the EPA. Now, the Supreme Court has sided with the Sacketts. From The Volokh Conspiracy:
According to Justice Alito, this means that wetlands that have a continuous surface water connection or are directly adjoining jurisdictional waters may be regulated as part of the waters of the United States, those wetlands that are physically "separate" from such waters may not be, even if they would satisfy a more capacious definition of "adjacent." He writes:

In sum, we hold that the CWA extends to only those wetlands that are "as a practical matter indistinguishable from waters of the United States." Rapanos, 547 U. S., at 755 (plurality opinion) (emphasis deleted). This requires the party asserting jurisdiction over adjacent wetlands to establish "first, that the adjacent [body of water constitutes] . . . 'water[s] of the United States,' (i.e., a relatively permanent body of water connected to traditional interstate navigable waters); and second, that the wetland has a continuous surface connection with that water, making it difficult to determine where the 'water' ends and the 'wetland' begins." Id., at 742.
You can find the full decision here.
Reason's Ronald Bailey wrote about the case yesterday, calling the Court's decision the "commonsense conclusion." Reason TV covered the case in a video earlier this year:
---
QUICK HITS
• One hundred years ago this weekend, the U.S. attorney general legalized women wearing pants.
• Jail officials refused to give Dexter Barry his heart transplant medication. Days later, he was dead.
• Clinical psychologist Lisa Damour suggests that the biggest issue with kids and smartphones or other digital tech is that it is displacing sleep.
• "How did the internet become so puritanical?" asks Aja Romano at Vox.
• President Joe Biden is embracing mandatory minimums for drug crimes again.
• "As details leak about an emerging bipartisan debt deal just days before a possible default, House conservatives are growing increasingly unhappy," reports Politico.
• South Carolina Gov. Henry McMaster just signed into law a measure banning most abortions at six weeks of pregnancy (which equates to just four weeks of gestation and around two weeks after a pregnancy is detectable).
• Minnesota Gov. Tim Walz vetoed a bill that would have upended the rideshare industry by setting a minimum wage for drivers. Walz's veto comes "after Uber threatened to halt its operations in greater Minnesota — outside of the Minneapolis-St. Paul metropolitan area — if the bill had been signed into law," CBS News reports.
• "A Republican-led committee of the Texas House of Representatives recommended on Thursday that the state's attorney general, Ken Paxton, be impeached for a range of abuses of his office that the committee's investigators said may have been crimes," notes The New York Times.