Alabama Botched His Execution. Now He Wants To Die Differently.
On Monday, the Supreme Court sided with an Alabama death-row inmate who, after surviving a botched lethal injection attempt last year, says he wants to die by gas chamber instead.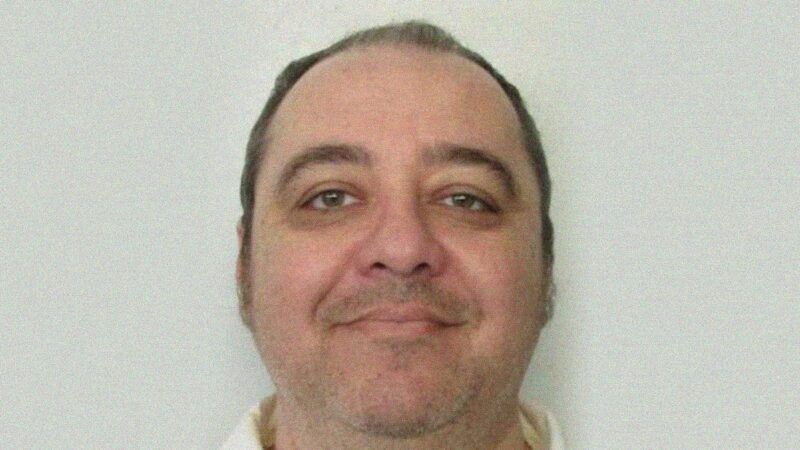 On Monday, the U.S. Supreme Court denied an appeal from the state of Alabama in its case against a death row inmate who sued for the right to be executed by gas rather than lethal injection. The ruling is the latest development following a string of failed and botched executions in Alabama—one of which the suing prisoner actually survived.
In 1996, Kenneth Eugene Smith was convicted and sentenced to death for the 1988 murder of  Elizabeth Sennett in Sheffield, Alabama. Despite the jury voting 11-1 to sentence Smith to life in prison, a judge overruled the jury and sentenced Smith to die. (Alabama became the final state to outlaw judicial overrides in 2017.)
In June 2022, Alabama's Department of Corrections sought to schedule Smith's execution. Smith sued the department in August, alleging that the state's recent history of botched executions using lethal injection meant he would likely be subjected to cruel and unusual punishment in violation of his Eighth Amendment rights. He also argued that he had a 14th Amendment due process right to be informed of the comparative disadvantages of lethal injection and a gas chamber, which Alabama built in 2021.
In September 2022, the Alabama Supreme Court allowed the department to schedule Smith's execution for November 17, 2022. On the day of his scheduled execution, the U.S. Court of Appeals for the 11th Circuit ruled in Smith's favor, finding that the state should honor his request to be killed by nitrogen hypoxia, the state's chosen form of lethal gas.
"Smith plausibly pleads that there is an available alternative method that will reduce the risk of severe pain," the opinion reads. "Alabama's statutorily authorized method of execution (nitrogen hypoxia) could not be considered unavailable simply because no mechanism to implement the procedure had been finalized."
However, immediately after that ruling was announced, the U.S. Supreme Court lifted the stay, allowing Alabama to proceed with executing Smith by lethal injection.
Prison officials, as they'd done during two previous executions several months prior, failed to place an IV line for the lethal injection drugs correctly. According to a November legal filing, officials strapped Smith to a gurney for hours and repeatedly jabbed him with needles in his hands, arms, and collarbone. Sometime before midnight, officials gave up and led him back to his cell.
Following the state's failed execution attempt, Alabama Governor Kay Ivey called for a moratorium on executions pending an internal review of the state's execution procedures. The Alabama Department of Corrections completed its self-review in February and submitted it to Ivey. The review has not been released publicly, but led to Alabama announcing on May 3rd that it would resume executions using lethal injection starting in June.
Because Smith did not die during his first execution attempt, his case proceeded. On Monday, the U.S. Supreme Court denied cert on an appeal from the state attempting to reverse the 11th Circuit ruling allowing Smith to be executed by gas chamber, as he had previously requested.
Thus, Smith will eventually get his wish to be executed by gas rather than by needle. Alabama built a gas chamber in 2021 after lawmakers suggested that death by nitrogen hypoxia—where inmates would be forced to breathe a lethal concentration of nitrogen gas—would be more humane than lethal injection. Several other states, including Mississippi and Oklahoma, have passed laws legalizing nitrogen hypoxia as a "backup" method of execution. However, while hundreds of American prisoners have been executed in gas chambers, none have been killed by nitrogen hypoxia.
Because of the method's lack of prior use—Alabama says it hasn't even finished its formal execution protocol—selecting nitrogen gas as an execution method will likely cause a delay in the state's next attempt to execute Smith.
Justices Clarence Thomas and Samuel Alito noted this likelihood in their dissent, arguing that Smith failed to show that Alabama is ready to execute him by nitrogen hypoxia. "Smith, however, did not even attempt to plead facts indicating that Alabama 'could readily use [nitrogen hypoxia] to execute him . . . Instead, he alleged only that, '[a]s a matter of law, nitrogen hypoxia is an available and feasible alternative method of execution,'" Thomas writes. "And the Eleventh Circuit considered this threadbare allegation sufficient to satisfy Smith's pleading burden on the availability element."
As for whether nitrogen hypoxia is a better way to die than lethal injection, no one actually knows. The original gas chamber protocol used cyanide, supposedly for humane reasons, to horrifying results.
"Though the chamber had promised instantaneous and painless death, the ugliness and risk of its application eventually made it the country's shortest-lived method of execution," wrote Elizabeth Bruenig in The Atlantic last year. "In plain view of witnesses, prisoners died screaming, convulsing, groaning, and coughing, their hands clawing at their restraints and their eyes bulging and their skin turning cyanic."