Alabama Schedules First Execution After Monthslong Moratorium and 'Sham' Investigation
After an array of botched and unsuccessful executions, the state's Department of Corrections says its ready to start executing inmates again.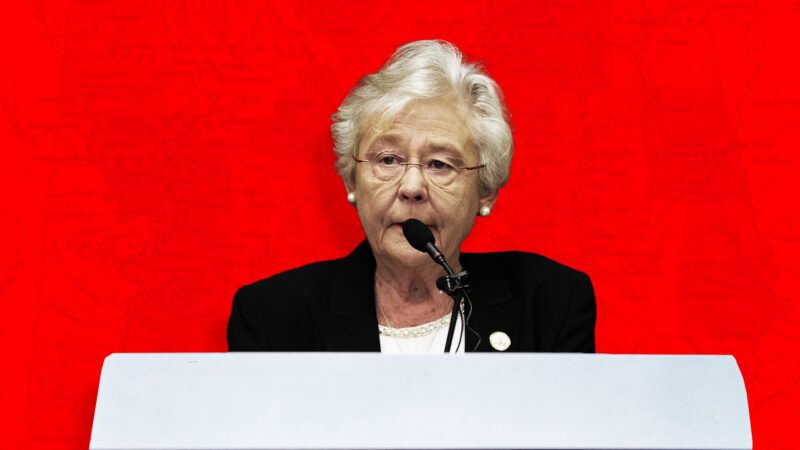 (Illustration: Lex Villena; William Frye/ZUMA Press/Newscom)
Alabama has set its first execution since calling a moratorium on executions in November. But there is good reason to still be concerned about the state's ability to successfully carry out an execution.
Over the past year, Alabama has carried out a series of botched and unsuccessful executions. In particular, prison officials have had apparent difficulty locating inmates' veins, leading to painful procedures and hourslong delays. In two separate cases, executions were canceled altogether after prison officials were unable to begin the execution within the allotted time period.
In November, Republican Gov. Kay Ivey called for a pause in executions, pending an investigation into the state's execution procedures. However, while Ivey pressed the need for a "top-to-bottom review of the state's execution process," she also allowed the Alabama Department of Corrections (ADOC) to conduct the review of itself, rebuffing calls for an independent investigation.
The review—the results of which were not released to the public—was completed in February. According to a two-page letter directed to the governor from ADOC's commissioner, prison officials have obtained "new equipment" and rehearsed execution procedures in response to the investigation. The letter also made a vague commitment that prison officials would "add to its pool of available medical personnel for executions."
The letter notes that—at Ivey's request—the Alabama Supreme Court has changed its scheduling rules for executions. Whereas before the court would issue a single-day execution warrant that would expire at midnight, now Ivey herself is allowed to set a "time frame" for when an execution may occur. While ADOC notes this change "will make it harder for inmates to 'run out the clock' with last-minute appeals and requests for stays of execution," it also means that prison officials may be allowed to spend hours—even days—trying to place a lethal injection IV in a prisoner's arm. 
"No one buys this sham of a review," Josh Moon, a reporter at the Alabama Political Reporter, wrote in February "And the reason we don't buy it is because we all have functioning brains. And those functioning brains tell us that you can't repeatedly botch executions—and botch them because you're repeatedly failing to accomplish some of the simplest tasks related to that execution—and not have way bigger issues than needing to practice more."
Despite pushback, Ivey administration officials have pressed forward. Last week, the state Supreme Court granted the attorney general's request to schedule its first execution since the start of the moratorium. James Barber, a 54-year-old who was sentenced to death for the 2001 murder of 75-year-old Dorothy Epps, is set to be executed on an unspecified date after June 2.
However, a jury didn't vote unanimously to sentence Barber to death—only 11 out of 12 jurors voted for the death penalty in his case. Currently, Alabama and Florida are the only states that allow judges to impose the death penalty without a unanimous recommendation from a jury, which is what happened in Barber's case.
Due to the lack of transparency in the state's investigation into its own execution procedures, there's little reason to think that Barber's upcoming execution will be any less tortuous than those the state has attempted to carry out in the past year.
"We're talking about ending the lives of other humans," wrote Moon in February. "If we're going to take on the monumental responsibility of holding the title of executioners…, we should guarantee that the process for carrying out that duty is above reproach and as transparent as possible. Alabama's is and has been the exact opposite on both counts."