Trump Hopes His Own Delusions Will Protect Him From Criminal Charges
The former president says he did not solicit election fraud; he merely tried to correct a "rigged" election. And he says he did not illegally retain government records, because they were his property.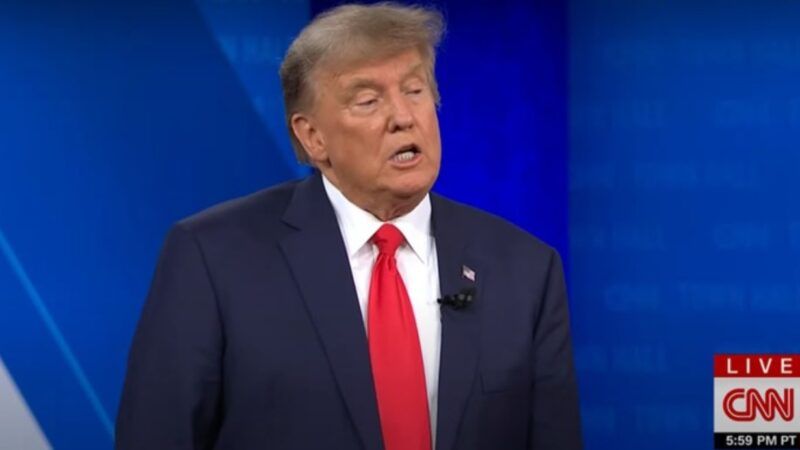 During his CNN "town hall" last night, Donald Trump claimed he never asked Georgia Secretary of State Brad Raffensperger to "find" the votes necessary to reverse Joe Biden's 2020 victory in that state. Trump also said he had "the absolute right" to do whatever he wanted with presidential documents when he left the White House in January 2021. Both of those statements are false, and both go to the heart of potential criminal charges against the former president.
In a notorious phone conversation with Raffensperger on January 2, 2021, Trump pressed him to validate one bogus election-fraud claim after another. Among other things, Trump mentioned "300,000 fake ballots" that "were dropped mysteriously into the rolls"; asserted that "dead people voted, and I think the number is close to 5,000"; said election workers counted Biden votes "three times" and took "18,000 ballots" out of "suitcases or trunks"; and cited a "rumor" that "they shredded ballots in Fulton County."
Raffensperger and his office's general counsel, Ryan Germany, patiently refuted these allegations, saying there was no evidence to support them and no reason to believe that Biden had not in fact won Georgia's electoral votes. Trump was unfazed. He insisted that all of the alleged irregularities amounted to "many, many times the 11,779 margin" by which Biden had won. "All I want to do is this," he said. "I just want to find 11,780 votes, which is one more than we have because we won the state."
Trump was frustrated by the resistance from Raffensperger and Germany. "Why don't you want to find this, Ryan?" he asked. "What's wrong with you?" Addressing Raffensperger, he asked, "Why wouldn't you want to find the right answer, Brad, instead of keep saying that the numbers are right? 'Cause those numbers are so wrong."
If Raffensperger refused to "find the right answer," Trump implied, he could face criminal charges. The conspirators who supposedly stole the election for Biden had committed crimes, he said, and "it is more illegal for you than it is for them because you know what they did and you're not reporting it….That's a criminal offense. And you can't let that happen. That's a big risk to you and to Ryan, your lawyer."
When CNN's Kaitlan Collins asked Trump about that conversation last night, Trump insisted that "I didn't ask him to find anything." Rather, "I said you owe me votes because the election was rigged. That election was rigged."
The plausibility of that gloss is legally significant because Trump's pressure on Raffensperger arguably amounted to solicitation of election fraud under Georgia law, which is one of the issues that Fulton County District Attorney Fani T. Willis is considering. A special grand jury convened as part of that investigation issued its recommendations in January, and the forewoman has strongly implied that they included possible charges against Trump. Willis has said a second grand jury with the power to issue indictments may approve them in July or August.
To convict Trump of soliciting election fraud, prosecutors would have to prove that he made his demands "with intent that another person engage in conduct" that qualifies as a misdemeanor or felony under Georgia's election law. But according to Trump, he had no such intent: He sincerely believed that massive election fraud had denied him his rightful victory in Georgia, and he was simply asking Raffensperger to do his job by correcting that problem. In that light, Trump's continued insistence, despite all the evidence to the contrary, that he actually won reelection is a legal strategy as well as a face-saving fantasy.
Trump's comments about the thousands of government documents he brought to Mar-a-Lago, which included hundreds that were marked as classified, are also relevant to an ongoing criminal investigation. Last night he repeated his claim that any classified material he retained was "automatically declassified," a transformation he has said can be accomplished simply "by thinking about it" because the president has the unilateral authority to decide when secrets are no longer secret.
"I was there, and I took what I took, and it gets declassified," he told Collins. "I had every right to do it. I didn't make a secret of it. You know, the boxes were stationed outside the White House. People were taking pictures of [them]….I had the absolute right to do whatever I want with them."
Trump's implication that everyone knew those boxes contained classified documents is obviously not true, since that discovery by the National Archives and Records Administration (NARA) set off a Justice Department investigation that culminated in the FBI's August 8 search of Mar-a-Lago. In any case, Trump's declassification claim, even if accepted at face value, does not absolve him of criminal liability under the three statutes that the FBI invoked in its search warrant affidavit.
One of those laws makes it a felony to "conceal" or "remove" government documents, classified or not. Those documents include presidential records, which legally belong in the National Archives, not wherever a former president decides to take them based on the erroneous belief that they are his personal property. As Collins noted, the Presidential Records Act "does not say you can take documents with you. It says actually that they are the property of the federal government." Another law makes it a felony to improperly retain information "relating to the national defense"; that category does not hinge on a document's classification status.
The third law cited by the FBI makes it a felony to obstruct a federal investigation, which Trump arguably did by resisting the Justice Department's attempts to recover classified material. In particular, his lawyers responded to a federal subpoena demanding all documents marked as classified that remained at Mar-a-Lago by handing over 38 of them last June, which they said fully complied with the subpoena. That clearly was either a lie or an error, because the FBI search discovered 103 more.
When Collins asked Trump about his apparent defiance of the subpoena, he was not happy:
Collins: That's the question that investigators have, I think: [that] is, why you held on to those documents when you knew the federal government was seeking them and then had given you a subpoena to return them.

Trump: Are you ready? Can I talk?

Collins: Yeah, what's the answer?

Trump: Do you mind?

Collins: I would like for you to answer the question. That's why I asked it.

Trump: It's very simple—you are a nasty person, I'll tell you.

Collins: Can you answer why you held on to the documents?
Trump could not. Instead, he launched into a rambling response in which he mentioned his many months of negotiations with NARA, invoked the Presidential Records Act, mentioned Richard Nixon, and again described the boxes outside the White House that "everybody knew" about. "We were negotiating with NARA," he said. "All of a sudden, they raid our house."
What's missing from that narrative? The very thing that Collins asked Trump to address: his continued retention of documents that the subpoena required him to surrender. That was the justification for the FBI search, and it is at the center of the document-related obstruction that Special Counsel Jack Smith is investigating.