Like Trump, Biden Had a Private Stash of Secret Documents, but It Was Much Less Impressive
In both cases, proving criminal intent would be a tall order.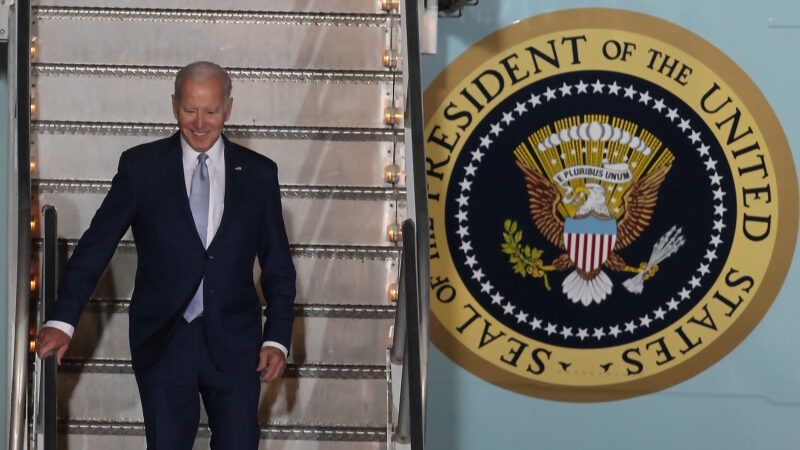 (Mexican FM Press Office/UPI/Newscom)
Six days before the midterm elections, the White House reported on Monday, President Joe Biden's lawyers discovered "a small number of documents with classified markings," dating to his time as vice president, in an office at a Washington, D.C., think tank that he used from mid-2017 until the beginning of his 2020 campaign. Whoops.
Former President Donald Trump predictably seized upon that revelation as evidence that the FBI's investigation of the government records he kept when he left the White House in January 2021 is much ado about nothing. "When is the FBI going to raid the many houses of Joe Biden, perhaps even the White House?" Trump asked on Truth Social. "These documents were definitely not declassified."
Trump was, of course, alluding to the FBI's August 8 search of his residence at Mar-a-Lago, his Palm Beach resort, which turned up thousands of government documents, including 103 marked as classified. That was in addition to 184 classified documents found in 15 boxes that Trump turned over to the National Archives and Records Administration (NARA) in January 2022 and 38 that his lawyers produced in response to a federal subpoena last June. Trump also was alluding to his claim that none of those documents remained classified, thanks to a "standing order" he supposedly issued as president, his decision to take the records with him, or possibly a transformation he accomplished mentally "by thinking about it."
Biden's retention of classified material is significant, and the timing of the Justice Department's acknowledgment that it is looking into the incident is fishy. "The White House statement said that it 'is cooperating' with the department," The New York Times notes, "but did not explain why Mr. Biden's team waited more than two months to announce the discovery of the documents, which came a week before the midterm congressional elections when the news would have been an explosive last-minute development." But contrary to what Trump implies, there seem to be substantial differences between what he did and what Biden did, although proving that either amounted to crimes would be a tall order.
According to a statement by Richard Sauber, special counsel to the president, Biden's lawyers found the classified records on November 2 "in a locked closet" while packing up files in an office that he no longer uses at the Penn Biden Center for Diplomacy and Global Engagement. That same day, they notified NARA, which picked up the records the next morning. Sauber did not say exactly how many classified documents Biden had in the office. There were "roughly 10," according to an anonymous source cited by The Washington Post. Nor did Sauber specify what level of classification applied to the records.
The documents "were not the subject of any previous request or inquiry by the Archives," Sauber said. "Since that discovery, the President's personal attorneys have cooperated with the Archives and the Department of Justice in a process to ensure that any Obama-Biden Administration records are appropriately in the possession of the Archives."
Attorney General Merrick Garland has charged John R. Lausch Jr., the Trump-nominated U.S. attorney for the Northern District of Illinois, with looking into the matter. If Lausch determines that a full-blown investigation is justified, it seems likely that Garland will appoint a special counsel, as he did in Trump's case.
In contrast with Sauber's description of what happened with the classified records in Biden's office, the controversy over the documents that Trump kept at Mar-a-Lago began when NARA realized in 2021 that specific items were missing from the material it had received from him. That was followed by months of wrangling with Trump's representatives, culminating in the 15-box trove that he surrendered a year after leaving office. The discovery of classified documents in those boxes, coupled with evidence indicating that more remained at Mar-a-Lago, led to the subpoena.
Trump's lawyers said they had conducted a "diligent search" for records marked as classified, which turned up a few dozen more. But that was it, they assured the Justice Department. The Mar-a-Lago search, which was based partly on reports from one or more informants who said that was not true, discovered more than 100 additional documents with markings ranging from "confidential" to "top secret," including "sensitive compartmented information."
Even without considering the thousands of unclassified government documents that Trump stored at Mar-a-Lago, 325 classified records is about 30 times more than "roughly 10." Trump's collection may also have included material that was more sensitive than what Biden had, although we don't know that for sure. And if it is true that Biden's lawyers delivered the records promptly and on their own initiative, that stands in sharp contrast with Trump's resistance, foot dragging, and obfuscation, including his lawyers' false assurance that they had fully complied with the subpoena.
Biden presumably will claim that he inadvertently kept 10 or so classified documents. If that is true, he would not be guilty of "willfully and unlawfully" removing or concealing government records or of "willfully" retaining "national defense information," two of the potential charges that the FBI mentioned in its Mar-a-Lago search warrant affidavit. Nor does it look like Biden would be guilty of intentionally obstructing a federal investigation, another possible crime that the FBI mentioned in connection with the Mar-a-Lago search, since it seems there was no such investigation until Biden's lawyers reported their discovery.
Trump's defense is more complicated. Even if we accept his dubious claim that the 325 documents marked as classified no longer had that status, that does not matter under the statutes that the FBI cited. And Trump's pattern of intransigence, coupled with the large volume of material, lends credence to the idea that he deliberately withheld documents he knew he had no right to keep.
It is nevertheless plausible that Trump kept the records because he wrongly considered them his personal property and resisted returning them for the same reason. It is also plausible, especially given the haphazard manner in which the documents were packed and stored, that Trump did not know exactly what was in the boxes. His conduct, in other words, can be explained by a combination of ignorance, arrogance, stubbornness, laziness, and carelessness rather than criminal intent.
In addition to the issue of intent, both of these cases raise the question of how sensitive these documents actually are. "In both situations," a "person familiar with the Biden inquiry" told the Post, "classified national security information went somewhere it shouldn't have, so that raises a bigger question about the handling of classified [material], both in the White House and then during the period of transition."
In Trump's case, we have only a vague idea of the subjects covered by the classified records, let alone the information they contain. In Biden's case, we know even less. It is therefore hard to assess the gravity of the national security threat that storing them in unapproved places may have posed. The FBI evidently thought that threat was serious enough in Trump's case to justify an unprecedented search of a former president's home. But the stronger the basis for that judgment, the less we are allowed to know about it.