Elizabeth Warren Wants the Government To Save Batgirl
Companies make decisions all the time, some of them regrettable and unfortunate, that shouldn't be any of the government's business.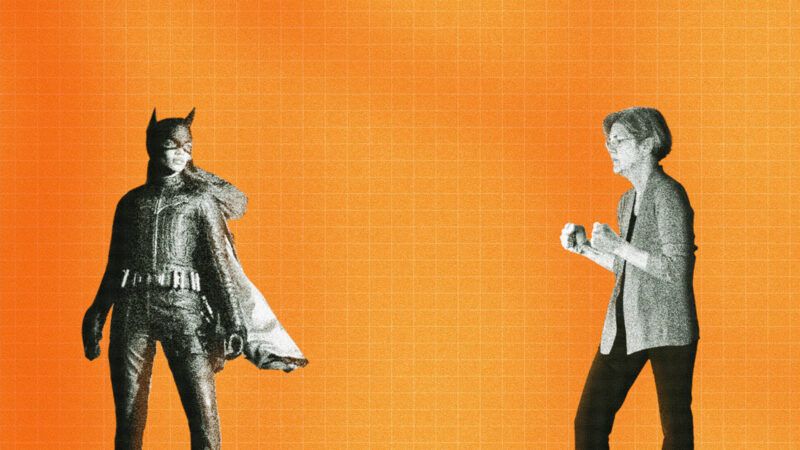 (Illustration: Lex Villena; Edward Kimmel; Warner Brothers)
Some politicians have itchy trigger fingers when it comes to using government investigative power against private actors. Recently, four lawmakers advocated for antitrust action on behalf of, among others, Batgirl.
In June 2018, AT&T purchased Time Warner Inc. for $85.4 billion, giving the telecom giant access to Warner's stable of TV channels, including HBO and CNN, as well as the Warner Bros. film and television studio.
But AT&T took on considerable debt in order to finance the deal. In May 2021, with nearly $170 billion in red ink on its books, the company announced that after acquiring Discovery Inc., which owns channels like HGTV and Food Network, it would spin off WarnerMedia in order to merge the two into a new entity called Warner Bros. Discovery. The deal would saddle the new company with $55 billion of AT&T's debt, but the two companies' combined annual revenue would total nearly $50 billion.
That deal closed the following year with the Department of Justice's (DOJ) approval. As part of cost-cutting measures under CEO David Zaslav, the new company shed hundreds of jobs in its first six months and shuttered CNN+.
The company also removed a number of movies and shows from the HBO Max streaming platform, including HBO original productions. It canceled some projects that were in production, the most high-profile example being Batgirl, a DC Comics film exclusive to HBO Max. Despite being nearly completed, with a price tag of $90 million, the company opted instead to shelve the film and write it off to reduce its taxable income.
The removals and cancellations were met with condemnation: People on Twitter used the hashtag #HBOMaxJustCanceled to satirically speculate about what else the company might kill off.
Then last week in a letter, four lawmakers—Sen. Elizabeth Warren (D–Mass.) and Reps. Joaquin Castro (D–Texas), David Cicilline (D–R.I.), and Pramila Jayapal (D–Wash.)—asked the DOJ to reconsider its earlier decision to approve the merger.
Among their concerns, the lawmakers worried that the new company's size "has enabled it to harm workers and heighten barriers to entry in the media and entertainment industry." The letter says the company's total job cuts have "affected thousands of people" and it "still has $3.5 billion in planned cuts—which does not bode well for workers."
They claim that the workforce reduction "leav[es] workers with fewer choices for employment and advancement" and thereby necessitates government intervention. They further complained that "the damage to content creators whose projects are cancelled in deep development and post-production cannot be overstated." They worried that the removal of content from HBO Max and the cancellation of projects like Batgirl "are merely a prelude of what could come."
While the letter stops short of calling for the DOJ to unwind the merger, it does ask that the government "take another look at the transaction" in light of Warner's business decisions.
The lawmakers' positions demonstrate both financial and media illiteracy, and they don't justify involving the government in a private company's affairs.
First, the letter singles out the shutdown of CNN+ and budget cuts at CNN, saying Warner Bros. Discovery was "reducing competition for news and hurting the broader ecosystem of journalism." But CNN+ was infamously a debacle: WarnerMedia ultimately sunk $300 million into the service after budgeting $1 billion for its first four years; it had fewer than 10,000 daily viewers; executives showed no clear understanding of the service's long-term business plan.
As for Batgirl, the lawmakers are on even shakier ground. Castro told the Los Angeles Times, "If there had been no merger, that movie would have ended up going to theaters and on the streaming platforms." But the movie was always intended to be a streaming exclusive. With the studio desperate to cut costs, it made little sense to move forward with a movie that wouldn't at least generate ticket sales. Other streaming platforms are embracing theatrical releases to help defray production costs.
And even if Warner decided to switch gears and release Batgirl in theaters, the cost to get it to that point would be considerable: In its current form, the film tested poorly, with audiences likening it to "a bad TV show." So even after spending millions more to get the film up to theater quality, Variety estimated that it would have cost the studio between $30 million and $50 million to market it domestically, plus tens of millions more for international marketing.
Companies must make difficult decisions all the time in order to ensure their own survival. Even after all of its write-offs and restructuring, Warner Bros. Discovery still lost $2.1 billion in the fourth quarter of 2022.
The cancellation of Batgirl is indeed regrettable, but it doesn't require the federal government's intervention in the business of a private company. A company should succeed or fail on its own merits, and it's completely inappropriate to ask the Justice Department to revisit a merger due to a media company's decisions about its own streaming content.