Georgia Is Shoveling Cash Into a Failing Electric Vehicle Company
In 2021, the state of Georgia made an expensive bet on an unproven company that could be headed for financial catastrophe.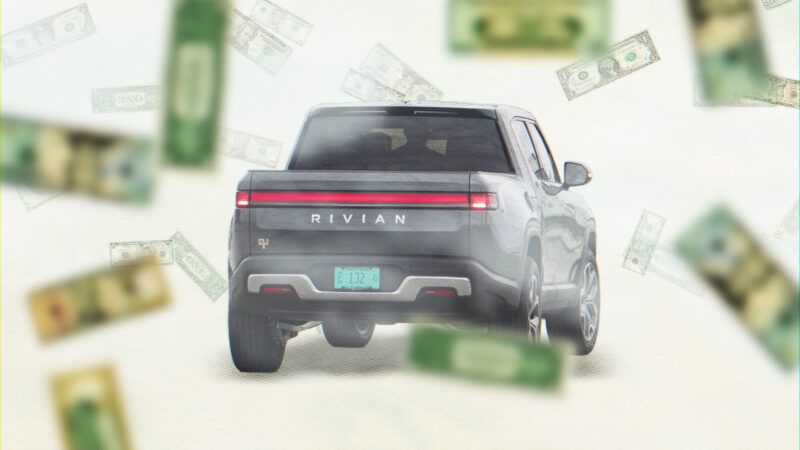 (Illustration: Lex Villena; Wanda Anthony, Brian Cassella/TNS/Newscom)
In December 2021, electric vehicle maker Rivian announced that it would build a new factory in Social Circle, Georgia, about an hour east of Atlanta. Gov. Brian Kemp heralded the $5 billion facility as "the single-largest economic development project in state history." When completed, the facility was expected to stretch over nearly 20 million square feet on 2,000 acres, an amount of real estate one Georgia-based journalist described as "three times larger than Disneyland" and "four times larger than Vatican City," capable of producing 400,000 vehicles per year. By May 2022, the state had approved an economic development agreement that likely constituted the largest incentive package in state history, at $1.5 billion in tax credits and local incentives.
Rivian was an object of market hype: The company didn't just make electric vehicles, it made electric pickup trucks, as well as an SUV and a delivery van, from a single factory in Illinois. What Tesla had done for sedans, Rivian promised to do for the truck market, making electric trucks cool while mitigating climate change—and raking in revenue.
Investors wanted in. Following its founding in 2009, the company raised billions over multiple funding rounds, receiving more than $1.3 billion from Amazon for a 20 percent stake and an order for all-electric delivery vans. It also got $1.2 billion from Ford for 12 percent of the company and a joint development agreement. In November 2021, a month before the Georgia deal was announced, Rivian raised $12 billion through an initial public offering (IPO) that valued the company at over $85 billion—more, even, than legacy carmaker Ford. By subsidizing Rivian's new factory, Georgia was using state funds to jump on the Rivian bandwagon.
But as is often the case with hype-heavy startups, it wasn't at all clear that Rivian could deliver on its promises. Just weeks before the 2021 IPO, Rivian revealed in filings to the Securities and Exchange Commission (SEC) that it had produced only 56 of its R1T pickup trucks, and shipped just 42, mostly to its own employees.
With its $1.5 billion in subsidies and investments, Georgia was essentially acting as an early-stage investor in an unproven company, using taxpayer money in an attempt to attract jobs and economic growth that were far from guaranteed. In the years since, Rivian has failed to hit vehicle production targets, scaled back expectations, and lost billions of dollars, with no clear end in sight to the losses.
Georgia, in other words, committed to shelling out vast amounts of taxpayer money with little chance of seeing a meaningful return on investment. And a company with billions in the bank is getting a sweetheart deal despite concerns not only over whether it can make good on its boldest promises, but whether it can even survive.
State Government Spending Spree
The past few years have seen significant growth in the electric vehicle market. To meet rising demand, automakers embarked on a factory-building spree not seen in decades, with $33 billion pledged just between January and November 2022.
Eager to get in on that investment, many state governments petitioned the companies with incentives to encourage development in their respective states. In exchange for building a $3.5 billion factory in Ohio, the state offered Honda $150 million in taxpayer-funded incentives. Stellantis (formerly Fiat Chrysler) got $186 million from the state of Indiana to build its battery manufacturing facility there instead of in Michigan.
Alongside such established firms, Rivian's ascent seemed unprecedented. Within a few short years, the company raked in billions of dollars in investment capital. Its November 2021 IPO was one of the most lucrative in recent history. Within a week of going public, it was the third-most-valuable automaker in the world—behind only Tesla and Toyota—despite having reported no revenue.
On the basis of those figures, Georgia offered Rivian an unprecedentedly generous incentive package. The economic development agreement authorized up to $1.5 billion in incentives, including state tax credits, development grants, and acquiring and clearing land for the factory.
Andrew Capezzuto, general counsel and chief administrative officer for the Georgia Department of Economic Development, tells Reason that the $1.5 billion number is an estimate of the total amount in incentives that the company will receive over 25 years. In exchange, Rivian has to meet certain performance metrics, creating 7,500 jobs and spending at least $5 billion on the project.
Georgia Has Cause for Concern
But Georgia's expectations are on shaky ground. When the deal was first announced in late 2021, Rivian had only recently begun producing and delivering vehicles. At the time, the company had a waitlist of more than 50,000 trucks and SUVs, which has since doubled. But the company missed its modest goal of producing 1,200 vehicles by the end of that year, ultimately producing 1,015 and only delivering 920. In 2022, Rivian planned to produce 50,000 vehicles, but after only producing 1,400 by March, it halved the goal to 25,000—which it still narrowly undershot.
Rivian is also burning through cash at an unsustainable rate. In its most recent quarter prior to the 2021 announcement, the company lost $1.2 billion; its 2021 losses would total $4.7 billion and it lost another $6.8 billion in 2022. Amazon, one of Rivian's earliest investors, paid $1.3 billion for a 20 percent stake, plus an exclusive contract for 100,000 all-electric delivery vans by 2025. The deal was later quietly amended to 100,000 vans by 2030.
In a 2021 SEC filing, Rivian warned that if Amazon "purchases significantly fewer vehicles than we currently anticipate or none at all, our business, prospects, financial condition, results of operations, and cash flows could be materially and adversely affected." Rivian is now apparently trying to end the contract's exclusivity clause because Amazon is not buying vans quickly enough.
Rivian is worth considerably less now than when it agreed to build the Georgia factory. In the year following the IPO, Rivian's stock lost 80 percent of its value, making it 2022's worst-performing stock on the NASDAQ 100. Ford began liquidating its Rivian holdings as soon as its lockup period expired, ultimately selling 91 million of its initial 101.9 million shares by the end of 2022.
In sworn testimony regarding the state incentives, Capezzuto acknowledged the company's significant burn rate but contended that "they did an IPO in the fall of '21 and raised a tremendous amount of capital," an amount that would reach $18.1 billion.
By December 2022, however, just a year after its lucrative IPO, Rivian's cash on hand had fallen 36 percent, to $11.6 billion. In 2022, the company reported revenues of $1.7 billion but costs of $4.8 billion, "as a result of the increased production and delivery" of vehicles.
The company plans to produce 50,000 vehicles in 2023, twice as many as last year, but it has a history of missing its own goals. And in February 2023, it announced a recall of more than 12,000 vehicles. Meanwhile, Georgia is still shelling out tax money to help develop the factory.
Chasing Scale
Many growth-stage companies consume large amounts of capital as they try to scale up production on the way to profitability, and they either rely on bank loans or investors. But in Georgia, the state government acted as Rivian's investor, including issuing bonds to exempt the company from paying any state taxes on the project. Capezzuto stresses to Reason that neither the state nor Rivian is "going into debt to finance the project…the bonds here are a mechanism to accomplish a reduction, or an abatement, of taxes."
At its current burn rate, however, the company's very existence is still precarious. Without a significant increase in revenue, it will be out of money within two years. And its production plans are dependent on the Georgia facility. CEO RJ Scaringe told The Atlanta Journal-Constitution, "The future of our company in terms of scaling and growing really relies on the future of this project. There's not another option. We're not planning an alternative. This must work."
Yet the company has already pushed back the Georgia factory's timeline by years. Production was originally planned to begin in 2024, but in November 2022, the company announced that it would not be able to begin building its new crossover vehicle at the Georgia facility until 2026.
On its most recent earnings call, CFO Claire McDonough said, "We remain confident that our cash and cash equivalents can fund our operations through 2025."
If Rivian cannot outrun its money woes within the next couple of years, it may have to shut its doors. State officials say the economic development agreement was "one of the strongest the State has secured in terms of clawbacks," potentially allowing the state to recoup its incentives if Rivian severed the deal through bankruptcy or otherwise.
But even in that event, Georgia would still be on the hook for a 2,000-acre state-owned property containing a partially-built electric vehicle factory. Under the terms of the economic development agreement, the state still owns the land and leases it to Rivian. So if Rivian did find itself out of cash, it wouldn't even be able to sell off any Georgia property because the state would still own it.
For his part, Capezzuto tells Reason that he doesn't see that outcome as likely, and he expected the company would solve its cash flow problems as it ramped up delivery. He also defended the premise of state incentives themselves, saying that "without these incentives, there's almost certainty that Rivian would've gone elsewhere."
How Much Do Incentives Actually Incentivize?
Unfortunately, there's little evidence to show that targeted economic development incentives are a good deal for taxpayers and plenty of evidence that they aren't.
According to a 2019 research paper from the Mercatus Center at George Mason University, "The weight of economic theory suggests that these subsidies do not work and may even depress economic activity."
Targeted subsidies create an unequal playing field in which state governments give privileges to certain companies over others. Georgia is exempting Rivian from state taxes and doling out hundreds of millions of dollars in freebies. Ultimately, the cost will be borne by Georgia taxpayers.
Perhaps the most prominent example of a targeted subsidy deal is Wisconsin's 2017 agreement with Taiwanese electronics giant Foxconn. The state agreed to $3 billion in incentives over 15 years, and in exchange Foxconn would build a state-of-the-art manufacturing plant. But a study found that the taxes needed to offset the expenditure would cost the state $20 billion in economic growth over that same period. The deal later fell apart as Foxconn admitted the plant would create barely one-tenth of the number of jobs initially promised.
Capezzuto argues that without state incentives, Rivian would have gone elsewhere. But the Mercatus researchers found that "when it comes to facility location decisions, other factors such as labor costs, business logistics, and access to region-specific resources are often far more important," citing Amazon's then-recent decision to build its HQ2 locations in New York and Virginia, forgoing more generous offers from Ohio, New Jersey, Maryland, and Texas. The authors quoted a review of 34 academic papers finding that subsidies "probably tip somewhere between 2 percent and 25 percent of incented firms toward making a decision favoring the location providing the incentives," meaning that the clear majority of companies will make a decision regardless of the incentives offered.
The Unforgiving Automotive Market
Even for more established players, success in the electric vehicle market is far from assured. Ford expects to lose $3 billion this year alone on its electric vehicle division. In October 2021, Tesla became the sixth company in U.S. history to reach a trillion-dollar valuation, but its stock price fell nearly two-thirds over the following year, losing almost $700 billion in value over 13 months; some analysts feel it's still overvalued. In contrast to Rivian, Tesla has more than 3 million cars on the road, registering nearly 485,000 new vehicles in 2022 alone in the U.S.
Rivian's situation is much less forgiving: If it doesn't stanch its losses soon, it could face insolvency. If so, Georgia, which chose to risk taxpayer money on an uncertain prospect, would be stuck with a factory built to a defunct company's specifications.
Rivian's defenders say this is just how business is done. "I'm not going to get into whether incentives are right or wrong," Capezzuto says. But, he adds, "The reality is that incentives are largely used as tools by states and communities to recruit businesses. There's almost an expectation by companies that they get some level of incentives, especially for projects of this size and magnitude."
But Rivian's ongoing financial and production struggles make clear how that expectation works in practice: State officials made a risky $1.5 billion bet with taxpayer money, and even that may not be enough to keep the company afloat.