Most Americans Say New York Charges Against Trump Are 'Serious'
Headlines about the 34 alleged felonies seem to have obscured newly revealed information about the weakness of the charges.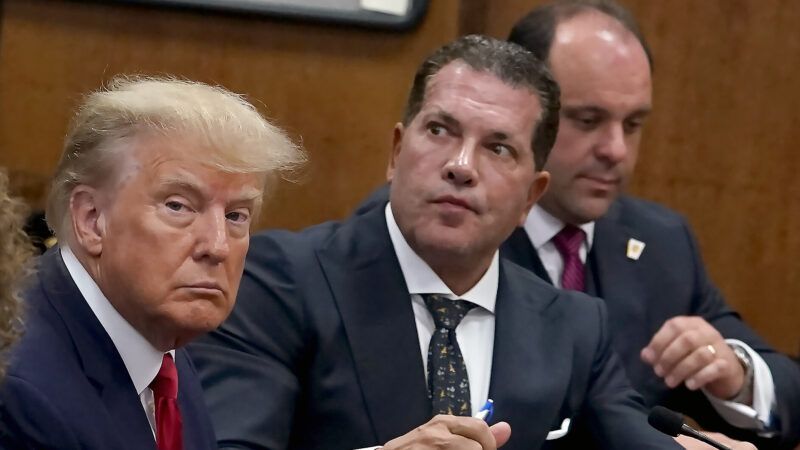 (Timothy A. Clary/Pool via CNP/Picture Alliance/Consolidated News Photos/Newscom)
The New York indictment of Donald Trump aims to disguise the fundamental weakness of the case against the former president by transforming a single hush payment into 34 felonies. Recent polling suggests that strategy has been successful.
In an ABC News/Ipsos poll of American adults conducted after a grand jury indicted Trump on March 30, 45 percent agreed that he should have been charged with a crime. That number rose to 50 percent in a second survey conducted after the indictment was unsealed last Tuesday. At the same time, the share of respondents who were undecided dropped from 23 percent to 17 percent.
The overall share of respondents who deemed the charges against Trump "serious" did not change much between the two surveys: It was 52 percent last week, up from 50 percent the previous week. But the share who viewed the charges as "very serious" rose by six percentage points, from 24 percent to 30 percent. At the same time, the share of respondents who said the charges are "not serious at all" rose from 20 percent to 24 percent.
"Independents and people who were undecided on this issue" in the first survey seem to be "moving away from the former president by small margins," Ipsos notes. In response to a question that was asked only in the second survey, 53 percent of respondents said Trump "intentionally did something illegal," while 11 percent said he "acted wrongly but not intentionally," 20 percent said he "did not do anything wrong," and the rest did not offer an opinion.
On its face, the apparent increase in public support for the New York prosecution is puzzling. If anything, you might expect to see a decline in public support, because the details revealed last week cast doubt on Manhattan District Attorney Alvin Bragg's case in several ways.
First, all of the charges are related to the $130,000 that former Trump lawyer Michael Cohen paid porn star Stormy Daniels shortly before the 2016 presidential election to keep her story about a 2006 affair with Trump out of the press. The case hinges on viewing that payment as an illegal campaign contribution—a questionable proposition that Cohen accepted in a 2018 plea agreement only when confronted by charges that could have sent him to prison for decades instead of the three-year sentence he ultimately received. And although Cohen said he paid Daniels at Trump's behest, which under the Justice Department's theory implicated Trump in soliciting an excessive campaign contribution, federal prosecutors never pursued that charge, even after Trump left office.
Second, Bragg alleges that Trump, who reimbursed Cohen for the hush money with a series of checks he wrote in 2017, violated a New York law by falsifying business records to disguise those payments as compensation for legal services. As the indictment describes it, Trump did that not once but 34 times—once for each invoice, check, and ledger entry related to the reimbursement. That multiplication of charges counterintuitively treats Trump's misrepresentation as nearly three dozen distinct crimes.
Third, while those offenses ordinarily would be misdemeanors, the indictment charges all of them as felonies because they were allegedly aimed at concealing or committing "another crime." But neither the indictment nor the "statement of facts" that accompanied it says what that crime was. Bragg also has been vague on that crucial point, probably because there are potential legal problems with every possibility.
Given these weaknesses, it seems likely that formerly undecided people who began voicing support for the case against Trump after the indictment was unsealed were more impressed by headlines about 34 felonies than the information about the conduct underlying those charges. A CNN/SRSS poll conducted before the indictment was unsealed suggests a similar disconnect: While 60 percent of respondents said they approved of "the decision to indict Trump," just 37 percent thought "Trump's actions regarding payments to Stormy Daniels" were "illegal." If "Trump's actions regarding payments to Stormy Daniels" were not illegal, Bragg has no case.
As Reason's J.D. Tuccille noted last week, the CNN/SRSS poll results present another puzzle: Seventy-six percent of the respondents said "politics played a role" in the indictment, including 52 percent who said it "played a major role." That suggests a substantial number of respondents were untroubled by a political motivation for prosecuting Trump, even though that would be contrary to the rule of law and Bragg's own description of his motivation.
In the more recent ABC/Ipsos survey, 50 percent of respondents said "the charges against Donald Trump in this case" were "politically motivated," while 36 percent said they weren't and 13 percent were not sure. If only 36 percent rejected the idea that the case is politically motivated, how could 50 percent think the prosecution is justified?
Again, these results suggest that antipathy toward Trump is coloring some Americans' views of the New York case. By the same token, reflexive support for Trump presumably helps account for the 20 percent of respondents who thought he "did not do anything wrong," even unintentionally.
Assessing the merits of Bragg's case against Trump, of course, requires setting aside one's personal feelings about the defendant, along with one's opinion of his potential criminal culpability for actions that are not at issue in this case. Bragg claims to have arrived at that sort of dispassionate conclusion. But his reliance on debatable facts and untested legal theories belies that self-portrayal. So does Bragg's decision to belatedly bring state charges that his predecessor rejected after mulling them for years, based on a federal charge against Trump that the Justice Department likewise declined to pursue.
All of that looks especially bad given that the defendant is the leading candidate to oppose an incumbent who is a member of Bragg's party in the next presidential election. It's no wonder that so many Americans view the case as politically motivated. But it is alarming that many of them don't seem to view that as a problem.