It Looks Like Donald Trump Will Finally Be Indicted Later Today
Plus: Debating whether GPT-4 actually understands language, U.S. immigration law stops a college basketball star from scoring, and more...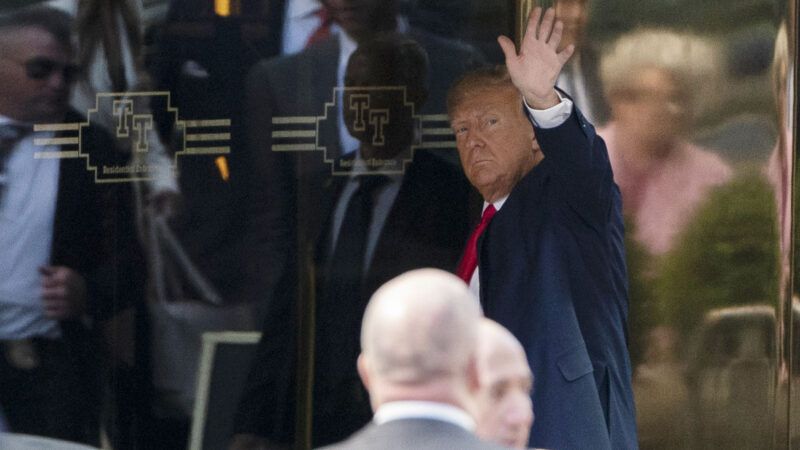 (Barry Willilams/TNS/Newscom)
Former President Donald Trump arrived in New York City on Monday evening ahead of an expected criminal indictment on Tuesday, marking the first time in American history that a former president will be arraigned in a court of law.
The important part of Tuesday's drama will unfold inside the Manhattan Criminal Courts Building, where Trump will stand before state Judge Juan Merchan to hear the charges against him read aloud for the first time—and, presumably, to enter a "not guilty" plea.
The grand jury's indictment against Trump remains sealed for now, though the charges are expected to be connected to Trump's payment of $130,000 to porn star Stormy Daniels as part of a nondisclosure agreement signed in 2016. Manhattan District Attorney Alvin Bragg, who is bringing the charges against Trump, does not have the authority to tag the former president with a campaign finance violation, but instead seems to be targeting Trump for falsifying business records. CNN reported last week that Trump faces more than 30 criminal counts, and Yahoo! News reported on Monday night that the former president is facing 34 counts of falsifying business records. (Both reports were based on information provided by unidentified sources, who may have also committed crimes by leaking the confidential results of a grand jury proceeding.)
There won't be any cameras allowed in the courtroom on Tuesday, but that won't stop the day from being a media circus. The madness got underway on Monday, as cable news outlets provided live coverage of Trump's motorcade as it traveled from LaGuardia Airport to Trump Tower in midtown Manhattan.
"I know that media critics are taking issue with the way that that a lot of news networks are covering this, but I have to say you know, as we watch Donald Trump's limo drive on the fdr this is unprecedented." pic.twitter.com/zVIRpBdZSh

— Acyn (@Acyn) April 3, 2023
Outside the courthouse, the New York City Police Department is reportedly preparing for protests, and steel barricades have been erected around the courthouse. After the news broke last month that charges against Trump were likely, the former president used his Truth Social account to call for protests against his arrest. Rep. Marjorie Taylor Greene (R–Ga.) is one of the Trump diehards who may be in Manhattan on Tuesday.
Despite the historic spectacle that Tuesday's indictment will certainly be, it's just the first step in what could be a lengthy legal process. One of Trump's top attorneys told CNN last weekend that the first real action will likely be a motion from Trump's defense team to have the charges dismissed. If the prosecution survives that, it'll still have an uphill battle to prove what looks like a shaky case against Trump, as Reason's Jacob Sullum explained last week:
There was nothing inherently criminal about paying off Daniels or McDougal. Those payments become criminal only by construing them as illegal campaign contributions. Although that is how federal prosecutors interpreted the law in Cohen's case, they conspicuously declined to charge Trump under the same theory. Manhattan prosecutors under Bragg's predecessor for years mulled the possibility of building a state case based on the same conduct and ultimately decided it would not fly.

Bragg's reconsideration of that conclusion reeks of desperation to punish a reviled political opponent, which is exactly how Trump and his supporters are portraying it. When you decide to make history by prosecuting a former president, especially when that former president is seeking that office again by running against an incumbent who is a member of your own party, you had better have a solid case involving serious crimes. Bragg, who is relying on debatable facts, untested legal theories, and allegations that are tawdry but far from earthshaking, does not seem to have such a case.
But, of course, the ultimate upshot to Trump's indictment is that it provides an opportunity to make a buck. Politicians and would-be elected officials on all sides of the situation will surely use Tuesday's events as the basis for outraged/elated fundraising requests. Trump's campaign is already considering selling T-shirts, hats, and other merchandise featuring the former president's forthcoming mug shot, according to a report in Rolling Stone.
Maybe the biggest winner in all of this—maybe the only winner—is Ronald Solomon, who runs a pop-up store in West Palm Beach, Florida, selling Trump-related paraphilia. On Monday, The Washington Post caught up with Solomon in a strip mall parking lot as he was selling flags and hats to Trump supporters who lined the route of Trump's airport-bound motorcade as it departed from Mar-a-Lago.
"I haven't even finished setting up, and I've already made $300," Solomon told the Post. "Business is booming ever since they came up with that boneheaded indictment. The merchandise has been flying out of here."
Honestly, good for him.
---
FREE MINDS 
Does the artificial intelligence behind the GPT-4 program actually understand language? Yes, but also no, say the co-authors of a paper recently published in the Proceedings of the National Academy of Sciences journal. One of the authors talked to the science magazine Nautilus about what the findings mean:
There's a kind of understanding which is just coordination. For example, I could say, "Can you pass me the spoon?" And you'd say, "Here it is." And I say, "Well, you understood me!" Because we coordinated. That's not the same as generative or constructive understanding, where I say to you, "I'm going to teach you some calculus, and you get to use that knowledge on a problem that I haven't yet told you about." That goes beyond coordination. It's like: Here's the math—now apply it in your life. …

I'd make a big distinction between super-functional and intelligent. Let me use the following analogy: No one would say that a car runs faster than a human. They would say that a car can move faster on an even surface than a human. So it can complete a function more effectively, but it's not running faster than a human. One of the questions here is whether we're using "intelligence" in a consistent fashion. I don't think we are.
---
FREE MARKETS 
Adama Sanogo was named Most Outstanding Player as his University of Connecticut Huskies defeated the San Diego State Aztecs on Monday night to win the men's NCAA championship, but Sanogo will miss out on potentially lucrative endorsement deals because he's from Mali and U.S. immigration law is full of dumb wrinkles. Reason's Fiona Harrigan explains:
The NCAA used to bar all college athletes from making money off their names, images, and likenesses. But since a 2021 rule change, they have been eligible to earn money through endorsement deals, social media activity, and paid appearances. The NCAA had long viewed college athletes as amateurs, but the policy change—quite sensibly—recognized that students deserved to be paid as professionals. In the first year of name, image, and likeness arrangements, Opendorse, a technological platform for these deals, estimated that college athletes made $917 million. Three-quarters of all NCAA athletes had engaged in the market from July 2021 to July 2022.

But international students largely operate in "a gray zone" in American immigration law when it comes to endorsements, says James Hollis, an immigration attorney at Siskind Susser, PC who has previously advised professional sports organizations on visa matters. "Students, schools, and their lawyers are all operating within the standard student visa framework," Hollis tells Reason. College athletes are largely in the U.S. on F-1 visas, which place tough restrictions on work. "The student visa rules say that student athletes can work part time on campus, can work if authorized as part of the curriculum…and can work after one academic year if they can demonstrate they're experiencing economic hardship," says Hollis.
Sanogo's American-born teammates will be able to cash in on UConn's national championship, but the most important player on the team will have to continue begging the federal government for his chance to do the same. It's March Madness, alright, but not in a fun way.
---
QUICK HITS
• Astronauts Reid Wiseman, Victor Glover, Christina Koch, and Jeremy Hansen have been named as the crew for the Artemis 2 mission, which aims to return humans to the Moon for the first time since Apollo 17 in 1972.
• A hotly contested Supreme Court election in Wisconsin could flip the ideological majority on the seven-member bench, potentially affecting future rulings on abortion, redistricting, and election rules in the political bellwether state.
• Florida Gov. Ron DeSantis, a Republican, signed a bill allowing Floridians to carry a gun without a permit.
• Former Connecticut senator Joe Lieberman, a Democrat, is back and pushing a plan for a "common-sense, moderate, independent platform" third-party presidential bid in 2024—but don't believe it until you see it.
• Happy 50th anniversary to the first cellphone call, made from a Sixth Avenue sidewalk in New York City.