Ron DeSantis Reportedly Plans To Portray Trump As Soft on Crime
Trump touted his support for sentencing reform as evidence of his "deep compassion," which DeSantis sees as a weakness.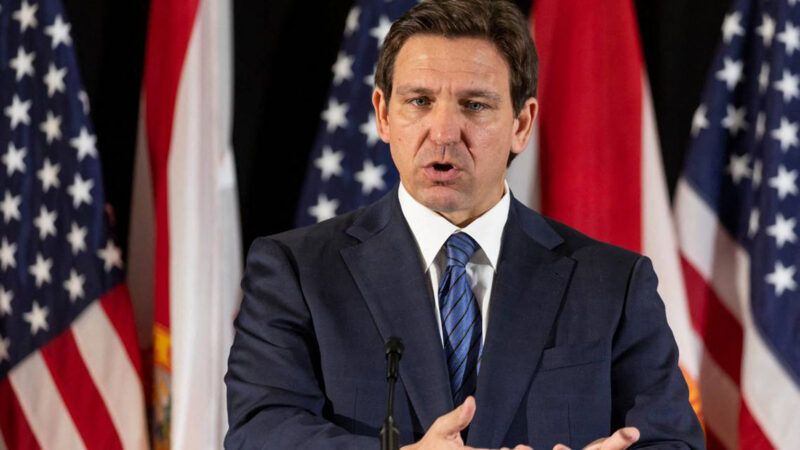 During his 2020 presidential campaign, Donald Trump attacked Joe Biden from the left on criminal justice, highlighting the Democrat's long history of supporting draconian drug penalties that disproportionately hurt African Americans. Now Florida Gov. Ron DeSantis reportedly is planning to attack Trump from the right on criminal justice, highlighting the former president's support for the FIRST STEP Act, a package of modest reforms that Trump signed in 2018.
The New York Times, citing unnamed sources close to DeSantis, reports that his expected campaign for the 2024 Republican presidential nomination will portray Trump as soft on crime. That prospect does not bode well for the future of debates about crime and punishment within the Republican Party, which seems to be reverting to the mindlessly punitive mentality that the FIRST STEP Act challenged.
Trump's pose as a criminal justice reformer always seemed more tactical than sincere. In 2016, he ran on a Nixonian "law and order" platform that paid no attention to proportionality or to the distinction between inherently criminal conduct and offenses that exist only by legislative decree. Trump admires brutal drug warriors like Rodrigo Duterte, the former president of the Philippines, and has repeatedly floated the idea of copying them by executing drug dealers.
Under the influence of his son-in-law Jared Kushner, however, Trump embraced sentencing reform in the hope of appealing to moderates, making inroads among black voters, and dampening support for Biden. Kushner persuaded Trump to back the FIRST STEP Act, which reduced some mandatory minimum sentences, authorized the resentencing of crack offenders in line with current penalties, expanded the "safety valve" that allows some drug defendants to avoid mandatory minimums, increased "good time" credit for federal prisoners, and facilitated "compassionate release."
Trump bragged about that accomplishment during his 2019 State of the Union address, which was attended by two federal drug offenders whose sentences he had commuted. One of those clemency recipients was Alice Johnson, an African-American woman who had received a life sentence for participating in a Memphis-based cocaine trafficking operation. Johnson was featured in a Trump campaign ad that aired during the 2020 Super Bowl.
"Alice Johnson was sentenced to serve life in prison for a nonviolent drug offense," the TV spot's opening caption said. "Thanks to President Trump, people like Alice are getting a second chance." That was followed by footage of Johnson reuniting with her family and tearfully thanking Trump for setting her free. "Politicians talk about criminal justice reform," another caption said. "President Trump got it done. Thousands of families are being reunited."
Trump repeatedly contrasted that record with Biden's. "Anyone associated with the 1994 Crime Bill will not have a chance of being elected," he tweeted in 2019. "In particular, African Americans will not be able to vote for you. I, on the other hand, was responsible for Criminal Justice Reform, which had tremendous support, and helped fix the bad 1994 Bill!"
In a 2020 campaign video, Trump declared: "Mass incarceration has put hundreds of thousands behind bars for minor offenses. Joe Biden wrote those laws." Trump's campaign slammed Biden as "the chief architect of mass incarceration and the War on Drugs, which targeted Black Americans." In addition to "wrecking countless lives," it said, Biden pushed "legislation that policy experts agree made the opioid epidemic far more deadly" by discouraging bystanders from reporting overdoses.
Johnson made another appearance at the 2020 Republican National Convention. "I was once told that the only way I would ever be reunited with my family would be as a corpse," she said. "But by the grace of God and the compassion of President Donald John Trump, I stand before you tonight."
Trump's daughter Ivanka drove home the point that her father had acted decisively to ameliorate the damage done by unjust drug laws. "Against all odds," she said at the convention, "he brought together Republicans and Democrats, and passed the most significant criminal justice reform of our generation….He tackled this injustice because he has a deep compassion for those who have been treated unfairly."
Trump was bitterly disappointed that he received no apparent political payoff from these overtures to critics of Biden's legislative legacy. "Did it for African Americans," he wrote last year in response to a reporter's question. "Nobody else could have gotten it done. Got zero credit."
Trump won't be making that mistake again. The same man who in 2020 was touting his compassion for nonviolent drug offenders is back to advocating their execution.
DeSantis, meanwhile, reportedly thinks Trump's flirtation with criminal justice reform is a promising point of attack. "Mr. DeSantis and his backers see the signature criminal-justice law enacted by Mr. Trump in 2018 as an area of weakness with his base," the Times says, "and Mr. DeSantis has indicated that he would highlight it when the two men tussle for the Republican nomination."
That tactic is a bit problematic for DeSantis, who supported an early version of the FIRST STEP Act as a congressman. But the version of the bill that DeSantis voted for in May 2018, which passed the House with support from 226 Republicans, did not include the sentencing reforms that were later added to the bill. DeSantis had left Congress to run for governor by the time the final version passed. That bill—the one that Trump signed—attracted support from 182 Republicans in the House and 38 Republicans in the Senate.
Given the broad bipartisan support for those sentencing reforms, it may be hard to portray them as the work of soft-on-crime progressives. But according to the Times, that is what DeSantis plans to do.
The FIRST STEP Act resulted in reduced prison terms for more than 7,000 people. As DeSantis sees it (or will claim to see it), any crimes subsequently committed by any of those people are on Trump.
The Times cites a recent tweet from Pedro L. Gonzalez, "a conservative with a large online following who often attacks Mr. Trump from the right and defends Mr. DeSantis," as a preview of what we can expect from the DeSantis campaign. "The man who brutally attacked one of Rand Paul's staffers in broad daylight over the weekend was released from prison thanks to Trump's First Step Act," Gonzalez wrote on Wednesday.
Gonzalez said Glynn Neal, the man arrested for stabbing a member of the Kentucky senator's staff, benefited from the FIRST STEP Act's expansion of good time credit. Among other things, the law increased the number of days deducted for each year of good behavior from 47 to 54.
"We can confirm Glynn P. Neal was released from the custody of the Bureau of Prisons (BOP) on March 24, 2023, via a release method titled, 'Good Conduct Time' release,'" BOP spokesman Scott Taylor said in an email. "His release date had been calculated in accordance with federal statutes and BOP policy. He was released after he completed his sentence when accounting for statutorily required credits."
Taylor's message included a link to a BOP "program statement." The relevant rule, according to that document, would have been "54 days credit for each year served (prorated when the time served by the inmate for the sentence during the year is less than a full year) if the inmate has earned or is making satisfactory progress toward earning a GED credential or high school diploma."
Taylor said his office, "for privacy, safety, and security reasons," does not "provide additional information about inmates who have been released from BOP custody." But the difference between the current rule and the prior one might have amounted to a few additional months off Neal's sentence of 12 years and four months for "compelling two North Carolina women to engage in prostitution through the use of threats."*
Gonzalez did not mention that Paul himself was among the three dozen Republican senators who voted for the FIRST STEP Act. According to Gonzalez's logic, Paul recklessly endangered his own staff by supporting that law. That argument, of course, condemns any attempt to reduce prison sentences, even slightly, when there is a chance, as there always is, that people will commit crimes after they get out. It also implies that public safety can always be improved by lengthening sentences, without regard to proportionality or the costs of that strategy. After DeSantis officially launches his presidential campaign, the Times says, we are apt to see more attacks along these lines.
Last year, DeSantis bragged about signing a bill that increased Florida's penalties for fentanyl offenses. That law "increases the mandatory minimum sentence for trafficking fentanyl from 3 years to 7 years for 4-14 grams, and from 15 to 20 years for 14-28 grams." Seven years for four grams of fentanyl is even more severe than the five-year mandatory minimum for five grams of crack that Biden once cited as proof of his anti-drug zeal.
The sentences that DeSantis proudly signed into law are exactly the sort of rigid and disproportionate penalties that Trump criticized Biden for promoting. But there is actually little daylight between Trump and DeSantis on this issue. During the same State of the Union speech in which Trump highlighted his compassion for Alice Johnson, he urged Congress to "strengthen criminal penalties for dealing and trafficking in fentanyl and other opioids." And if Trump had his druthers, those penalties would include death.
Despite that glaring inconsistency, Trump not only decried "very unfair" drug sentences; he actually did something about them. Judging from his complaint that he got "zero credit" for that, he already wishes he had never endorsed the proposition that there is such a thing as an excessively severe drug penalty. DeSantis seems determined to compound Trump's regret.
*Update: I have added the BOP's response to my question about Neal's good time credits.