Trump Recognizes 2 Formerly Incarcerated People in State of the Union Speech
"America is a Nation that believes in redemption."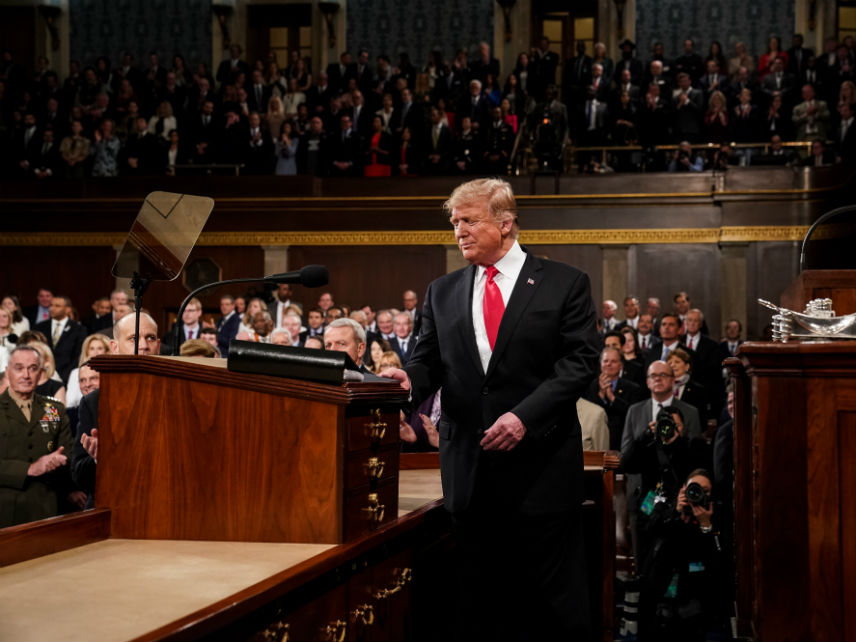 President Donald Trump recognized two formerly incarcerated people in his 2019 State of the Union speech Tuesday night, applauding the success of criminal justice reforms and the recently enacted FIRST STEP Act.
Matthew Charles and Alice Marie Johnson were two of the White House guests for the State of the Union speech. Their draconian drug sentences drew national attention (including reporting by Reason), which ultimately led to their early release from federal prison.
"Last year, I heard through friends the story of Alice Johnson," Trump said. "I was deeply moved. In 1997, Alice was sentenced to life in prison as a first-time non-violent drug offender. Over the next two decades, she became a prison minister, inspiring others to choose a better path […] Alice's story underscores the disparities and unfairness that can exist in criminal sentencing—and the need to remedy this injustice."
Johnson was serving a life sentence in federal prison for a drug conspiracy offense when mega-celebrity Kim Kardashian learned of her case. During her decades in prison, Johnson became an ordained minister, wrote several plays, and was a role model to countless other inmates. Kardashian made a personal appeal to Trump to commute Johnson's sentence.
Trump commuted Johnson's sentence in June.
As Reason reported, Johnson gave a speech at Georgetown University after her release:
I don't take freedom lightly, because this is a gift I have received. It's a miracle. I try to speak from my heart. I don't have a prepared speech. I may not have the most glowing and fancy words, but what you hear from me is straight from the heart. I don't feel that I was denied or delayed. I was destined for this. I believe the Lord has raised up my voice for such a time as this, that this is the moment he called me into to speak out, to be not just a number, to not just be someone that they read about, but a human being. It's an issue that should prick the conscious of every American citizen that sees what happened to me, to know that but for the grace of God, I could have been them, and they could have been me.
Bolstered by Trump's willingness to recognize cases like Johnson's, supporters of criminal justice reform worked for months to sway the president to support the FIRST STEP Act, a major piece of criminal justice reform then moving through Congress. Trump's eventual support, over the objections of staunch opponents of mandatory minimum reform, helped solidify Republican support. When the bill finally made it to the Senate floor, it passed easily.
"Inspired by stories like Alice's, my Administration worked closely with members of both parties to sign the First Step Act into law," Trump said. "This legislation reformed sentencing laws that have wrongly and disproportionately harmed the African-American community. The First Step Act gives non-violent offenders the chance to re-enter society as productive, law-abiding citizens. Now, States across the country are following our lead. America is a Nation that believes in redemption."
Trump also highlighted the story of Matthew Charles, one of the first people to secure an early release under the new legislation.
As Reason reported, Charles was originally released early from a 35-year federal prison sentence for a crack cocaine offense. However, a federal appeals court ruled that, because of his status as a "career offender," he should have never been eligible for early release. As a result, he was sent back to federal prison last year after two years of freedom, during which time he had reconnected with his family, found a job and girlfriend, and volunteered every weekend at a food pantry.
Charles then became one of the first people to have his sentence reduced under the FIRST STEP Act, which made previous reductions to crack cocaine sentences apply retroactively. He was released yet again on time served in January.
"On behalf of all Americans," Trump said to Charles during his speech, "welcome home."
Trump's comments were a departure from his inaugural speech, which warned of "American carnage" from out-of-control crime, as well as his criticisms of Barack Obama's clemency initiative, which he said released dangerous criminals onto the streets.
Criminal justice advocates, who worked to convince the president to support the bill, applauded him for highlighting the cases of Johnson and Charles.
"Alice Johnson and Matthew Charles are proof that people who make mistakes can do extraordinary things if given a second chance," Mark Holden, the general counsel of Koch Industries and a frequent visitor at the White House during the push to pass the FIRST STEP Act. "The bipartisan First Step Act is already helping people transform their lives and we applaud the president for working with both parties to pass this landmark legislation. As our country takes the next step on criminal justice reform, we'll continue uniting with anyone who shares our goal of safer communities and fewer barriers for those who have paid their debt to society."
Holly Harris , the executive director of the Justice Action Network, announced in a press release Tuesday night that, along with the criminal justice advocacy group FAMM, her organization would be funding a fellowship for Charles to raise awareness of the criminal justice system.
"We cannot think of a more compelling voice than that of Mr. Charles to share the positive results from the First Step Act and build on the momentum created by the passage of this landmark legislation," she said. "Though he is a free man, Mr. Charles remains focused on the thousands of families still awaiting a homecoming for their loved ones, and we pledge to work alongside him, and with lawmakers on both sides of the aisle, toward swift implementation of the First Step Act, and more aggressive reforms in Washington and in states all across the country."