Rep. Adam Schiff Seeks Dianne Feinstein's Senate Seat
They both share in their authoritarian desires to censor online speech and violate citizen privacy.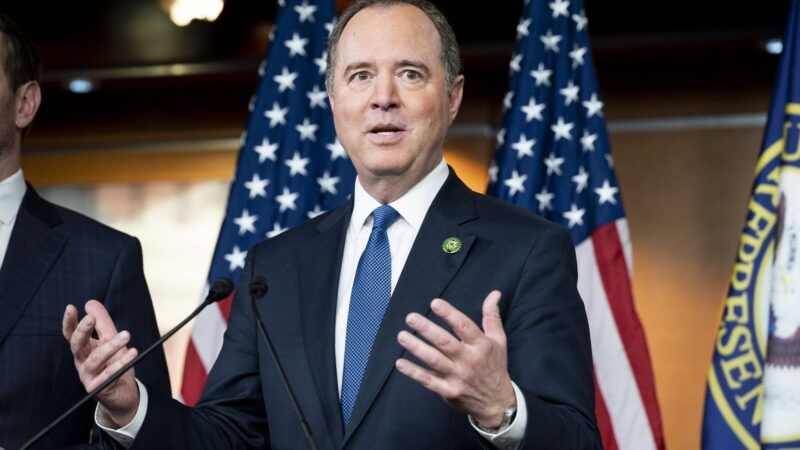 California Democratic Rep. Adam Schiff announced today he's going to be running for Democratic Sen. Dianne Feinstein's seat in 2024, a declaration made slightly awkward by the fact that she has not yet announced plans to retire.
Feinstein, 89, has been serving in the Senate since 1992. (She's part of America's stagnant gerontocracy.) Some California Democrats have been pushing for her to retire for years, and concerns about her mental fitness and memory have increased as she's gotten older. Nevertheless, she said in 2022 that she had no plans to resign from her current term and won't announce whether she'll seek reelection until 2024.
That Schiff could be seen as a young successor at the near-retirement age of 62 is itself rather hilarious. Democratic Rep. Barbara Lee, 76, has also said she is considering a run for the seat. By comparison, California Rep. Katie Porter, who announced plans to run for the seat earlier this month, is but a child at the tender age of 49.
While anything can happen, it does seem likely that Feinstein will announce in 2024 she will not be running again. A source told NBC News that Schiff had met with Feinstein to tell her his plans before the public announcement. When Feinstein ran for reelection back in 2018, she wasn't challenged by any serious candidates, despite being urged to step aside. She faced then-Democratic State Sen. Kevin de León (thanks to California's "jungle primary," where voters choose from all the candidates and the top two advance, Californians had only two Democrats to choose from in the November election) and handily trounced him.
Now that members of Congress are actually throwing their hats in the ring, it's all a bit different. Lee, Porter, and Schiff all have federal records to run on, and Schiff's name is inevitably connected to the failed attempt to impeach President Donald Trump in 2020. It's easy to imagine him running on that record—it has given him more name recognition than he would have had otherwise, and it cost him his seat on the Intelligence Committee once the Republicans gained control of the House.
As for his actual record, he'd be succeeding Feinstein in not just her seat but also a number of her authoritarian politics. Feinstein was often quite happy to advance the power of the state over its own citizens. In her role on the Senate Select Committee on Intelligence, she was happy to defend the power of the federal government to secretly snoop on citizens without warrants (unless her staff was the target). She has helped craft bills to undermine encryption, threatening the security of all our data and privacy, all to make it easier for the government to access our information. She is on the record arguing for the federal government to take a firm hand in censoring what is and is not allowed on social media platforms, even threatening platforms that she and other lawmakers would "do something" if platforms didn't rein in Russian attempts to influence Americans' votes.
In the House, Schiff's record is not so terribly different. He has been attempting to pressure Twitter to censor hate speech, and according to a piece by Matt Taibbi from the Twitter Files, his staff regularly reached out to Twitter management to try to get tweets they didn't like removed, including a parodic edit of an image of President Joe Biden. Schiff is happy to engage in "jawboning," using his power to influence private platforms to censor speech in ways that would be unconstitutional if he were to do it himself.
Schiff has been criticized by civil rights groups for undermining attempts to reform the Foreign Intelligence Surveillance Act so that Americans have stronger protections from secret snooping from the feds. They also criticized him in wake of the January 6, 2021, Capitol riot for sponsoring a bill to add more criminal punishments for those arrested and charged with domestic terrorism. He actually first introduced the bill in 2019, before the riot, but it was brought up for potential consideration after Biden took office. More than 135 groups signed a letter that warned, "The federal government has no shortage of counterterrorism powers, and these powers have been and will be again used to unjustly target black and brown communities, including Muslim, Arab, Middle Eastern, and South Asian communities, as well as those engaged in First Amendment-protected activities."
So it's not a surprise if Schiff attempts to literally follow in Feinstein's footsteps. He's been figuratively doing it for years.