Judge Rules DeSantis Violated First Amendment by Ousting Reform Prosecutor but Declines To Reinstate Him
"In short, the controlling motivations for the suspension were the interest in bringing down a reform prosecutor," the judge wrote.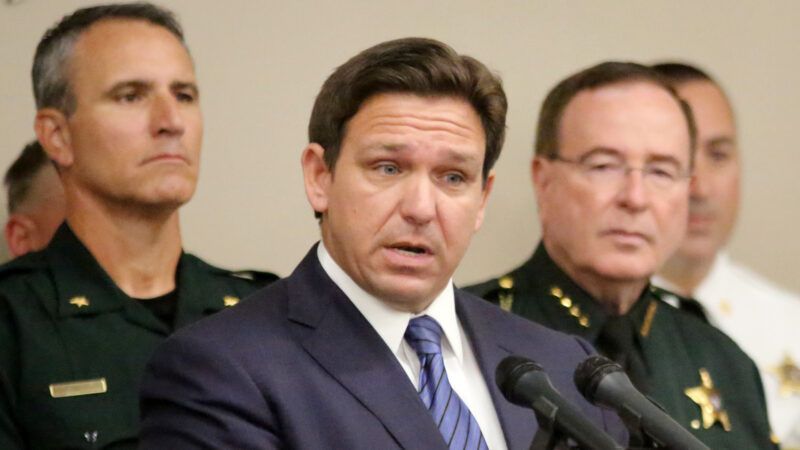 Republican Florida Gov. Ron DeSantis violated the First Amendment and the Florida Constitution when he suspended a progressive Tampa-area state attorney, a federal judge ruled today, but the judge found he did not have the authority to reinstate the prosecutor.
U.S. District Judge for the Northern District of Florida Robert Hinkle pilloried the DeSantis administration's flimsy justifications and partisan motivations for suspending Hillsborough County State Attorney Andrew Warren, one of the most prominent progressive prosecutors in the state.
"In short, the controlling motivations for the suspension were the interest in bringing down a reform prosecutor—a prosecutor whose performance did not match the Governor's law-and-order agenda—and the political benefit that would result," Hinkle wrote in his order. "The actual facts—whether Mr. Warren actually had any blanket nonprosecution policies—did not matter. All that was needed was a pretext to justify the suspension under the Florida Constitution."
However, although Hinkle found that the DeSantis administration's reasons for removing Warren were specious and included protected First Amendment speech—such as being affiliated with the Democratic Party progressive megadonor George Soros—DeSantis would have removed Warren anyway for unprotected conduct. Hinkle also ruled that as a federal judge, he had no authority under the 11th Amendment to grant Warren relief in a dispute against the state over a violation of state law. Hinkle dismissed the lawsuit.
Warren was elected twice by voters as Hillsborough County state attorney for the 13th Judicial District, where he carved out a reputation as a reform-minded prosecutor. He started a conviction integrity unit to root out and overturn sloppy convictions. He also announced his office would no longer pursue "resisting without violence" charges, an offense that had become derisively known as "biking while black" because it was overwhelmingly applied against black bicyclists. The move came after the Justice Department released a 2016 report that found that 73 percent of bicyclists stopped by Tampa police were black.
DeSantis announced in a press conference last August, flanked by local law enforcement, that he was suspending Warren for neglect of duty after the state attorney signed letters saying he would not enforce state laws restricting abortion or transition-related medical care to transgender minors. The suspension order also cited the biking policy and other policies to avoid prosecutions for certain low-level offenses.
"Our government is a government of laws not a government of men and what that means is that we govern ourselves based on a constitutional system and based on the rule of law," DeSantis said at the press conference. "But yet we've seen across this county over the last few years individual prosecutors take it upon themselves to determine which laws they like and will enforce and which laws they don't like and then don't enforce."
Warren filed a federal lawsuit arguing that the suspension violated his First and 14th Amendment rights.
During the September trial in Warren's lawsuit, it became clear that the DeSantis administration's investigation mostly consisted of asking Florida sheriffs and police chiefs which state attorney they disliked the most. The so-called nonprosecution policies that DeSantis cited, Hinkle found, were rather routine exercises of prosecutorial discretion.
"The record includes not a hint of misconduct by Mr. Warren. So far as this record reflects, he was diligently and competently performing the job he was elected to perform, very much in the way he told voters he would perform it," Hinkle wrote. "He had no blanket nonprosecution policies. Any minimally competent inquiry would have confirmed this. The assertion that Mr. Warren neglected his duty or was incompetent is incorrect. This factual issue is not close."
DeSantis replaced Warren with a Republican, Susan Lopez, who quickly announced she was resuming prosecutions of bike-stop cases.