No Cops Will Face Legal Consequences in Conjunction With Breonna Taylor Killing
Plus: Russians occupy Ukrainian nuclear plant, the results of misinformation bans, and more...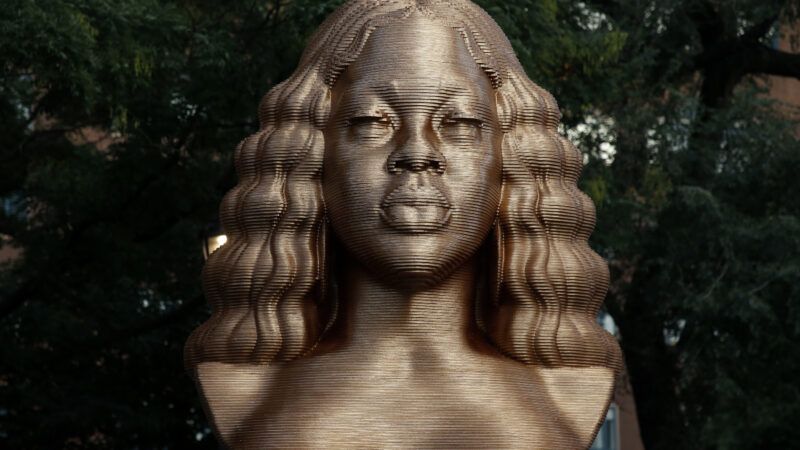 (John Lamparski/ZUMAPRESS/Newscom)
No police officers will face legal consequences in conjunction with the 2020 killing of Breonna Taylor. The only officer criminally charged in conjunction with the killing was former Louisville cop Brett Hankison, who faced three counts of wanton endangerment. On Thursday, a jury found Hankison not guilty.
At trial, Hankison said he did "absolutely" nothing wrong during the no-knock raid that led to Taylor's death and could have killed others also.
During the raid, Hankison shot at a glass door that led to an apartment neighboring Taylor's. That apartment was occupied by Cody Etherton, Chelsea Napper, and Napper's 5-year-old son. Etherton testified that Hankison's shots came dangerously close to hitting him—"one or two more inches and I would have been shot," he said.
Kentucky Assistant Attorney General Barbara Whaley told the court that Hankison had fired "with no target" and "his wanton conduct could have multiplied one tragic death, (that of) Breonna Taylor…by three, easily."
It was for endangering Taylor's neighbors that Hankison was charged—not for the killing of Taylor. Neither of the two officers—former Sergeant Jonathan Mattingly (who retired) and former Detective Myles Cosgrove (who was fired)— who executed the raid with Hankison were charged in Taylor's death, either. A member of a grand jury considering indictments said they were never presented with the option to charge the officers for Taylor's death.
Nor were any of those who planned the botched raid—part of a drug investigation into Jamarcus Glover—charged in her death, despite the dubious circumstances surrounding the raid itself. Glover had previously dated Taylor, but they were no longer together and he did not live at her apartment. The pretense for the raid was that Glover did sometimes receive what police called "suspicious packages" there. But these packages came from Amazon.
"The people [responsible for the raid] escaped criminal liability, vividly illustrating how the war on drugs transforms murder into self-defense," as Reason's Jacob Sullum wrote last month.
Taylor's killing was one of the major incidents—along with the murder of George Floyd—that set off a string of summer 2020 protests against police violence. People in countless cities called for reforms, including an end to no-knock raids and an end to qualified immunity, so that police officers can be held accountable for wrongful actions.
In the wake of the protests, a number of places—including Louisville and the state of Kentucky—passed measures to either limit or ban no-knock raids. But a federal measure to end the practice—the Justice for Breonna Taylor Act, from Kentucky Republican Sen. Rand Paul—went nowhere. (Minnesota Democratic Rep. Ilhan Omar recently introduced another attempt to limit the use of no-knock raids.) And while a federal investigation into Taylor's killing is ongoing, no charges have been filed.
The conclusion of Hankison's trial shows is yet another reminder of how little actually changed since Taylor was killed in her own home, after police broke in unannounced and her boyfriend Kenneth Walker III—thinking they were intruders—fired at them. The subsequent return fire from the police officers killed her.
"This was not justice for Mr. Etherton, Ms. Napper, or her young son," Frederick Moore III, one of Walker's lawyers, said in a statement responding to the Hankison verdict. "This was not justice for Breonna Taylor or Kenneth Walker. Kenneth Walker was assaulted by the state, and lives among us devoid of apology or recognition for the harm done to him."
---
UKRAINE UPDATES
Disaster has been averted after a fire broke out at a Ukrainian nuclear power plant following Russian shelling. The fire started in an administrative building at the Zaporizhzhia plant—the largest nuclear power plant in Europe—and was extinguished before it could do more damage. Russian forces are now occupying the plant.
"Unfortunately, there are dead and wounded among the Ukrainian defenders of the station," the plant's operator, Energoatom, said in a Telegram statement.
"Europe must wake up now. Europe's largest nuclear power plant is on fire," Ukrainian President Volodymyr Zelenskyy said in a statement posted to Facebook. "Right now, Russian tanks are firing upon nuclear units. These are tanks equipped with thermal imagers. That is, they know where they are shooting, they have been preparing for this!"
Authorities report no change in radiation levels at the plant.
---
FREE MINDS
On misinformation bans:
Bans now limit Western access to Putin's propaganda.

Most of us have no interest in propaganda. But there is reason to pause.

Not only are bans out of sync with the science of misinformation. They may also be detrimental to our fight for democracy.

An evidence-based ???? (1/16)

— Michael Bang Petersen (@M_B_Petersen) March 3, 2022
---
FREE MARKETS
Why don't people want to talk about FOSTA when they talk about Section 230 reform? Probably because the 2018 law—formally titled the Allow States and Victims to Fight Online Sex Trafficking Act—doesn't make congressional efforts to overhaul this federal communications law again look very good—something Quinta Jurecic explores at length in a new report from the Brookings Institution.
"FOSTA would seem to be an obvious touchstone for discussions around § 230 reform today. It's not only a recent precedent, but one that enjoyed bipartisan support by a wide margin—no small feat in a polarized time," notes Jurecic. However, FOSTA "does not make for an encouraging model":
Studies suggest that the law likely placed sex workers at increased risk, as people lost access to websites used to advertise and communicate about the sex trade and were forced to work on the street in dangerous conditions. And apart from FOSTA's changes to § 230, a July 2021 report by the Government Accountability Office (GAO) showed that federal prosecutors have had little use for the additional criminal penalties for sex trafficking established by FOSTA. The law may even have hindered efforts to investigate and prosecute trafficking.

But Congress seems to have little interest in reviewing its past work. The GAO report arrived to little fanfare from Capitol Hill. And FOSTA remains almost entirely absent from current political discussions around amending § 230.
To actually analyze FOSTA with clear eyes would mean lawmakers might have to not only admit they made a mistake but also that they're itching to repeat it. Being truthful and forthcoming about FOSTA means acknowledging that all these new proposals to reform Section 230 could be ineffective, have unintended consequences, and more.
---
QUICK HITS
• Ukrainians in the U.S. are getting temporary protected status, meaning they will not be deported even if their visas have expired.
• California Gov. Gavin Newsom is proposing "Care Courts" to force people into mental health and addiction treatment.
• Idaho moves forward on passing a Texas-style abortion ban. Meanwhile, Florida lawmakers have passed a measure that would ban abortion after 15 weeks.
• The school superintendent who made students take off their clothes so she could search for vaping devices is now facing six counts of false imprisonment.
• Ohio lawmakers have voted to eliminate permits for concealed carry weapons. The measure is now awaiting Gov. Mike DeWine's signature.
• Sherri Papini, a woman whose high-profile disappearance was publicized as an abduction with possible ties to sex trafficking, now faces criminal charges for allegedly making the whole thing up. Papini—who was arrested yesterday—"is accused of lying to investigators in 2020 when presented with evidence the kidnapping was faked; and of defrauding California out of more than $30,000 in victim assistance money," NBC News reports.