The DHS Agent Who Tried To Kill Kevin Byrd Can't Be Sued—Because He Works for the Federal Government
It's almost impossible to hold federal officers to account.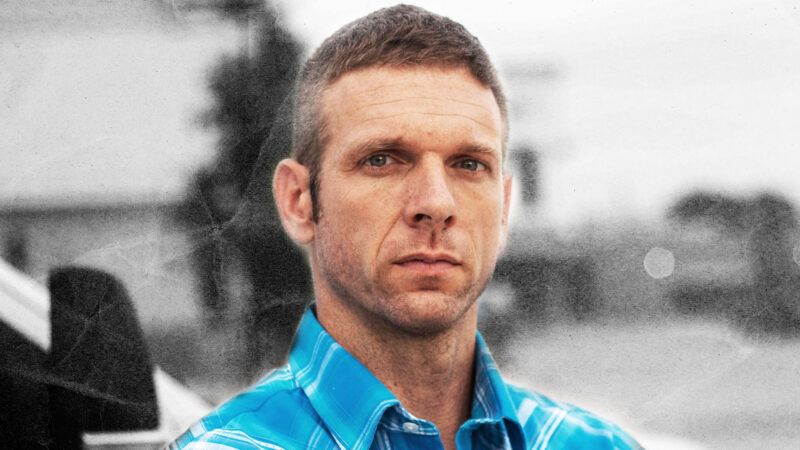 Department of Homeland Security (DHS) agent Ray Lamb was not acting in his professional capacity when he approached Kevin Byrd in the parking lot of a Texas bar and allegedly threatened to "put a bullet through [his] fucking skull," nor was Lamb on duty when he took his gun and attempted to smash the window of Byrd's car. He was acting as a private citizen when he made those threats, which also included pulling the trigger. Luckily for Byrd, the gun jammed.
But Lamb has an advantage most other would-be murderers don't: That gun was given to him by the government in his capacity as a federal law enforcement officer. Now, Lamb's badge is insulating him from responsibility for his actions, as current legal doctrine essentially makes it impossible to hold federal officers accountable in civil court—even for actions taken in their personal lives.
"It's the definition of official corruption," says Anya Bidwell, an attorney with the Institute for Justice (IJ), a public interest law firm representing Byrd in a suit against Lamb. "He used the power given to him by the federal government to benefit his own private interests."
On the morning of February 2, 2019, Byrd arrived at a bar in Conroe, Texas, to speak with someone on-site who could shed light on a gruesome car crash his ex-girlfriend, Darcy Wade, had been in after leaving that establishment in the hours prior. Unsure she'd survive, Byrd had just visited her in the hospital after Wade's new boyfriend—an inebriated Eric Lamb, Ray Lamb's son—drove headlong at 70 miles per hour into a Greyhound bus.
Lamb approached Byrd as he sought to leave the parking lot, furious that Byrd was collecting details on his son's drunk driving. Both men dialed 911, but it was Byrd who ended up in the back of a police car.
"If I tried to do this and Kevin called police…they would immediately detain me. It would be clear as day that I am the one who is trying essentially to hurt this person," posits IJ's Bidwell. "Not only is it that DHS Officer Lamb is trusted here when local police arrive, but then when you try to sue him, you can't sue him, because he happens to work for the government. There is essentially no win for plaintiffs in such cases."
Indeed, a federal court ruled in March that Lamb's federal badge also serves as a shield that grants him absolute immunity from any claim for damages without so much as a jury trial. The decision stems from Bivens v. Six Unknown Named Agents of the Federal Bureau of Narcotics, a 1971 Supreme Court ruling that allowed a man to sue federal officers after they performed a warrantless search of his home and later strip-searched him at a courthouse. That precedent has been watered down over the years by subsequent decisions, requiring that courts analyze if new cases follow the exact same factual framework. If not, judges are told to trash the case when there are "special factors counseling hesitation."
The decision in Byrd's case shows just how laughably subjective that standard now is. "Byrd's lawsuit differs from Bivens in several meaningful ways," wrote a panel for the U.S. Court of Appeals for the 5th Circuit. "This case arose in a parking lot, not a private home as was the case in Bivens." We are somehow supposed to believe that matters significantly enough such that Lamb could not have known his conduct was wrong. What's more, the panel wrote that "Congress did not make individual officers statutorily liable for excessive-force or unlawful-detention claims."
Such individuals are slightly more liable for Fourth Amendment violations if they work at the local or state level. But qualified immunity—another legal construct—does a great deal to protect them from accountability, as well. The doctrine holds that government officials can violate your constitutional rights without having to pay for it in civil court so long as the exact way they violated those rights has not yet been ruled unconstitutional in a prior decision from the Supreme Court or in the same federal circuit. It has protected cops who allegedly committed assault and theft, cops who violated the First Amendment, and cops who destroyed property, among others.
But though qualified immunity is difficult to overcome, it's not impossible, like the cops who didn't receive the protections after shooting a man 22 times as he lay facedown on the ground.
It is only federal officers who maintain almost complete freedom from accountability, thanks to a hole in constitutional law. For that same reason, St. Paul Police Officer Heather Weyker was able to skirt a civil court trial after fabricating a sex-trafficking ring and throwing innocent people in jail on false charges. A court said she was not entitled to qualified immunity. Yet simply because she completed that job as part of a federal task force, she will not have to pay for her transgressions—a strange loophole given only to the most powerful among us.
Byrd hopes to change that. After reviewing the security footage of that February morning, police eventually arrested Lamb, although he was not terminated from his position. Even with criminal charges filed, however, Lamb was still able to evade the suit, which is scheduled to be conferenced by the Supreme Court next month. Byrd is not the only one hoping for a reprieve. 
"Redress for a federal officer's unconstitutional acts is either extremely limited or wholly nonexistent, allowing federal officials to operate in something resembling a Constitution-free zone," said Judge Don Willett of the 5th Circuit, who concurred with the opinion. It was "precedentially inescapable," he said, his hands tied by past decisions. But it shouldn't be. 
"It certainly smacks of self-dealing when Congress subjects state and local officials to money damages for violating the Constitution but gives a pass to rogue federal officials who do the same," he wrote. "I add my voice to those lamenting today's rights-without-remedies regime, hoping (against hope) that as the chorus grows louder, change comes sooner."