The Biggest Sex-Trafficking Bust in FBI History Was Totally Bogus
How two troubled teens and a cop with a cause got dozens of Somali immigrants on the hook for child sex trafficking.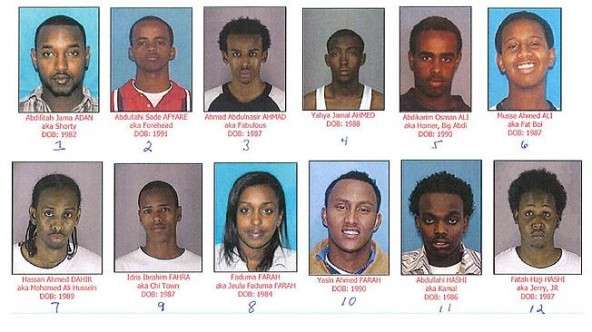 In the press, it was a "wide-reaching sex-trafficking operation" run by Somali Muslim gangs who forced "girls as young as 12" to sell sex in Minnesota and Tennessee. In reality, the operation—which led to charges against 30 individuals, sex-trafficking convictions for three, and an eight year legal battle—was a fiction crafted by two troubled teenagers, a member of the FBI's human-trafficking task force, and an array of overzealous officials. An opinion released this week by the 6th Circuit Court of Appeals shows that federal prosecuters had no evidence whatsoever to support their "child sex trafficking conspiracy" case outside the seriously flawed testimony of two teenagers, one of whom had "been diagnosed as insane and was off her medication."
"We conclude from our careful review of the trial transcript and record that, if the prosecution proved any sex trafficking at all (and we have serious doubts that it did), then at best it proved two separate, unrelated, and dissimilar sex-trafficking conspiracies, involving different defendants, albeit with the same alleged victim, namely Jane Doe 2," states the 6th Circuit opinion, written by judges Alice M. Batchelder, Sean F. Cox, and Helene N. White.
But Jane Doe 2's story was likely completely fabricated, with help from a police officer who was also a member of an FBI human-trafficking task force. The officer was later caught lying to the grand jury and lying during a detention hearing, while Doe and the state's other primary witness were, according to the court, almost entirely "unworthy of belief."
In initially announcing the bust in 2010, the FBI claimed that "between 2000 and 2010, members and associates of [three affiliated Somali gangs] transported underage Somali and African-American females from the Minneapolis area to Nashville for the purpose of having the females engage in sex acts for money" and some of the victims were "13 years of age and younger." Gang members and their associates also "conspired to obstruct the investigation," the FBI claimed.
The case received a lot of attention, both in the states involved and nationally. The FBI described it as its biggest human trafficking success to date. FBI Special Agent in Charge Amy Hess said at the time that the arrests "demonstrate the importance of cooperation between state, local and federal law enforcement in the investigation and prosecution of organized crime."
Mark Gwyn, director of the Tennessee Bureau of Investigation, said the case was "proof of how critical criminal intelligence support and analytical support is to an investigation. The information sharing and dedication by law enforcement agencies in this case is a testament to the lengths agencies will go to protect children."
The lengths they will go to apparently include arresting and prosecuting a lot of Muslim black men based on bogus stories and the flimsiest pretense.
Thirty individuals were eventually indicted on some sort of sex-trafficking charges. All but one—Andrew Kayachith, an Asian American born in the U.S.—were immigrants or refugees from Somalia and Ethiopia, and all but one were male. Most were between 17 and 22 years old, attending school, and living with their parents.
A district judge threw out charges against three of the men because they had been minors at the time the alleged crimes occured. The first nine defendants to be tried went before a federal jury in 2012, with jurors returning not guilty verdicts for six of them. (At least one and possibly more were deported anyway.) Three of the defendents—Kayachith, Idris Ibrahim Fahra, and Yassin Abdirahman Yusuf—were found guilty of sex trafficking of a minor, Jane Doe 2.
When the verdict was returned, Assistant U.S. Attorney Van Vincent spoke of it as a win for victim's rights. "It's very important for victims to understand that you can come forward, people will listen and that people can believe what you have to say about the crime," he told reporters.
But "believing the victim" uncritically turned out, once again, to be a bad move. By the end of 2012, a federal court had overturned the convictions of Fahra, Kayachith, and Yusuf. The government wasn't giving up though, and appealed to the 6th Circuit Court.
"The government contends that the district court erred by finding a material variance between the charges in the indictment and the proof at trial—specifically, that the prosecution had charged a single conspiracy but presented evidence at trial that proved, at best, multiple conspiracies," the appeals court decision stated.
Thus, in this appeal, the question is whether a reasonable juror could find a single, overall conspiracy when the evidence produced at trial is viewed in the government's favor. For the reasons that follow, we AFFIRM the district court's grants of acquittal to defendants Idris Fahra, Andrew Kayachith, and Yassin Yusef.
Beyond the dubious nature of the "overall conspiracy," judges also found scant evidence that sex trafficking had happened at all.
The case started in November 2008, when St. Paul police officer and FBI sex-trafficking task force member Heather Weyker went to check in on Jane Doe 2, who had been briefly incarcerated in juvenile detention earlier that year. Doe, whose age is still in dispute, was a high-school freshman who lived with her Somali-immigrant family in the Minneapolis area. The court describes Doe's family as "an ultraconservative, African, Muslim household," and Doe as "an Americanized teenager" and "habitual runaway who had a history with the police."
"It has since been established, as many in the Somali community knew at the time, that Jane Doe 2 was older than her then-asserted age of 15 (the age based on her mother's false claim that she was born in September 1994)," the court notes. "The FBI has declared her proffered birth certificate a forgery and substantial evidence has shown that she is at least five months older and likely as much as four years older than her claimed age." It also came out that Doe's "brother" was not actually biologically related to anyone in the family and was "much younger" than had been claimed.
The parents declined to let Officer Weyker talk to their daughter, so Weyker began meeting with the girl at school. For several months the pair met in secret, meetings which produced 30 recorded interviews and thousands of pages of notes and transcripts. "These meetings also produced a story in which Jane Doe 2 was not a troubled runaway or juvenile delinquent, but was instead an innocent child taken in by a Somali gang who used her for sex, either as a prostitute or for free sex with the gang members," states the court.
At this point, certain aspects of this story and investigation warrant attention. First, despite countless opportunities, Jane Doe 2 had never told this story before—not to her parents, her sister, or any friends; not to any police officer during the many times she was apprehended as a runaway; not upon her incarceration at juvenile detention or during her counseling there. The district court opined that Officer Weyker likely exaggerated or fabricated important aspects of this story, noting (among other inconsistencies) that Weyker's final reports frequently referred to sex for money while that assertion was conspicuously absent from her handwritten notes, appearing only once in all of those rough notes. And Jane Doe 2 herself furthered the district court's suspicion when she testified on cross examination that Weyker had misstated facts in the reports, adding to and omitting things from her statements.

Elsewhere, the district court caught Weyker lying to the grand jury and, later, lying during a detention hearing, and scolded her for it on the record. The defense has since pointed out that Weyker also lied on an application to get Jane Doe 2's family some $3,000 from the Tennessee victim's compensation fund, by claiming "abduction" (Jane Doe 2 flatly denied an abduction) and endorsing the validity of the forged birth certificate.

Finally, it is curious that even though Officer Weyker (the lead agent), Jane Doe 2 (the principal victim-witness), and all but a few of the 30 defendants reside in Minnesota, and an overwhelming portion of the events at issue occurred in Minnesota, the federal prosecutor in Minnesota did not prosecute this case in Minnesota.

Instead, the federal prosecutor in Nashville, Tennessee, prosecuted this case in the Middle District of Tennessee because, in April 2009, Jane Doe 2 accompanied five boys (all charged in the indictment and two tried as defendants here) on a car trip to Nashville, without informing her parents, who eventually reported her missing. When the Minneapolis/St. Paul police tracked her cell phone to Nashville, Officer Weyker involved the FBI and turned this latest "runaway" into a presumed kidnapping. The FBI relayed the cellphone location to the Nashville Police who located the group and arrested Jane Doe 2 as a juvenile delinquent and a runaway, and questioned her separately from the boys.

Initially, she told the police that one of the Somali boys, Hollywood (with them on the trip and charged in the indictment, but not tried in this case), was her boyfriend; that she had come with them on the trip willingly; and that she had sex with several people over the preceding few days because she was upset with Hollywood for ignoring her. She also wrote out and signed a statement saying the same. She did not mention any prostitution or sex trafficking. But when the Nashville Police put her on the telephone with Officer Weyker, she changed her story to include acts of prostitution and sex trafficking.

The Nashville Police had also arrested the five boys, for contributing to the delinquency of a minor. Because none could afford bail, they waited in jail and made several telephone calls, recordings of which were introduced at trial as evidence to connect many of the 30 defendants criminally. More importantly, when Officer Weyker and the FBI task force got involved, and Jane Doe 2 started talking about sex and prostitution, the Nashville federal prosecutor was able to put her story together with certain other witnesses, most notably Jane Doe 5, a Nashville resident, and then charged these five boys (and 25 others) with felony sex trafficking.
Jane Does 2 and 5 did not know each other, and only one of the 30 defendants allegedly linked the pair. "Jane Doe 5's own testimony is the sole evidence of her part in the alleged sex trafficking conspiracy," the appeals court noted.
However, Jane Doe 5 suffers from an undisclosed mental illness and was off of her medication during the trial. "She did not know what day or month it was, she misidentified or could not identify many defendants, she contradicted herself repeatedly (on major issues, such as whether or not she had sex for money), and she argued with counsel over the smallest of details," according to the court.
Ultimately, the judges came away with "acute concern," based on a "painstaking review of the record," that the prosecution's entire case may be "fictitious" and the state's two primary witnesses "unworthy of belief." Both women "repeatedly contradicted, disavowed, and refuted their own testimony," the judges note, "while other portions of their testimony defied belief or were rendered implausible by indisputable contradictory evidence." Even if we take Jane Doe 2's testimony as true, "this looks less like an organized venture than a crime of opportunity, involving these criminally ambitious young men and this gullible (or, more likely, reckless or rebellious) young woman," the court states.